​Scotsman Niall Iain Macdonald aims to become the first person to row from New York to Stornoway to raise £100,000 for the Scottish Association for Mental Health (SAMH)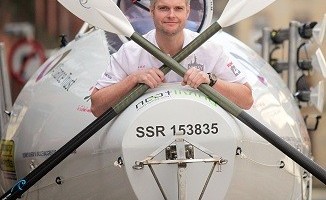 The idea of taking on an extreme challenge for charity has grown in popularity in recent years but perhaps none have been as difficult and unique as the one Scottish fundraiser Niall Iain Macdonald is preparing to set off on.
Next month the 39-year-old will attempt to row an incredible 3,400 miles across the North Atlantic Ocean – on his own.
His route will see him and his purpose-built ocean rowing boat Alliance Trust travel from New York in mid-May across one of the most challenging and dangerous bodies of water in the world, the Atlantic ocean, to his hometown of Stornoway, arriving 90 days later.
The challenge will be a gruelling test of endurance both physically and mentally, therefore befitting of the Scottish Association for Mental Health (SAMH) which he hopes to raise £100,000 for.
"The project is about raising vital funds for SAMH and awareness of mental health problems," Macdonald said.
"I suffered from depression for a few years and didn't do anything about it and I eventually cracked and basically walked away from everything: my job and my work and my girlfriend at the time.
"I disappeared for about three or four weeks then I realised I had to go home and sort things out and deal with it.
"There are people right now whose challenge it is to put their hand up and say 'I need help' and that's a hard thing to do.
"I think there should be a lot more funding around for mental health issues. We shouldn't have to raise money this way."
SAMH didn't directly help Macdonald, who works for the BBC on a freelance basis. Instead he went down the route of visiting his GP and was referred to the acute psychiatric unit in Stirling but is aware of the work SAMH do from being given literature and visiting its Glasgow office.
"I am both excited and nervous to undertake the biggest challenge of my life to help raise funds for SAMH to continue their crucial work," Macdonald continued.
"Once I got into a better place I raised funds for a local mental health charity in Stornoway and the RNLI.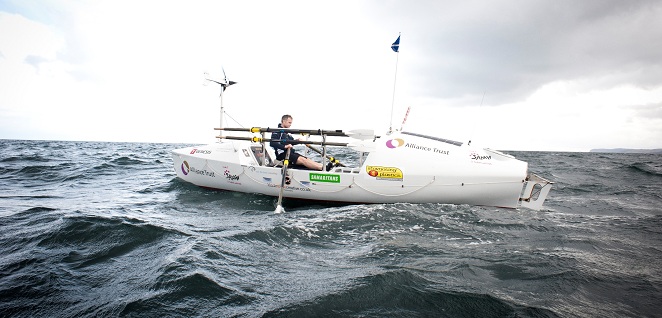 "Once I had done that and I realised I could do it, which was a huge thing for me as it was just a year after I had disappeared, it lit the spark that I wanted to try something else and for some reason I came up with a north Atlantic row."
Only 10 people have successfully rowed from west to east across the north Atlantic but no one has ever tried Macdonald's route reaching Scotland's Isle of Lewis from the Big Apple.
Amazingly Macdonald had no real rowing experience prior to his mental health problems.
He has since become something of a serial adventurer though, and the man who was born in Inverness has completed a number of other challenges by land and sea.
He has sailed across the Atlantic Ocean for two months as part of a crew on a tall ship and has spent several months on a bicycle exploring remote parts of South America.
In 2008 he successfully rowed 46 miles across a treacherous stretch of sea between the Outer Hebrides and the Scottish mainland called the Minch.
The row from New York to Stornoway is the equivalent of making this journey 70 times. He will row gruelling 12-hour days and survive on dehydrated food, and nuts and chocolate for extra calories.
"I get real benefits from doing activities for my own wellbeing," he added.
"I don't mind being out on my own – there is a difference between isolation and loneliness.
"I've experienced loneliness when I was at my worst and it's not the same."
Macdonald is currently single and has no children but admits his sister and his dad will worry about him.
To allay some of their fears he will be taking a satellite phone with him to keep in touch with a team of people on dry land and will regularly update a blog on his website, which also has a tracking app.
To donate £10* to support Niall Iain's challenge Text NY2SY to 70755. You can also follow his journey on Twitter.
*You will be charged £10 plus one message at your standard network rate. SAMH will receive a minimum of £9.94 of your donation.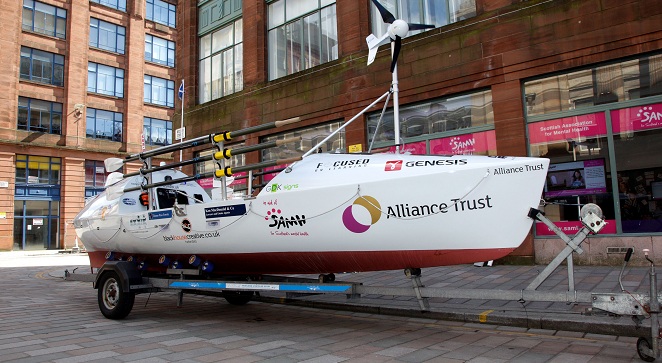 SAMH and Alliance Trust
SAMH is the beneficiary of Macdonald's row. Each week the charity supports over 2,500 people with mental health issues.
Judith MacKinnon, director of SAMH's Get Active programme said: "SAMH is delighted to be the beneficiaries of Niall Iain's unique adventure. His determination to complete this record-breaking voyage is truly inspirational.
"The NY2SY challenge will help to raise awareness of mental health as well as providing vital funds, and we wish Niall Iain every success throughout his journey."
The specially crafted 23 ft long boat – which will also serve as Macdonald's living quarters for the entire journey – has been named the Alliance Trust after NY2SY's headline sponsor – one of the sponsors that have made this challenge possible.
Katherine Garrett-Cox CBE, chief executive of Alliance Trust, said: "We were incredibly impressed by the determination and tenacity of Niall Iain when we met him. It was a very easy decision to support such an inspiring person on this significant challenge."