​Find out what makes Morna Simpkins, director of MS Society Scotland, tick
What makes a good day at work?
Today is a great example! As I write this, drug Ocrelizumab has been just approved as the first licensed treatment for some people with primary progressive MS in the UK. This is a significant step forward for people with primary progressive MS who have had no effective treatment. It's these steps forward, big and small, that make a great day.
How many hours do you normally work in a week?
I try to have a good work/life balance and always like to be busy. I'm not sure what a normal work week is so sometimes it's hard to keep track.
What do you procrastinate over?
TFN interviews! It's quite tricky talking about yourself, so questions like these tend to make their way down the to do list.
What turns you into the office Victor Meldrew?
Being late or technology letting me down at that crucial moment despite the preparation.
Is the third sector a calling or an accident?
A calling, I started off my career in the third sector with another national charity which I have strong connections to, so the passion for making a difference to people's lives has been there since my younger years. I have worked in other sectors but feel happiest and most satisfied in the third sector.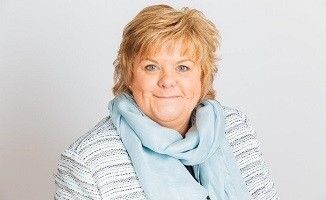 What happens during your perfect weekend?
My perfect weekend would start with a nice long walk with my dog Daisy, she's a two-year-old cockapoo. Our walk would ideally be on a beach and then finish with me cooking, entertaining and catching up with friends.
What's your favourite film?
Given that it has not long been the festive season it would have to be It's a Wonderful Life, a classic for the season.
Would we all be better off if charities did more in our society?
Good question! I think the ethos that charities bring to society is really important. They listen and respond to the needs of their communities. The sector is already filling some vital gaps in society and this often isn't recognised. However, I think the ultimate goal for charities is to create a society where the needs of people are fully met, even if that means that charities are no longer needed!
What's your new year's resolution?
To learn a new skill and also try something different, which is why on 5 May you will find me taking part in the MS Society Scotland Zipslide Zinger event! There are spaces still available should anyone wish to join me help raise funds to support people affected by MS.
You're home, fully fed with your feet up – which comes first Eastenders or Facebook?
I would pass up both to enjoy some quality time with my dog. However, I do like to keep active on social media, it's often now where you hear the news first and a great way to hear from the MS community.
Is this a step on the ladder or your final destination?
I enjoy leading the team here at MS Society Scotland and working with such great staff and volunteers. Who knows what lies ahead, but each day brings new and exciting challenges. I certainly feel I have a lot more to do to improve the lives of people living with MS in Scotland.
What do you think is the main strengths of the Scottish charity sector?
The people and their passion – staff and volunteers who make up the vast sector in Scotland. We are good at listening to the needs of our communities, and being responsive to this -we're always learning! We are resilient as a sector and have the ability to quickly reinvent to meet changing needs, demands and challenges.
What one thing would you like to see that will improve the lives of people with MS?
Ultimately we want to see a world free from the effects of MS. This needs more investment in research and services for MS. Until that day everyone with MS should have access to the right care, treatment and support to help them to live well with MS.
What does your dream retirement look like?
Well I've still got quite a few miles left in the tank, so that's a tricky one! I can't ever see myself moving completely out of a work environment, so definitely something involving volunteering and putting my skills and experience to good use.
Brian Denis Cox or Brian Edward Cox?
For a good balance, a bit of both.