The Cop26 volunteer team share their learnings with Graham Martin after 10,000 people apply to be part of delivering the crucial summit
The coronavirus pandemic has impacted every aspect of our lives over the last year and this has extended to the voluntary sector – from fundraising and essential face-to-face activities to recruiting, training and nurturing volunteers.
For a major event like the 26th United Nations Climate Change Conference – Cop26 – which is set to take place at the SEC in Glasgow between 1 – 12 November, the process of finding and engaging a team of 1,000 volunteers is no mean feat.
The international summit will bring together heads of state, climate experts and campaigners to agree coordinated action to tackle the climate emergency. Glasgow City Council is overseeing the volunteering campaign, which will see people based across Glasgow and beyond to help support the staging of the event.
The volunteer team have been reflecting on what the pandemic and subsequent move to life online has meant so far and learnings they will look to utilise as they move into the future.
Cop26 volunteer recruitment has shown that the enthusiasm for volunteering is as high as it's ever been in Scotland and the UK, despite a global pandemic.
The team received a staggering 10,000 applications to volunteer from people eager to give participants and media visiting from nations and territories around the world the famous warm Glasgow welcome.
The figures have shown that Covid has not diminished people's spirit or their ambitions to volunteer – from first-time volunteers to applicants aged up to 84, people want to get involved.
Glasgow City Council is working with the sector to capture this continued appetite for volunteering in the city and support applicants take advantage of a variety of volunteer avenues.
The authority's Cop26 volunteer manager Claire Shiel said: "To see the level of engagement with this volunteer programme is extremely heartening for the sector as a whole. It's amazing what can be achieved and we're delighted to see this belief in the power and benefits of volunteering withstand the challenges of coronavirus. It would seem the pandemic may have made people more socially conscious and acutely aware of the importance of helping others and making connections and our campaign is testament to that.
"Volunteers bring an unrivalled spirit and warmth to any major event and, in return, have the chance to represent the city and have a truly unique experience. It's a privilege for us to be able to bring this diverse and passionate team of people together for an event as momentous as Cop26.
"A key learning for us off the back of the fantastic response to volunteer is to ensure we tap into this enthusiasm beyond this one event. We want to make sure every applicant gets something from the process, whether it's signposting to other volunteering opportunities, access to resources or information on related events.
"We also want to deliver additional experiences and add-on benefits to our volunteers that help their personal development, whether that's additional training and environmental learning to aid real legacy or ensuring volunteers can use the skills and experience gained from this process in a variety of employability settings."
The team is now going about the process of whittling 10,000 applications down to 1,000 volunteer roles – a process called skills matching that would normally comprise thousands of in-person interviews.
During the pandemic, the Cop26 volunteer team has had to think about approaches to almost every aspect of recruitment, selection and engagement – and has been able to streamline and improve efficiency as a result.
Shiel explained: "When some form of in-person engagement and selection exists, you tend to follow previous templates to some degree. In this event we've had to step back and almost re-invent how we gather the information we need.
"We've used the Volunteer Management System much more for grouping, sifting and scoring volunteers, adding extra layers of aptitude-based questions and short information films online to help the recruitment process.
"This has helped negate the need for the standard approach and in many ways it has been a huge time saver in terms of resource allocated to reviewing applications, inviting people to selection sessions, room bookings and arranging support teams. In many ways, it's easier for applicants to complete selection like this, as they can do much of it at their leisure and don't need to arrange times or travel anywhere.
"We've found this whole stage of the process has been far more convenient all round than it normally would be and are now planning to adopt a more blended approach going forward with a mixture of in-person and online engagement."
With a significant change in the public's behaviours, patterns and the way they access media over the last year, the Cop26 volunteer team has had to adapt.
In the absence of in-person engagement at community venues and events, there has been more reliance on digital and social media than ever before.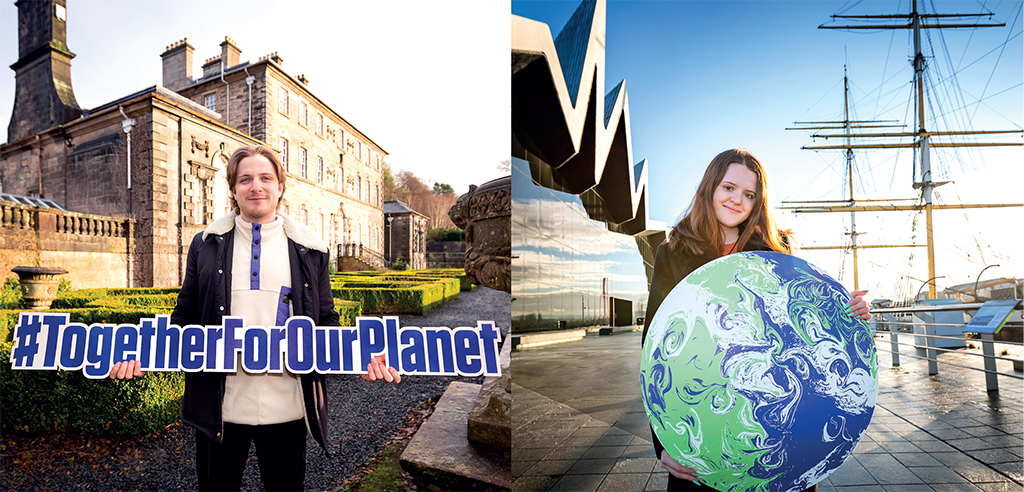 As a consequence, reaching those without internet access or who are a little unsure of technology presents new challenges. For these individuals, who can often be from hard-to-reach groups, reaching out via telephone has been essential to ensure processes are in place to give people the necessary support.
Shiel said: "It's so important to us to ensure we are accessible to everyone, no matter how good you are with technology or what resources you have at your disposal. We've certainly had to get creative at times but we have worked hard to achieve everything asked of us so far and ensure the recruitment drive is fair and inclusive.
"We've also embraced social media, radio and outdoor sites such as supermarkets as key advertising platforms, giving our marketing campaign a focus relevant and responsive to our current environment."
Like teams within organisations across the world, the volunteer team hasn't been able to interact in-person with another, and with volunteer ambassadors and applicants, from an office or central volunteer centre.
"Our team has never been in the same room together and so we have not had the chance to talk, problem solve and share ideas as easily", said Shiel. "Likewise, in the past we would often see our volunteer applicants and ambassadors drop by or phone the office with questions, but this hasn't been possible this time round.
"We've made a concerted effort to come together as a team virtually through video conferencing, regular e-newsletters, emails and online information sessions until we're able to gather again safely. Fostering close-knit bonds with our ambassadors, who have diverse volunteer backgrounds, is essential for us and for the success of the programme."
Undertaking volunteer recruitment for a major event over the last year has presented a unique opportunity to give and receive advice and take on new-found learnings.
"Over the last few months, we've spoken to key organisations within the volunteer sector, along with other event teams, for advice and to share learnings during this unprecedented time", Shiel explained. "Volunteering and events can have such a positive impact on people's lives and being sure we continue to engage with our applicants and provide opportunities during these challenging times is essential. The connections we have made with others in the industry and the opportunities the pandemic has provided for us to stop and think about the best ways to get the job done, are invaluable.
"Throughout, our messaging has contained information about the flexibility and responsiveness required in the current circumstances, however, we still continue to celebrate and champion volunteering and the events landscape, look at the positives and share past successes. We are hopeful about what we will achieve in 2021 and are confident this will positively impact large-scale volunteer programmes in Glasgow and beyond for many years to come."