On the 7,500-mile journey from London to the Philippines Rose Caldwell, the executive director of Concern Worldwide UK finally found time to relax. Having combined her role at the international humanitarian organisation since 2008 with being a mum to three young children you can't blame her for overdosing on in-flight movies.
And when Caldwell climbed down onto the tarmac you could also excuse her for thinking she had landed on the set of a Hollywood disaster film.
Three months on from Typhoon Haiyan, or Yolanda as the locals refer to it, the south-east Asian island is still trying to get back on its feet.
Concern Worldwide and a number of other partner agencies of the Disasters Emergency Committee (DEC), are trying to help the process and Caldwell was visiting to witness first-hand, and to assess how that effort is going.
Speaking to TFN the day after returning from her week-long trip she was upbeat about what she observed, particularly the spirit of the Filipino people.
"They are not sitting around feeling sorry for themselves," she said.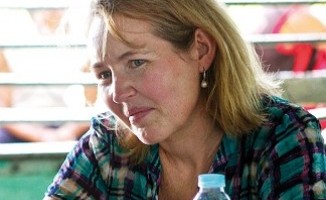 "The experience has been a huge shock for them but they are very positive, they are getting on with it."
Caldwell was based in the municipality of Concepcion in the north of the island of Panay and toured four island barangays (small districts) and one other coastal barangay.
The area, which was already one of the poorer parts of the country, has become the centre for Concern's work. It was badly affected when Yolanda landed on 8 November 2013 as it was in the middle of the typhoon's path.
There she saw the difference Concern is making from handing out thousands of construction kits, to helping rebuild schools and constructing new boats to allow fishermen to maintain their livelihoods.
"I'm thrilled with the work we are doing," Caldwell said.
"When I talked to people it was very clear it was what they wanted, it was what they would prioritise themselves.
"For Concern working in the Philippines is quite an unusual concept because we focus on the very poor, vulnerable countries. The Philippines is huge and parts of it are fairly wealthy.
"We won't stay in the Philippines indefinitely (perhaps a year to 18 months) as they have a lot going on out there and it's really about helping them recover."
Foreign trips are becoming less of a regular thing for Caldwell, who has previously visited Zimbabwe, Kosovo, Angola, Burundi and Rwanda.
This is partly from her desire to spend as much time as possible with her young family, made up of Isabella (8), Ciara (6), Ethan (3) and her partner Michael De Menezes, but also because she has plenty to do on a daily basis running Concern in the UK.
Based in London she heads up 45 staff across the UK including in Belfast and Glasgow, managing an income of around £18 million in Concern's bid to alleviate poverty.
They are not sitting around feeling sorry for themselves
As a mum, Caldwell insists the thought of parents having to put their children to bed hungry night after night is one of the things that motivates her.
It's this mindset that makes her prefer working in the not-for-profit sector, having worked in the private sector for 10 years.
A trained chartered accountant, Caldwell started to volunteer in 1998 for Concern as a field accountant.
She joined the board in 2003 when she moved to London but resigned in 2008 to apply for her current role.
"I never really mapped my career out," Caldwell added.
"I never imagined I would end up in this role doing what I'm doing so that's why I guess I feel so privileged.
"I always wanted to travel and was always very interested in international development. I just took the opportunities that arose. That's the whole thing about doing accountancy – it gives you a very good solid professional qualification and allows you to do lots of different things."
The main difference between the private and voluntary sectors she adds is what drives them.
The private sector is preoccupied with profit opposed to the not-for-profit sector's focus on mission and a passion to make a difference to some of the world's poorest people.
Despite preferring life in the third sector, Caldwell says it doesn't come without its complexities.
One of the biggest problems is the public's perception that aid doesn't work – a falsity promoted by negative press and media, she adds.
While it remains easy enough to get people to donate to a fund set up after a natural disaster such as Yolanda – the DEC's Philippines Typhoon Appeal raised £90m in three months – it is harder when it comes to long-term work.
"I think when it's a natural disaster like Haiti or the Philippines it's so black and white that nobody is at fault.
"A lot of the crises we deal with are ongoing issues because of poor governance, because of conflict.
"That does not absolve us from our responsibility of supporting and doing what we can to help alleviate the dreadful situation that many of these people find themselves in."