Find out how suduko, the Railway Children and a sherry-aged Speyside malt feature in the life of YouthLink chief executive Jim Sweeney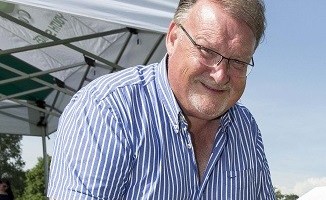 What time do you wake up and what's your morning like?
6.30am. A shower and a quick bite then I am dropped off at the station by my wife, I enjoy travelling by train, bit of sudoku, catch up on work and I get some good chat with my fellow travellers, we call ourselves the Railway Children.
What are you working on just now?
This is a critical time for youth work, along with our member organisations and Education Scotland, we are writing the implementation plan to accompany the recently launched five-year National Youth Work Strategy. We are continuing to seek sustainable funding for the sector and lobbying central and local government on this and young people's issues.
How many hours do you normally work in a day?
No two days are the same, it can be seven or 12 or more but I try and retain a good work-life balance and encourage staff to do likewise.
If you were your boss would you like you?
Probably, I am quite outgoing and gregarious but also very task focused. I like to take the work seriously but not myself.
Being chief executive of YouthLink Scotland has been a revelation for me and a great privilege. I have loved and do love every minute of it
Is this a step on the rung to success or your final destination?
Chief executive of YouthLink Scotland has been a revelation for me and a great privilege. I have loved and do love every minute of it. The voluntary sector is amazing and a real powerhouse for change and radical thinking. I may well finish here and will be happy to do so, but never say never!
Have you got thoughts on what you will do when you retire?
A difficult concept when you really enjoy what you do, however I would still do some voluntary and part-time paid work. I enjoy public speaking and motivational training. I would play a bit more golf, travel and write, also spend more time playing my guitar. There would also be the time to cook, enjoy my family life more and drink better wine. All in all I am very content with my lot.
Should there be a cap on charity chief executive pay?
It perhaps should be linked in some way to local or central government pay scales. You have to bear in mind the poor pensions in the sector, and salaries should in some way compensate for that, the difficulty is what the word charity conjures up in the public mind.
Have you made your mind up about the independence referendum?
I have made my mind up.
What advice would you give to your 18 year old self?
Don't be afraid, take responsibility and think things through, begin with the end in mind. Stay away from negative people and always do a good turn if you can. Keep your own counsel and be true to yourself.
What's your favourite album and film?
Album it would have to be the Doobie Brothers Greatest Hits and the film, Once Upon a Time in America.
Who would you invite to dinner – Brian Denis Cox or Brian Edward Cox?
The actor, we could share our passion for a nice sherry aged Speyside malt.