Jolene Campbell uncovers the secret of the success of this year's Charity of the Year winner
In just twelve months Street Soccer Scotland co-hosted the Homeless World Cup, won charity of the year, a CNN Hero award and scored a double win for both men's and women's teams as the winners of first ever 5 Nations Homeless Football tournament.
And with that hat trick in 2016 the charity entered a league of their own. Street Soccer Scotland started as a small social enterprise in 2009 with a grant of £3000 and a mission to create positive change through football.
The organisation now runs over 30 programs a week using the power of football to combat social exclusion – from poverty, homelessness and mental health problems to addiction.
The charity is national partner for the Homeless World Cup and coaches a team of men and women for the international tournament annually. Scotland has won the competition twice.
But, in 2016 Street Soccer Scotland went the extra mile, taking on the challenge of co-hosting and being the home nation for the tournament in Glasgow.
The massive international tournament held in Glasgow welcomed over 800 players and volunteers, and audiences of up to 100,000.
"We always keep that focus on impact. Sometimes that is helping to keep somebody alive, safe and happy..."
Street Soccer pulled it off while not taking its eye off the ball; it continued expanding its core programmes and developed new corporate partnerships.
Founder and chief executive David Duke is not a fan of awards but winning Charity of the Year was a badge of honour.
"I didn't expect us to win but I am proud that the team got recognition. It has been an incredible year! The Homeless World Cup created a momentum and a lot to capitalise on."
The buzz created around the tournament had a knock-on effect. Street Soccer saw a rise of up to over a hundred players at some of its sessions.
The free drop-in sessions in Glasgow, Edinburgh, Dundee and Aberdeen welcome 13,500 adults and nearly 9,000 children each year. Players develop friendships, build their confidence and find motivation to make positive life changes.
For David the real win is that tournament success reflects the year-round, life changing work of Street Soccer staff and volunteers.
"We always keep that focus on impact. Sometimes that is helping to keep somebody alive, safe and happy. People need to feel they belong. If we do that the rest will follow."
"We focus our energy on how people feel and how they see themselves. Football is a way in to make people feel worthwhile again. For some it could be that after a programme with us they are still alive. They have hope that they had lost. That means something but it's not always easy to record that in an outcomes chart."
Players access a range of opportunities at Street Soccer from drop-in sessions to the Football Works initiative offering work skills, training, personal development and coaching leading to SQA qualifications.
The vast majority of players report higher levels of self-esteem and nearly half say it inspired them to reduce their substance misuse.
Reflecting on how far the organisation has come since it started eight years ago, David said the key has been keeping the focus on personal development. And for David witnessing the changes in players is still the top achievement.
"One team member recently picked me up in a new car. She went through mental health problems, prison and battled addiction.
"Little things that seem so normal like learning to drive can bring so much satisfaction. Just to be able to experience that normality that has been out of reach so long."
David understands feeling like normality is out of reach. He became homeless himself, aged 21, sleeping rough and in hostels before football helped give him the confidence to turn his life around.
"I remember what it's like to wake up feeling I wanted the day to pass quickly. When I was picked for the Homeless World Cup squad everything changed. Every day I feel lucky that I rebuilt my life and can recreate that hope and energy for others."
Over 60% of Street Soccer staff started the journey as players and have stayed on to inspire others. Creating that community is at the heart of the charity's success, says David.
"It's a family. Street Soccer coaches are not football professionals. They understand where people are coming from and the barriers they face just to get out on the pitch."
In 2016 five new female members of staff joined the team including two ex-players. Street Soccer has also launched a new programme mixing aerobics and football and it's proving a hit with women who never played football before.
"People coming to Street Soccer face many tough challenges. Some go onto make big changes. We have had players who went from standing on corners to getting into full time work. For others coming along they face different barriers like body image. Or they have never played football before. Our work always starts with the emotions, with the person."
When it comes to winning funding and growing the not-for-profit social enterprise David is always thinking ahead.
"In the first few years it was about survival. Now we are focused on impact, on creating the most change and delivering the best services."
In 2016 Street Soccer launched a membership sponsorship package aimed at corporates, moving away from relying on government funding.
"This year we have grown our corporate sponsorship so in the long-run we are not relying on grant funding and we can expand to create even more impact," he explains.
David is excited about the opportunities ahead. Street Soccer's new foundation is working on ambitious plans for a new model to tackle homelessness.
The Change Centre will provide accommodation for 32 homeless people in a community centre style building featuring two five-a-side football pitches.
David said: "People will have options. They can learn skills while volunteering and get any support they need. The idea is that people will make connections, find purpose. They will find hope."
Sara Rhind: Believing in the power of street soccer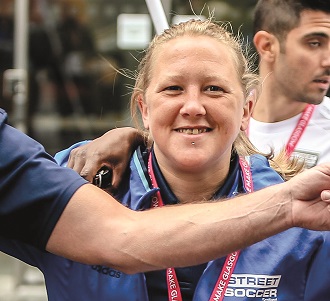 After battling addiction for years Sarah Rhind lost her Dad in a car crash. She knew then she had to make a fresh start.
"I always liked football. I remember my first session with Street Soccer. It was just 50 guys and me! I was terrified but they welcomed me."
She stuck with it, tapping into her passion for the beautiful game, gained qualifications and volunteered with Street Soccer coaching young people. "For most of my life I was drawn to drugs and had poor self-esteem. Then I found out I was good at coaching. I wanted to do it all the time."
Sarah, 33, was the first player selected for the Homeless World Cup women's team. And after that, against the odds, she also went onto coach youth players at Celtic Park. She was initially accepted onto a coaching training course with the professional club: "I was too old but went
for it on the off chance and they said they couldn't afford to let me go!"
Now Sarah is the programme coordinator for Street Soccer in Aberdeen. "It's the most challenging thing I have ever done. At the start I felt I was over my head. Now I see changes in the young people, little breakthroughs when they open up now and trust me."
"This is not just a job. Every team member I know is here because they genuinely care. You can't fake that. It's real and the young people know it. That's what Street Soccer does. We believe in people when they can't believe in themselves."