​Natasha Hallett, communications assistant for SCVO, is giving up her cosy life in Edinburgh to volunteer in Ghana for seven months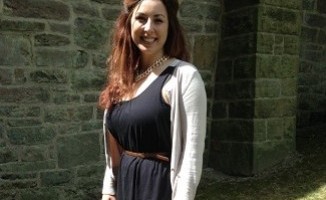 I'm giving up my job, my flat in Edinburgh and a decent salary to manage a team of volunteers for a charity-run project in Ghana for seven months.
It's a bold move but I've been thinking to myself: I'm 25 – if not now, will I ever do it?
I've been lucky enough to get selected for International Citizen Service, a scheme funded by the UK Department for International Development. Though I don't know specifically where in Ghana I'll be working, I know I'll be in the north of the country (either Tamale or Bolgatanga) leading a group of UK and Ghanaian volunteers on a community development project.
The scheme is one of the few available that is fully funded. You don't have to pay for flights, accommodation, food or even visas. So it's a really good way to get young people involved in international volunteering who might not have the opportunity otherwise.
Originally I'm from the Isle of Wight where my family still live, though I've been living and working in Edinburgh for just over a year.
I'm driven by the idea that positive change is in our hands – we just need to push for it.
I work as the communications assistant for the Scottish Council for Voluntary Organisations, and over the last year I've enjoyed the job immensely. But I think the time is right, while I'm still young, to take on a new challenge and a change in lifestyle which could lead to a change in career.
My interest in international development was first properly ignited in 2011 when I volunteered on a similar project in Burkina Faso. That experience changed my life. It opened my eyes to another world – one very different to my own.
In Ghana I'll be working with International Service – a small York-based charity who have partner organisations in the country. My exact role will depend on which organisation I'm placed with, but International Service work predominantly on female empowerment, disability rights and child poverty projects.
My heart lies in international development work and I'm especially interested in the campaigning and advocacy aspect. I'm driven by the idea that positive change is in our hands – we just need to push for it.
As part of my commitment to the project, I have to raise £800 before I go. This is so the scheme can continue to send other young volunteers to countries all over the world. I'm hosting a pub quiz, as well as a number of work-based fundraisers. I'm also asking folk to sponsor me to wear the same dress for 28 consecutive days.
Colleagues and friends need not worry though: I will be washing it regularly!
Sponsor Natasha at justgiving.com/natashahallett or text NAHA99 and the amount you want to donate to 70070. Follow her on Twitter @natashahallett. And follow her 28-day dress journey on her blog.