Strict gambling rules could be robbing charities of millions. ROBERT ARMOUR investigates
Despite the Gambling Commission calling it "innocuous", Mary Paul's charity learned a valuable lesson when it started a lottery to raise funds for medical equipment for Gaza.
Working from her local church, they sold £2 lottery tickets to win numerous donated prizes – pride of place being a weekend stay in the prestigious Mar Hall Hotel in Bishopton.
But just one day after selling out of tickets she hit a major snag.
"I got a call from the Gambling Commission saying I had sold tickets to under 16s – a criminal offence. As we had around a dozen fundraisers I didn't know how many tickets had been sold or who to. Worse, I didn't even know we were subjected to the commission's regulation. We were naïve and got our knuckles rapped."
Paul isn't the first to fall foul of strict rules governing these kinds of fundraising events. Called society lotteries, they have become a growing revenue stream for small, medium and large charities across Scotland and the UK.
We were naive and got our knuckles rapped - lottery organiser Mary Paul
Large, quite simply, is anything above the £20,000 threshold: these carry a £10 million cap.
Their popularity is based on one fact: lotteries have been a consistently strong fundraiser for charities through the recession, despite being the most regulated fundraising technique in the UK.
Controlled by the UK government, their regulation is tightly governed largely to protect the National Lottery, which has returned £32billion to good causes since its launch in 1994.
A UK government commission, headed by the department of Culture, Media and Sport (DCMS), is currently looking into restructuring society lotteries in the UK with one option being to relax regulation and increase the prize thresholds substantially.
The National Lottery has enjoyed monopoly status since it was established in 1994, protected from effective competition by the restrictions on the size of society lotteries.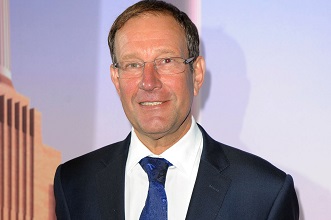 The Health Lottery, set up by Richard Desmond (right), the multimillionaire publisher, was designed to get around some of the restrictions by operating as an umbrella scheme for its 51 society lotteries. Each lottery takes it in turn to benefit from the draw.
The Health Lottery is marketed as a rival to the National Lottery: it sells tickets through retailers, with televised draws on Desmond's Channel 5, but offers jackpots of only £100,000, whereas the National Lottery gives millions.
Camelot, the operator of the National Lottery, challenged the legality of the Health Lottery in the High Court last year, claiming that it was a national lottery in all but name and that the Gambling Commission should have taken action against it.
The failure of the case led to the promise of the consultation by the DCMS on changing the 80:20 rule as part of its wider work on the impact of the Health Lottery on the National Lottery and other society lotteries.
The success of society lotteries has created a growing legion of support within the third sector to have this strict regulation relaxed – backed by research showing there is room to expand the sector without adversely affecting sales from the Lotto.
Last weekan independent report published by the Centre for Economics & Business Research (CEBR) outlining the benefits for charities through reducing regulations on society lotteries was published.
The report called for an increase in society lottery turnover and draw limits, which it said will substantially boost the ability of organisations such as People's Postcode Lottery – which commissioned the study – to better support good causes.
The report highlights every £1 in support from players of People's Postcode Lottery is leveraged by charities to generate, on average, an additional £1.70 in income – a social return on investment if you like.
With this multiplier coupled with a simplification in society lottery regulations, players of People's Postcode Lottery have the potential to raise as much as £351.5m in a calendar year for good causes, states the company.
Grant Baskerville, head of public affairs at People's Postcode Lottery, said the report represents a turning point in the debate on how best to regulate society lotteries.
"It provides unequivocal evidence that there is so much more our players could achieve for good causes with some very simple changes to existing regulations," he said.
The fundraising community has come out in strength in favour of deregulation: the Institute of Fundraising, the Lotteries Council, the Hospice Lotteries Association, Macmillan Cancer Support, and RNIB to name but a few.
The hoops that charities have to jump through are disproportionate. Excessively tight restrictions can put charities off running lotteries - Mark Astarita, British Red Cross
Mark Astarita, fundraising director at the British Red Cross, said simplifying the regulations would allow society lotteries to achieve far more for charities, especially at a time of growing need.
"I welcome any evidence that demonstrates the need for responsible reform of current society lottery regulations," he said. "The hoops that charities have to jump through are disproportionate.
"Excessively tight restrictions can put charities off running lotteries and this limits the funds they have available to spend on their work.
"Players of People's Postcode Lottery help charities like British Red Cross do more to support people in crisis, and simple reforms could enable the available pot of money to grow."
It is anticipated the UK government will launch a call for evidence into society lotteries before the end of the year, with the possibility of changes being made to the sector in time for the upcoming general election.
Peter Lewis, chief executive, Institute of Fundraising also welcomed the CEBR research findings and said: "Simplifying existing regulations will allow even more to be raised by charities, delivering increased support to good causes at a time when they need this most."
However, one fly in the ointment is the stance taken by the National Council for Voluntary Organisations, which has reservations about the deregulation of society lotteries.
Instead, it is pushing for lotteries to publish figures showing how income is spent and opposes the raising of income thresholds.
Karl Wilding, its director of public policy, said the 80:20 rule, which requires society lotteries to give at least 20% of their income from ticket sales to good causes, should be raised but regulation was not the best way of doing this.
"The best way of deciding how much should go to good causes is to let the public decide. Ideally, we would like to see a norm that is higher than 20%, but I'm not sure that regulation as a tool is the best way of achieving that.
"We would like the lotteries to publish their statistics."
The points to address are whether society lotteries in some way cannibalise other giving or impact on public trust.
Joe Saxton of third sector think tank nfpSynergy, however, argues that these worries run counter to the evidence.
"On other giving being undermined, if you speak to any hospice, they will quite clearly tell you that their lottery is a very effective way of introducing people to their cause who then go on to give in other ways, such as direct debits and, in many cases, leaving a legacy," he said.
"And on public trust, as somebody who has researched and written more about public trust than almost anyone else in the sector, I have seen no evidence that lotteries are a specific source of concern.
"Indeed, the evidence suggest that other forms of fundraising are of much greater concern."
The Lotteries Council launched a consultation with its 350 members last week on how to improve transparency in the sector.
It calls for members to voluntarily publish data about the proportion of their sales that go to good causes, prizes and operating costs.
The Health Lottery: a model of its own
The Health Lottery is structured as 51 different society lotteries, each one representing at least one local authority area within England, Scotland and Wales.
Each society lottery is licensed by the Gambling Commission and operates as an individual Community Interest Company (CIC).
Different CICs take turns in participating in a weekly draw so each week different CICs are represented and every region gets a share of the pot.
Money is then donated to support health-related good causes within their respective local areas.
Each week the Health Lottery runs a country-wide lottery on behalf of one or more of these society lotteries.
The money generated by ticket sales goes directly to the CICs, with 20p of every £1 – the minimum legal requirement – being given to good causes in the areas the lotteries cover that week. An additional 0.5p covers the costs of the CICs and the People's Health Trust, the charity that distributes the charitable grants.
The rest of the money, 79.5p of every £1, goes back to the Health Lottery – which is the part causing most controversy.
When it launched in October 2011 it aimed to generate £50m a year for charities working to improve health equality in Britain but raised just over £24m in the first year of operation.
And recently it decided to withdraw scratch cards from 10,000 retail outlets after a pilot scheme failed.
It has also came under fire for failing to be transparent. Earlier this month, John Leech, the Liberal Democrat MP for Manchester Withington who sits on the Department of Culture, Media and Sport Committee, hit out at the Health Lottery for refusing to reveal how much it spends on advertising in Desmond's Northern and Shell-owned publications, which include the Express newspapers.
"It's not very transparent that when you're saying the lottery runs at a loss but won't say how much is spent advertising in publications owned by the owner of the Health Lottery," Leech said.
Donald Macrae, promoter of the Health Lottery, said it spent 41.1%, or about £30m, on marketing, and was operating at a loss totalling the same amount.