As plans are announced to reintroduce lynx, we look at some of Scotland's wildlife winners and losers
Big cats could soon be prowling Scotland's countryside after a charity announced plans to reintroduce the lynx.
The predators were hunted to extinction around 700AD – but moves are being made to establish a population in a forest near Huntly in Aberdeenshire.
Conservation group the Lynx UK Trust says the cats are part of the country's natural fauna and should therefore be reintroduced.
The Eurasian lynx is the third largest land predator in Europe, after the brown bear and the wolf, and if the trial – on private land – is successful, the trust will apply for a licence to Scottish Natural Heritage.
There has been a move in recent years to redress the balance where human actions have caused localised extinctions.
The Scottish Wildlife Trust has previously argued that there is a "moral and ecological" case for the return of some species.
Particular focus has been made upon large animals such as birds and mammals.
The latter – and beavers and wolves in particular – have been assessed for their suitability because of their charismatic status with the public and the impossibility of them re-establishing naturally, unlike many bird species.
With every mooted reintroduction, there is a heated debate – with predators, for example, there is a potential for a clash with farming, shooting and landowning interests.
There is also the issue of whether suitable habitat still exists for the species.
The spectacular great bustard – Europe's heaviest bird species – once roamed open areas of England and the Scottish borders.
However, an on-going scheme to re-introduce it to the Salisbury Plain in southern England has been met with scepticism from some conservationists, who question its viability due to vastly changed habitat since the last was shot in the 1830s.
It's an issue which will no doubt feature in any debate on the lynx – though there would appear to be large areas of suitable habitat, ample prey for a deer and rabbit predator and no clash with livestock as the lynx is primarily a deep forest animal.
Scotland's wildlife loss and gains balance is a fascinating subject in itself – but it is also instructive as a measure of our shifting attitudes to the natural world.
For example, the red kite being poisoned and shot out of the sky 60 years ago now forms the basis for tourist trails.
Our birds of prey are still being shot and poisoned of course, as they clash with minority shooting interests, but they now have full legal protection and hopefully the tide has turned, despite the setbacks.
Here we look at some species we have lost from Scotland forever – and some which we, like possibly the lynx, have welcomed back.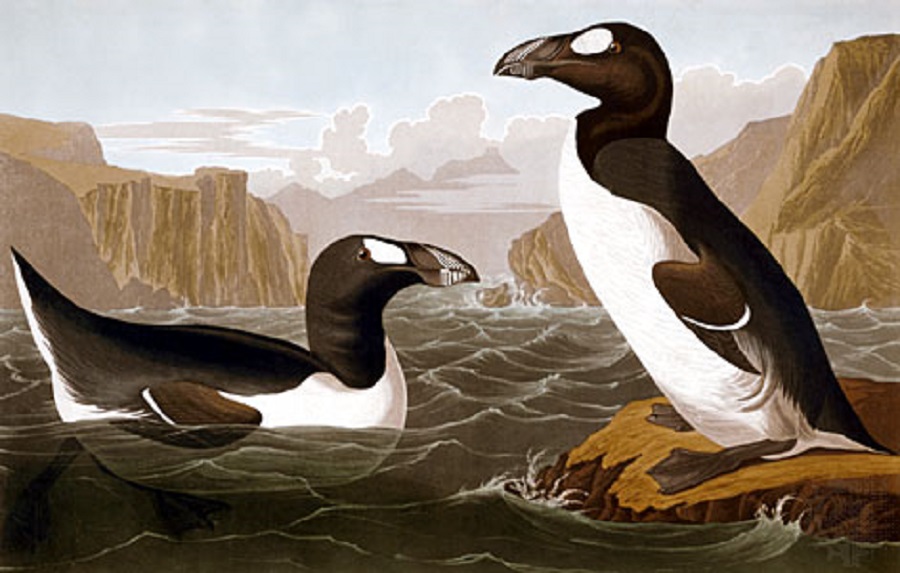 Great auk
No-one will ever see a great auk again – in Scotland or elsewhere as this flightless seabird is now completely extinct. It was one of Europe's most spectacular species, the North Atlantic equivalent of the penguin.Though not in the same family, similarities were the result of convergent evolution, where unrelated animals take similar forms to meet similar environmental challenges. It once thrived all the way up the east coast of North America, across the Arctic fringe and down through Scotland and as far south as the Bay of Biscay. However, the flightlessness which made it such an efficient predator underwater made its colonies vulnerable to man, especially with the growth of the whaling industry where they would be herded wholesale and helplessly onto ships and boiled for their fat. The last great auk in Britain was killed on St Kilda in July 1844 – clubbed to death by locals who thought it was a witch. The last ever confirmed sighting was in 1852 on the Grand Banks of Newfoundland.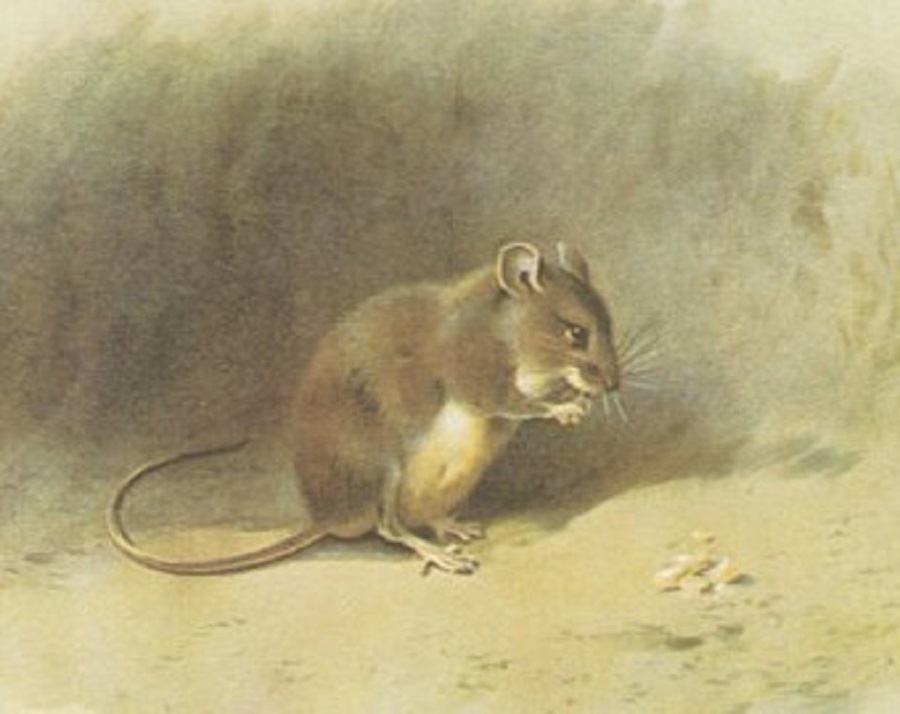 St Kilda house mouse
Islands are laboratories of evolution due to their geographical isolation – but for this very reason they are also often crucibles of extinction. More island forms have become extinct or are currently threatened than other species – arguably the most famous of these being the dodo of Mauritius. Island forms are vulnerable because of their lack of wariness when encountering humans or the animals – such as rats and pigs – they bring with them. A curious reverse example is the St Kildan house mouse which became extinct because humans left the remote island archipelago. The mouse – technically a subspecies or genetic form on its way to becoming a full species – was longer, hairier, coloured differently and had a skull shape at variance to the norm. It became extinct in 1938, just eight years after the evacuation of the native St Kildans on whom it relied for survival.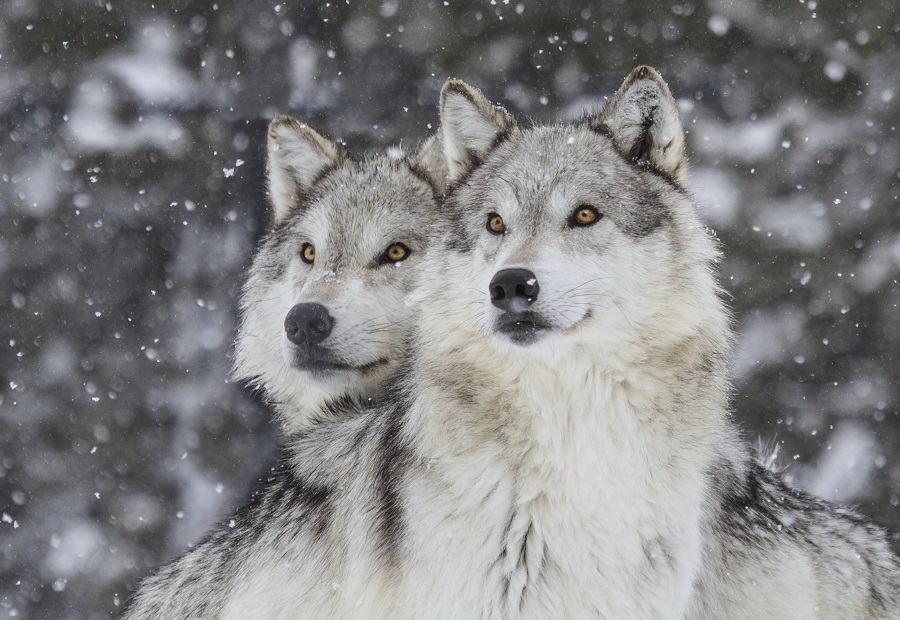 Grey wolf
The wolf has haunted people's imaginations for millennia – but not that long ago they were an actual presence in Scotland. Accounts vary, merging into legend, about how the last wolf was killed, but the fate of the species, which had been pushed to ever more remote parts, was sealed with the increased use of firearms. Officially, Sir Ewan Cameron of Locheil killed the "last wolf" in Lochaber in 1680. Other "last wolves" were slaughtered up until 1743 when tradition has it that a MacQueen put to death a wolf which was said to have killed two children. In 1769 the naturalist Thomas Pennant considered wolves extinct in Scotland. Arguments persist over whether they should be reintroduced – maybe one day soon the wolf will step out of fairytale books and once more roam the glens.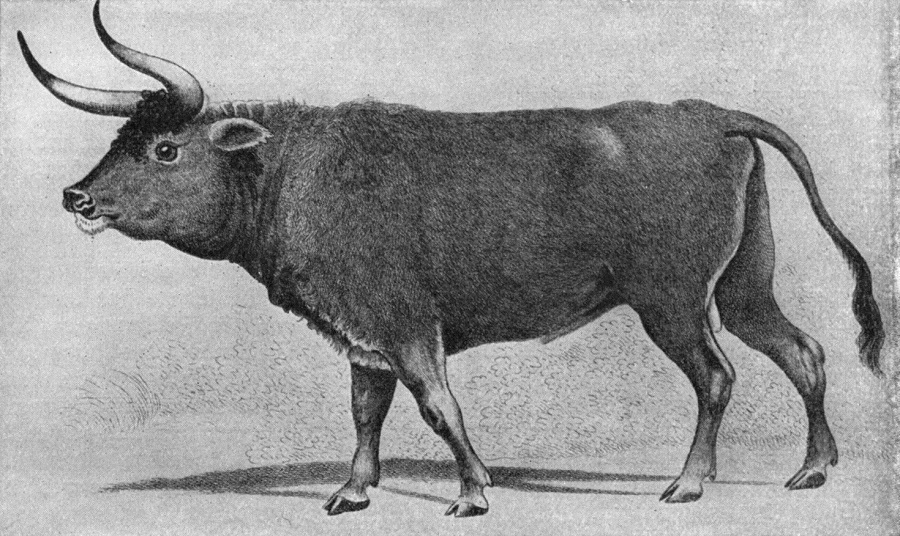 Aurochs
In one sense, the aurochs – or wild bull – is still with us. The fields are full of its mostly docile descendants in the form of domestic cattle. But the original Bos primegenius which once inhabited the country's post ice ages wild wood was a very different beast. Modern cattle are descended from an early domestication of the aurochs, but the wild form persisted for millennia, forming an important component of early medieval hunting estates – and partly protected for that reason. They began to decline but survived in places like Caithness until the 10th century. The last died in 1627 in Poland, but their ancient echo is still apparent in places such Chatellerault near Hamilton in Lanarkshire where there is a herd of "wild" white, aurochs-like cattle.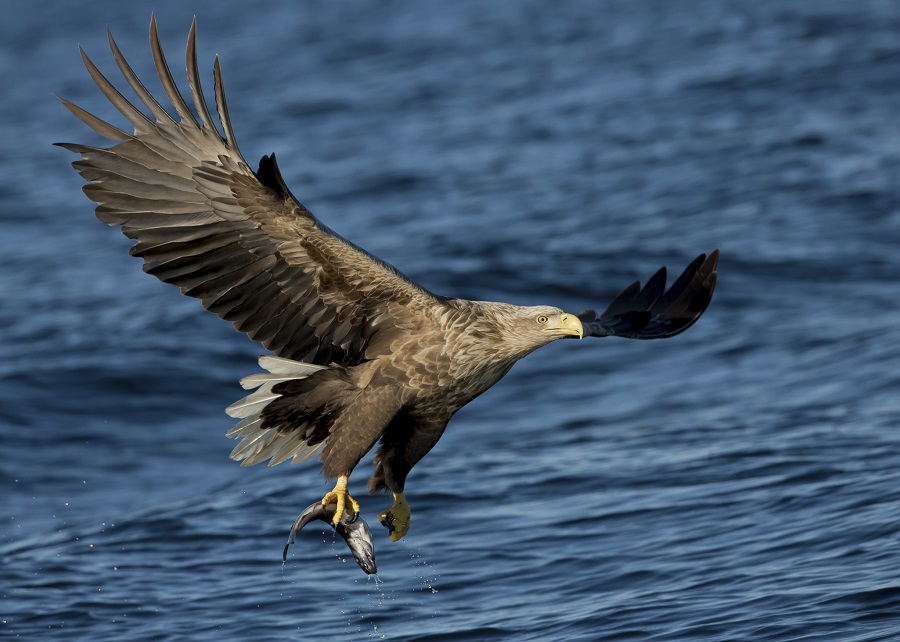 White-tailed eagle
No group of animals in Britain has suffered more persecution than our birds of prey. Almost without exception, every species has come under sustained attack through gun, poison and trap – the destruction reaching a crescendo in the late 19th and early 20thcenturies when the killing of anything with a hooked beak and talons became an article of faith in some rural communities. Ironically, as the guns of the world's two major wars destroyed human flesh in the last century, raptors were given a crucial breathing space as farmers and gamekeepers were called up. Their survival took a further hit mid-century when DDT pesticide poisoning threatened to finally kill off many species, such as the peregrine. The white tailed sea eagle is Europe's largest bird of prey and was finally wiped out in Scotland in 1917. Its reintroduction to Rum in the 1970s was an important test case and the intervention marked a change in conservationists' approach. A small population of the "flying barn door" now exists there and in Fife, but it still faces persecution from farmers who claim it attacks lambs.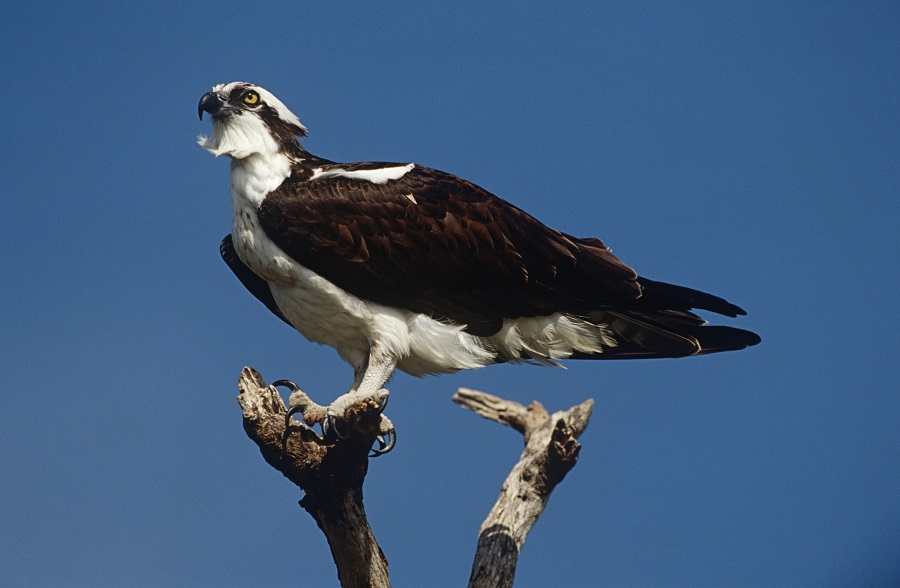 Osprey
The fish-eating osprey is one of the world's most successful bird of prey species, being found throughout the globe. One area where it was absent from for decades was Britain – where it succumbed to nest destruction and gunshot in 1916. The birds naturally recolonized in 1952 and the pairs nesting at RSPB Scotland's Boat Of Garten reserve have become a symbol of nature's recovery, and mankind's changing attitudes as its slow spread has been helped by active nest site protection. They are now relatively common – and are subject to a reintroduction project in England on Rutland Water – an unusual scheme for a migratory species.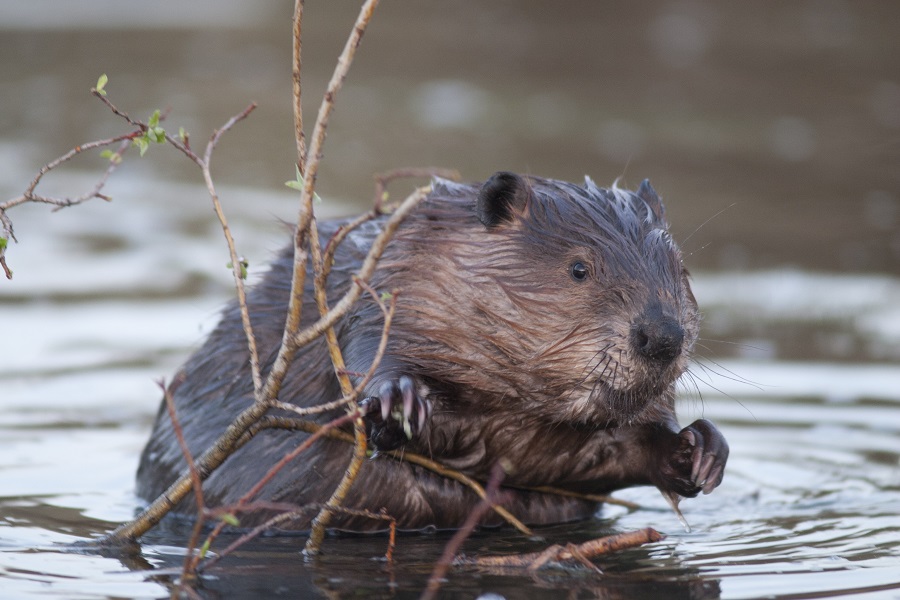 European beaver
One of the most recent interventions in Scotland has involved the return of the beaver. Debate has raged for decades about whether this species – extinct by the 17th century – should return. Particular focus has been put on the ecological impact – for good or ill – it would have, as tree felling and dam building beavers have an almost unparalleled ability to transform a landscape. However, four pairs of beavers reintroduced in Knapdale six years ago have produced 14 young, engineered 18-metre-long dams and lodges the size of double garages and significantly boosted tourism. Monitoring of the UK's first ever licenced mammal reintroduction programme finished last year after evaluating the impact of the species. Holyrood will make a decision on the future of beavers in Scotland this year.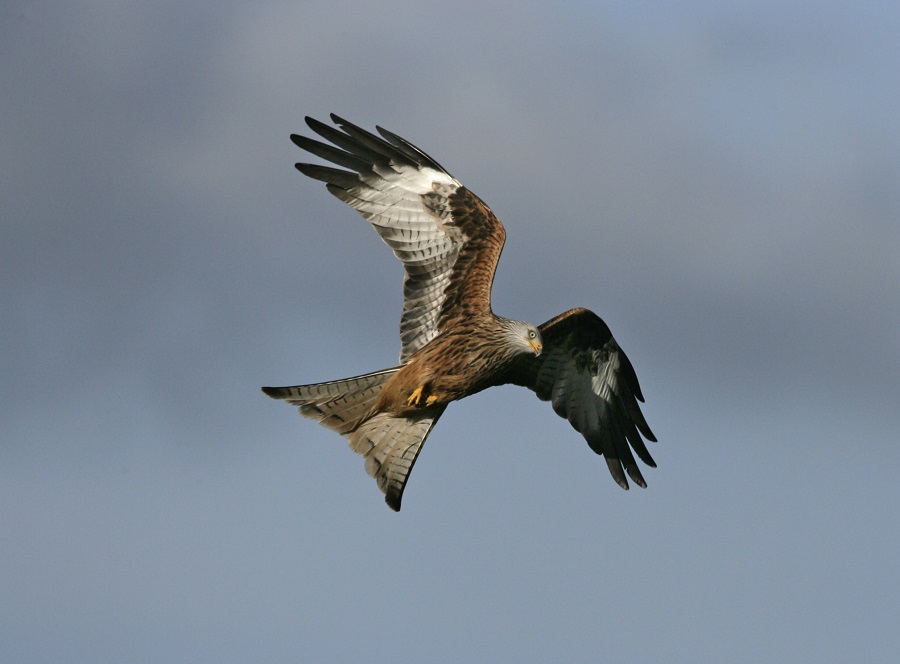 Red kite
The red kite was once one of the most common birds of prey in Britain – picking city streets of rubbish and carrion and earning it the nickname "shitehawk". It was tolerated in the middle ages – and was probably an essential presence, cleaning up detritus like an urban vulture. Attitudes switched along with increasing firearm use and by the mid-20thcentury the red kite was reduced to a dwindling relict population in Wales. Reintroductions from the mid-90s have been spectacularly successful – it is once again a common sight over rubbish dumps and towns in England and its numbers are on the increase in Scotland.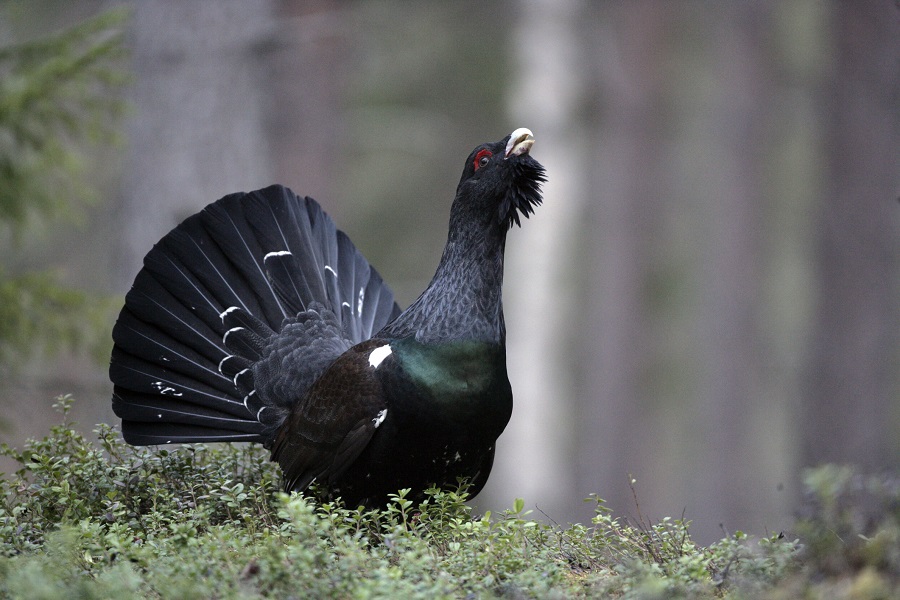 Capercaillie
The capercaillie – a huge, often aggressive grouse – has been said to symbolise Scotland's wild nature. But our population is actually the result of a reintroduction of birds from Sweden. The native population was driven to extinction in the 18th century by a combination of hunting and the loss of its Scots pine forest habitat. It was reintroduced into Perthshire in 1837 and by the 1970s numbers of capercaillie had grown to about 20,000. However, the capercaillie is quite possibly on the way out again as there has been a huge decrease since then – and now there may be no more than 1,900 individuals left. Reasons for the collapse are varied – and include competition for grazing from deer, collisions with deer fences and clutch loss due to wetter summers. Could the capercaillie one day be the first species to have to be reintroduced twice?