A selection of stories from communities and voluntary organisations across Scotland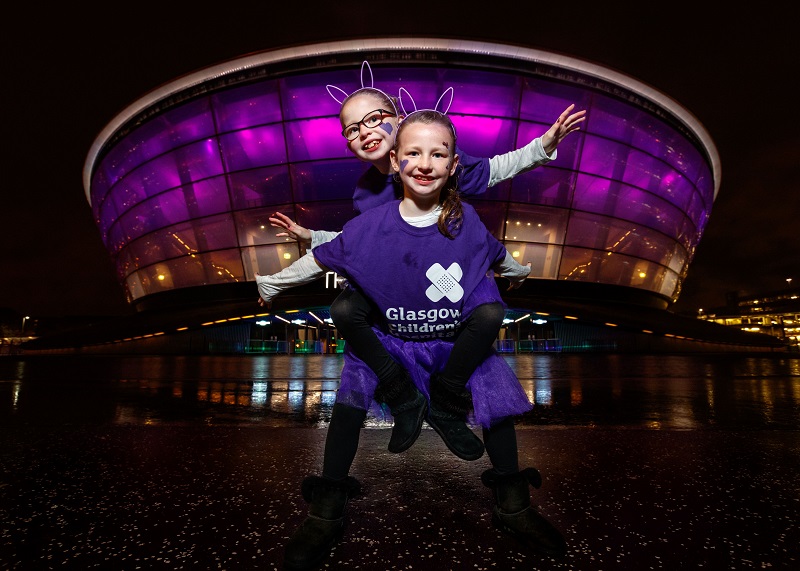 Glasgow landmark is twinning as it turns purple for children's charity
Tiny twins, Emma and Emily McHugh, pledged to 'Plaster it Purple' in aid of Glasgow Children's Hospital Charity on 1st October, as one of the city's most-loved landmarks lit up to kick off the charity's latest campaign. Until 31stOctober individuals, businesses and schools across Scotland are encouraged to Plaster it Purple by donning, decorating and getting creative with the colour purple in aid of the charity, which supports patients at Glasgow's Royal Hospital for Children and their families.
Little Emily, who has spina bifida, scoliosis of the spine and hydronophrosis of her right kidney, attends the Royal Hospital for Children regularly, and has had three major operations over the years. Her mum, Tracey McHugh, said: "As a family we are very familiar with the Royal Hospital for Children, and are exceptionally grateful for the work of the surgeons, doctors, nurses and other staff, as well as the support offered by Glasgow Children's Hospital Charity."
Kirsten Sinclair, chief operating officer at Glasgow Children's Hospital Charity, said: "We're thrilled to have the support of Emma and Emily – as well as the iconic SSE Hydro – as we kick-start our month-long Plaster it Purple campaign. The money raised will help us fund family support services, medical equipment and hospital play programmes to support our young patients and their families at Scotland's largest children's hospital."
Find more information on Plaster it Purple here. To request a fundraising pack, email [email protected] or call 0141 212 8750.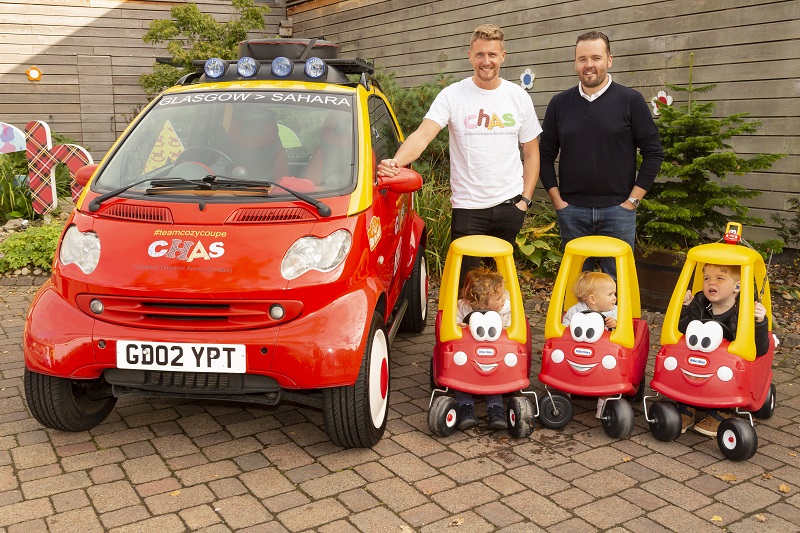 Brothers set off to Africa in a Cozy Coupe to raise money for CHAS
Team Cozy Coupe are on their way to the Sahara Desert, in aid of Children's Hospices Across Scotland – better known as CHAS. The brothers Jonathan and Phil Kelly have already smashed their £10,000 fundraising target for the national children's hospice service which cared for Jonathan and his wife's Lynne son, Rafferty.
The family used Robin House in 2014, when Rafferty was diagnosed with Type 1 Spinal Muscular Atrophy (SMA). The family spent three weeks together at Robin House, where Rafferty sadly died at just nine weeks old.
Jonathan Kelly said: "For the three weeks we stayed at Robin House until Rafferty's funeral, we were able to make memories that otherwise wouldn't have been possible as a family. Robin House made an awful time of our lives easier than it could have been. It meant that we could get some sleep, knowing that Rafferty was being cared for by specialists and fundraising for them is our way of thanking them for their wonderful care."
CHAS is the only charity in Scotland that provides hospice services for babies, children and young people with life-shortening conditions. The national charity offers palliative care and respite for the whole family via its two hospices, Rachel House in Kinross and Robin House in Balloch, and via its CHAS at Home service, which supports families in their own homes across the whole of Scotland.
A donation can be made to Team Cozy Coupe here. Follow @teamcozycoupe on Twitter, Facebook and Instagram to track their journey.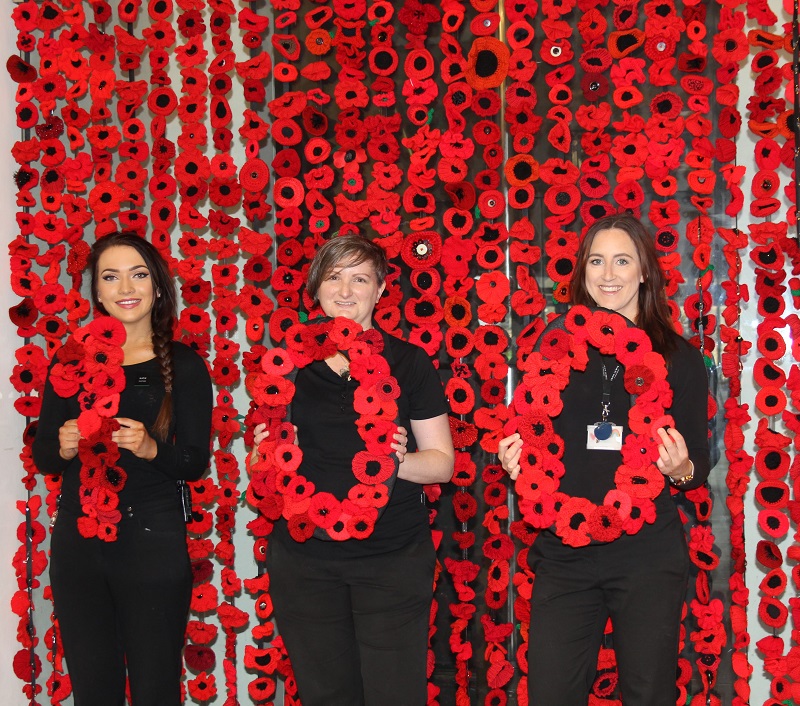 John Lewis & Partners and customers conquer the Poppy Challenge
Partners and customers from John Lewis & Partners' Edinburgh store have been working tirelessly for almost half a year to take on the Poppy Challenge of knitting or crocheting 2,018 poppies to raise funds for and raise awareness of the work of leading Armed Forces charity Poppyscotland. Incredibly, the target has been smashed as it edges close to the 3,500 mark with selling partner SJ Milne crocheting a whopping 430 poppies by herself.
Judith Hunter, community liaison coordinator, said: "We wanted people to know that poppies are not just for November; but that those leaving the Armed Forces need help and funding all year round."
Hundreds of the poppies are being gathered together in the store to create a giant display of the number 100. The rest will be available for customers to take home – hopefully after they have given a donation to Poppyscotland, which will provide vital funds to support the Armed Forces community living in Scotland today.
Gordon Michie, head of fundraising at Poppyscotland, said: "We are all well aware of the significance of this centenary year, and it is heartening to see so many communities and groups coming together to recognise this anniversary in their own way. This has been a fantastically worthwhile project, but the fact that it is likely to raise vital funds to help the Armed Forces community living in Scotland is a further boon."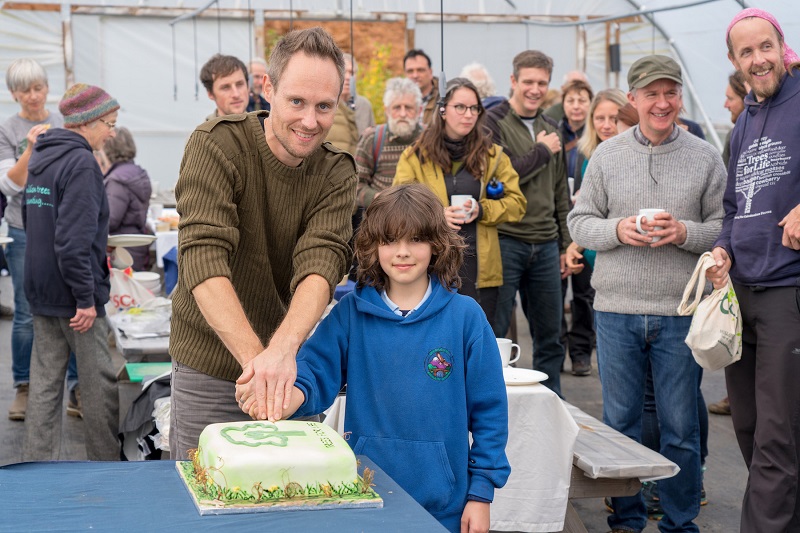 Highlands 'lost world' near Loch Ness celebrates 10 years of rewilding
Conservation charity Trees for Life is celebrating the 10th anniversary of its flagship Dundreggan Conservation Estate in Glenmoriston – marking a decade of restoring the Caledonian Forest at the acclaimed site, and an ongoing commitment to investing in the local community.
On 26 September 2018, the charity's supporters and children from Invergarry Primary School attended a celebration event at the 10,000-acre biodiversity hotspot to the west of Loch Ness. They visited Dundreggan's tree nursery, where they squashed rowan berries to release seeds, and also joined wildlife tours to see conservation in action.
Doug Gilbert, operations manager at Dundreggan, said: "This first decade of rewilding at Dundreggan has been an inspiring success story. Thanks to hundreds of volunteers, 1,200 hectares of new forest are now growing from valley to summit,"
The charity has since been planting half a million trees at the site, ensuring natural regeneration of woodlands, and encouraging the return of rare wildlife, plants and insects. Volunteers have carried out much of this work, including by joining popular Conservation Weeks. At the site's tree nursery, volunteers can join Tree Nursery Weeks – helping a skilled team grow 60,000 native and rare trees each year for planting out on the estate and other Highland sites.
Trees for Life now employs six people at Dundreggan and – thanks to Heritage Lottery Fund support –an additional five 'Skills for Rewilding' trainees. Members of the public can volunteer to plant trees at Dundreggan, or to grow future woodlands in the tree nursery, by getting involved here.