A selection of stories from communities and voluntary organisations across Scotland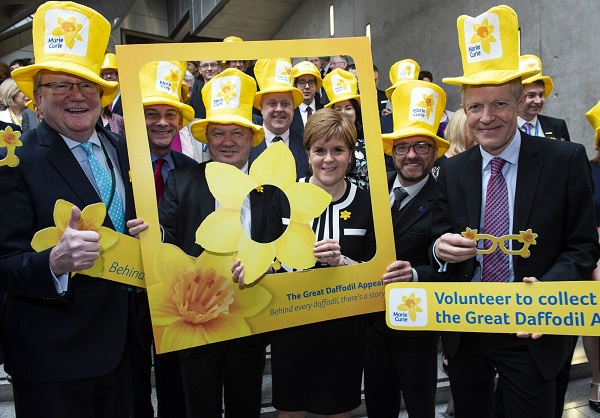 Charity launches annual appeal
Scottish politicians gathered after First Minister's Questions this week to help mark the start of the Great Daffodil Appeal for Marie Curie.
The Great Daffodil Appeal is Marie Curie's biggest fundraising campaign and the charity hopes Scotland will help raise £700k this year. Every donation and daffodil worn during March helps Marie Curie provide vital care for people living with a terminal illness and support for their families. Daffodil pins are available at local collections or until the end of March from Marie Curie shops as well as Superdrug, Spar and Hotter.
Between 13-15 March, Marie Curie will be bringing a 7ft Great Big Daffodil to Edinburgh's Gyle Shopping Centre. Everyone visiting the Great Big Daffodil will be able to pick up one of the charity's daffodil pins and leave their story on one of the Great Big Daffodil's petals. Each petal is designed to give someone the opportunity to write messages, memories or tributes to someone special.
To find out more about the Great Daffodil Appeal, visit the appeal website or call free on 0800 304 7025. To donate £5 to Marie Curie, text DAFF to 70111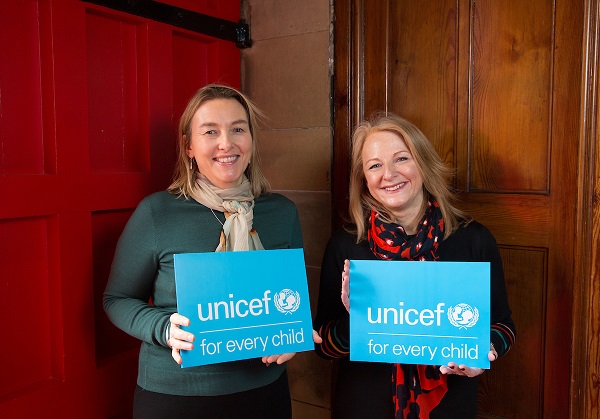 Partnership aims to tackle challenges in society
Entrepreneurial Scotland (ES) the network and leadership development organisation, and Unicef UK, have joined forces to show the power of entrepreneurism in driving meaningful solutions to some of society's toughest challenges.
The partnership highlights the organisations' shared belief that entrepreneurial thinking is key to meeting the needs of future generations around the globe, ensuring the best possible start in their adult life.
As part of the collaboration, ES and the world's leading children's charity are planning a 'Hackathon' to explore new ideas and solutions. In addition, ES members are invited to take part in an emergency simulation exercise to gain an insight into the handling of Unicef's responses to a humanitarian disaster.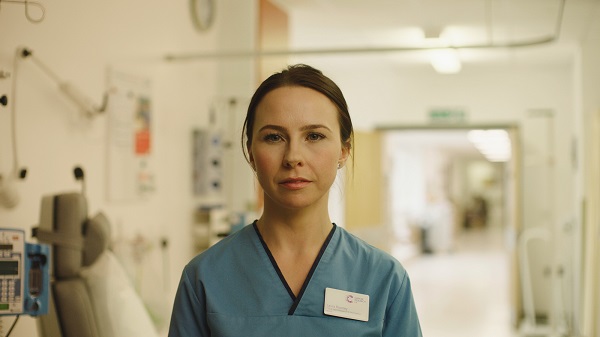 Charity seeks legacy donations
A Glasgow nurse is starring in a new UK-wide TV awareness campaign called I Pledge.
Laura Rooney, 33, from the city's Southside, appears in a moving TV advert highlighting Cancer Research UK's commitment to life-saving research, which is possible thanks to people who leave gifts in their wills.
Laura, a research nurse at the Beatson West of Scotland Cancer Centre, was filmed at work for the new campaign which encourages people from all walks of life to make a pledge – or promise – right now to leave something in their Wills to help beat cancer for future generations.
She appears in the advert with other Cancer Research UK nurses, doctors and scientists who commit to turn these pledges into new breakthroughs and create new hope.
For more information, visit the Cancer Research website or call 0800 035 9000 for a free gifts in wills guide.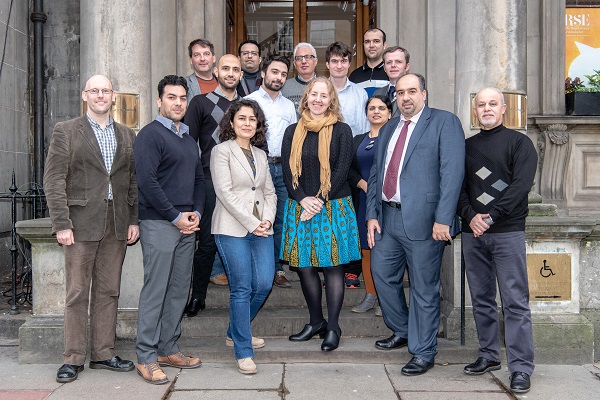 Training programme supports refugees
A charitable organisation has been helping refugees into the workplace.
The Young Academy of Scotland (YAS) held a recent training event in Edinburgh aimed at helping attendees to overcome challenges and access employment within the education system.
The programme arose out of the YAS's At-Risk Academic and Refugee (ARAR) membership programme, which seeks to recognise the talented individuals from Scotland's displaced migrant community.
Seventeen refugees and at-risk individuals attended the event- almost double the anticipated number- with guests travelling from as far as London to participate.
Mohammed Al Bakkour was amongst those who attended. He said: "This workshop has been a turning point in my career path. It has surely shown me a clear way to follow to apply for jobs in academia.
"The real fruit of the whole workshop was the mock interview. I absolutely loved this session. Everything I learned through the day was practised in an interview with academics and YAS members who have recruiting experience."