​Chief of the national agency for youth work calls for more funding
Youth work could be scrapped in parts of Scotland to devastating effect if councils cut budgets much further.
Jim Sweeney, chief executive of YouthLink Scotland, said he fears some local authorities don't place enough emphasis on working with young people and could be about to shelve funding programmes to plug financial gaps elsewhere.
Calling for the Scottish Government to release new financial support for the sector and to make it mandatory that councils maintain a youth work programme, the head of the country's national youth work agency told TFN that without youth work the taxpayer would end up having to fork out millions of pounds in the long run to pay for a generation lost to society.
"If the austerity measures continue then the next two rounds of budget cuts could see youth work under real threat in some areas of the country," he said.
"In many cases youth work is the safety net for when other things don't work for people who aren't engaging with other parts of the infrastructure of the country to support them.
If the austerity measures continue then the next two rounds of budget cuts could see in some areas of the country youth work under real threat
"Without it, it would mean those that are really in need and are furthest away from general services would drop off the register. They would never get there.
"It's almost a no brainer. Youth work is the ultimate preventative step."
Youthlink's latest figures estimate that up to 400,000 young people take part in youth work activities every week with around 40% from the poorest 20% of the country.
Traditionally areas such as the two Lanarkshires have had a real belief in youth work and continue to fund it well but Sweeney said others such as Highlands and Moray, Aberdeen and Dumfries and Galloway have made drastic cuts recently.
The Scottish Government no longer ring fences youth work spending but has continued to support youth work by making money available to voluntary organisations through the likes of Cashback for Communities and committing itself to a youth work strategy.
One particular successful area of youth work done through local authorities is activity agreements.
Each year 3,500 of the most vulnerable 16-19 year olds are supported through a programme of informal education with 70% going on to positive destinations.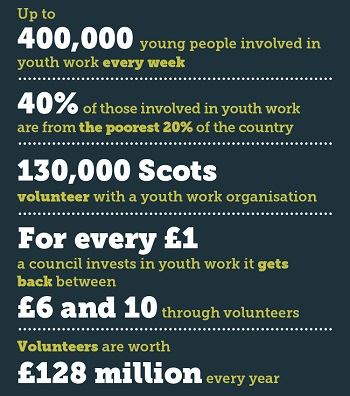 However, more could be done, Sweeney added – particularly since the sector hasn't had any capital funding since 2008.
"We have asked the government to consider, within their spending review, a programme of approximately £25 million capital over three years to refurbish and renew equipment young people are using," he said.
"Young people like the latest stuff like everyone but equally in health and safety terms we don't want to take them out on old boats and canoes that leak, we want to renew all that.
"Outside of that I think we need some kind of guarantee that youth work, via the councils, will continue and a three year funding of the national youth work voluntary organisations could be a given to give them a bit of sustainability, a chance to plan for the future and also some money for training and staff development, and supporting volunteers.
"We want to see youth work reflected in councils' community planning arrangements. We don't want a minimum requirement as there are councils that do more than a minimum, what we want is some kind of negotiation that says youth work services should be in every council and that every council should also support the voluntary sector in its area and work with them as partners to deliver strategic services for young people outwith the formal education system."
A Scottish Government spokesperson said: "Since 2013 we have given more than £6.9 million directly to voluntary youth work organisations, with £500,000 from the National Voluntary Organisations Support Fund announced by the minister for children last week, and further investment of more than £21 million from the Cashback and Young Start programmes since their creation.
"The amount of money being provided by the Scottish Government to local government has been increased in 2014-15 to almost £10.8 billion, and this is set to increase further to over £10.85 billion in 2015-16, which includes extra money for additional responsibilities. This total funding is allocated to individual local authorities using a needs-based formula which is agreed with COSLA.
"The vast majority of this funding is being provided by means of a block grant. It is the responsibility of individual local authorities to manage their own budgets and to allocate the total financial resources available to them, including funding on youth work, on the basis of local needs and priorities, having first fulfilled their statutory obligations and the jointly agreed set of national and local priorities."