​Nelson Mandela's granddaughter pays tribute to Glasgow as Mitchell Library displays Robben Island Bible
In Sonny Venkatrathnam's darkest hours spent in the notorious Robben Island detention centre in South Africa, he believed he would never see the light of day again.
But hope came in an unlikely guise – the complete works of William Shakespeare.
The infamous book, which became known as the Robben Island Bible, visited Glasgow this week at a special unveiling at the Mitchell Library as part of the city's Glasgow and the Commonwealth exhibition.
Venkatrathnam, an Indian national, told the event how he disguised its cover with Hindu Diwali cards and told prison guards it was his bible to prevent its seizure.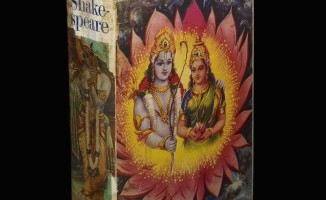 It was subsequently read by Nelson Mandela and Steve Biko while detained in the prison and became their only reading material in all their years inside.
Speaking in Glasgow, Venkatrathnam said: "This book was so important to us because it was the only reading material we had on Robben Island.
"Everybody borrowed it for a week or two weeks.
"One of my comrades used to read King Lear to other prisoners who couldn't read or write."
Glasgow spoke out against apartheid and stood firm against the oppression - Tukwini Mandela
In 1981 Glasgow was the first city to offer Nelson Mandela the title freeman of the city while still detained – an honour the former South African prime minister was never to forget.
At an event to launch the arrival of the book in Glasgow, Mandela's His grandaughter Tukwini Mandela told TFN: "My grandfather never forgot the honour Glasgow bestowed upon him," she said. "Glasgow spoke out against apartheid and stood firm against the oppression. Mandela wanted to repay the city when he visited – it held a very special place in his heart."
Mandela, who died last year at the age of 95, underlined a passage from Julius Caesar and signed his name beside it on 16 December 1977.
The passage he highlighted reads: "Cowards die many times before their deaths. The valiant never taste of death but once.
"Of all the wonders that I have heard, it seems to me the most strange that men should fear, seeing that death, a necessary end, will come when it will come."
Karen Cunningham, head of Glasgow Libraries, said: "The Robben Island Bible is of strong historical significance and we are grateful to Sonny Venkatrathnam for loaning us the book. I'm sure many visitors will come along to the Mitchell Library to see it in person."
The book will be on display in Glasgow's Mitchell Library until 4 October.