Mass fundraiser takes to the streets for the first time in three years
The MoonWalk Scotland returned to the streets of Edinburgh in a blaze of colour on Saturday night (11 June).
Women and men wearing brightly coloured bras – many decorated with this year's Your Hero theme - set off from Holyrood Park, as the iconic fundraising walk took place for the first time in three years.
Those taking part included Team Holyboobs (pictured below), led by Christina McKelvie MSP, who has recently been treated for breast cancer.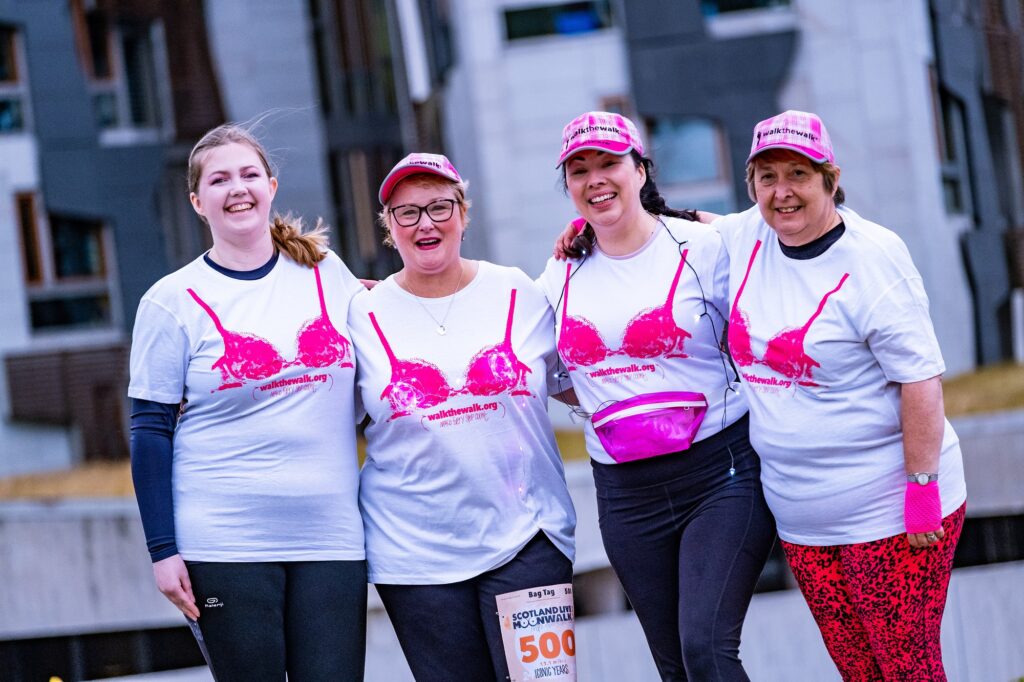 She said: "The MoonWalk Scotland was an absolute inspiration - the night was filled by all the walkers with such a wonderful buzz. I am so proud to have been part of it with my brilliant HolyBoob team - Monica Lennon MSP, Gillan Mackay MSP and Christine Jardine MP - whose efforts have meant so much to me. I hope all the walkers got a well deserved rest on Sunday. They should be very proud of what they've achieved and the funding they've raised for all the organisations doing incredible work."
Linda Cunningham from Bathgate was diagnosed with breast cancer in 2016. She noticed changes to her breast in the mirror, while she was trying on her decorated bra for that year's event and was diagnosed soon afterwards. She was thrilled to take part in The MoonWalk Scotland 2022, with her three daughters and two friends.
She said: "What a fantastic night and a great atmosphere. I spent the first eight miles walking with my daughters and a friend - chatting, laughing and just having fun. After a hug at the split for the Half Moon (my daughters were taking on the 26.2 miles Full Moon),  I walked the last five miles feeling grateful and reflecting about what an amazing family I have. I hope that as well as fund raising for breast cancer, I've also helped to raise awareness."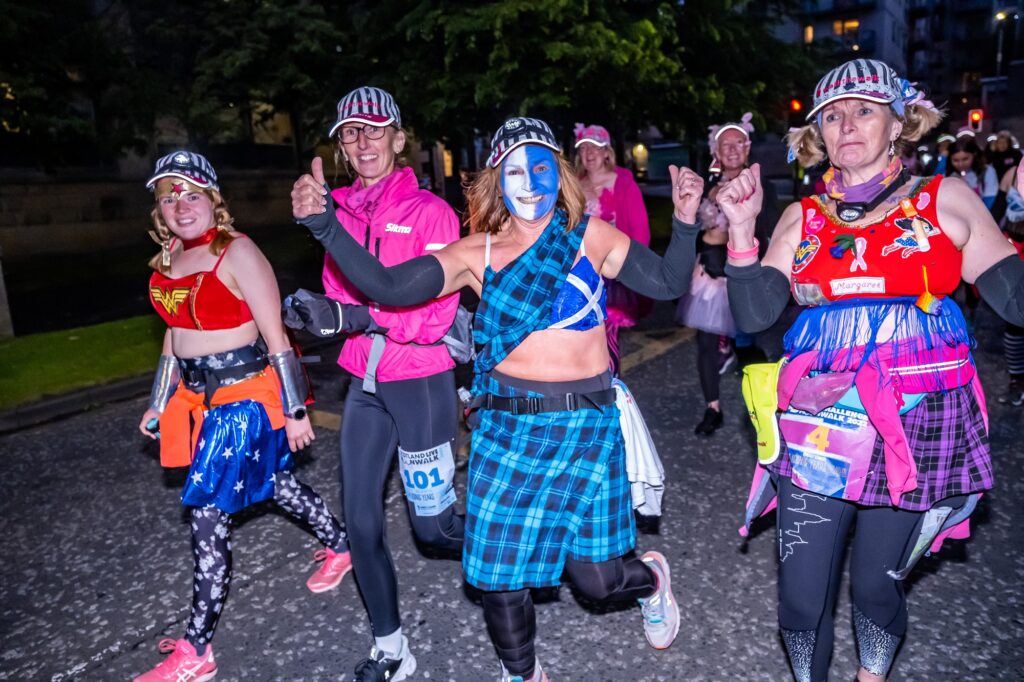 Over the last 15 years, the iconic night-time event, organised by breast cancer charity Walk the Walk, has raised almost £22 million. The money is granted across Scotland, to help support those living with cancer. During the pandemic, Walk the Walk gave £20,000 to the charity Cancer Support Scotland, to help fund its online services.
Previous grants have been made to Maggie's Centres in Glasgow, Forth Valley and Airdrie and to the Breast Cancer Unit at Edinburgh's West General Hospital. Funds have also been given to hospitals across Scotland to purchase Scalp Coolers – amazing machines which help many people undergoing chemotherapy to keep their hair.
Nina Barough CBE, founder and chief executive of Walk the Walk, said: "It was really special for Scotland's MoonWalk to be back – people clearly enjoyed the fact that they could finally come back together and take on their walking challenges in person
"The MoonWalk Scotland and the important work which it funds, is more needed than ever. Covid has affected cancer in such a way that it will be five to ten years before we really recover. The money raised by The MoonWalk Scotland will help so many people who vitally need our support."