​Perth-raised IS kidnap victim was working for NGO when captured
David Haines, the kidnap victim being threatened with execution by Islamic State (IS), was working for an NGO when he was captured a year ago, it has been revealed.
Haines was snatched from a refugee camp near the Syrian border but details have only now been released after the 44 year old Perth-raised humanitarian worker appeared at the end IS's latest video during which American journalist Steven Sotloff is executed.
A voluntary news blackout over the last year meant Haines' details were not released on request of his family.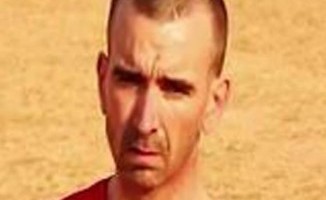 It has now emerged, via US-based news outlets, that Haines had been working for a Paris-based NGO called ACTED when he was taken.
Born in Yorkshire but raised in Perth, Haines is believed to have 16 years' experience on humanitarian missions in some of the world's most volatile regions working mostly with European-based charities.
He spent several years working with a German NGO resettling refugees who had been uprooted by the civil war in the former Yugoslavia and has also worked with NGOs in Libya and South Sudan.
During the harrowing video, Haines, looking very gaunt, remained silent.
His captor dubbed 'Jihad John', who also appeared in the execution video of American journalist James Foley, said the Briton would be killed if the UK joined the military action against IS in Iraq, saying, in a distinctive London accent: "We take this opportunity to warn those governments who have entered this evil alliance with America against the Islamic State to back off, and leave our people alone."
Prime minister David Cameron is scheduled to hold an emergency meeting to review the latest developments.