Much loved campaigner took fundraising to a new level despite living with a debilitating terminal illness
Gordon Aikman has passed away at the age of 31 after a three year battle with Motor Neurone Disease.
Gordon, when diagnosed with the incurable condition in February 2014, learned that the average life expectancy is only 14 months. Since then he devoted the time he had left to fundraising to find a cure for the disease but also to help raise awareness of the disease to unprecedented levels.
Craig Stockton, chief executive of MND Scotland, said: "Everyone at MND Scotland is deeply saddened to hear of Gordon's passing.
"Although Gordon was diagnosed with a terminal illness, this has still come as a shock to us all. I feel privileged to have known Gordon and to have worked alongside him on MND Scotland's board of trustees.
"In the face of a devastating diagnosis, at the age of just 29, Gordon turned his grief into a drive to fight for the rights of others affected and to fund a cure. In addition to his campaigning and fundraising efforts, Gordon has played a pivotal role in raising awareness of MND and the daily challenges people with the illness can face, through his own personal experiences.
"Gordon raised over £500,000 for MND Scotland which has been invested into cutting-edge research to find a cure.
"Gordon Aikman has been an inspiration to so many people across Scotland, not just to those affected by MND, but far beyond that.
"We cannot thank Gordon enough for everything he has done not only for the charity but for everyone affected by MND in Scotland.
"Our deepest sympathies are with his friends and family at this very sad time."
The Edinburgh-based former political campainer who worked for the Scottish Labour Party and at the Better Together campaign was diagnosed with the disease at the age of 29.
He launched GordonsFightback.com to raise funds for research and lobby for better care for people with MND, raising over £500,000 in the process from 6,000 donations.
Last year he won Charity Champion at the Scottish Charity Awards alongside Lucy Lintott who also lives with MND.
Gordon's husband Joe Pike (pictured above right with Gordon) tweeted: "My beautiful husband @GordonAikman has died. We are all heartbroken. He was my best friend, my soulmate and the love of my life."
Labour leader Kezia Dugdale, who was a close friend of Gordon's, said: "Gordon was a beautiful man who existed to do nothing but good in this world - just devastated."
In a series of Tweets this morning, First Minister Nicoal Sturgeon said: "I'm so terribly sad to hear that Gordon Aikman has died. He faced adversity with incredible courage and did so much good for others.
"Gordon's campaign to raise awareness of @MNDScotland and achieve better care and treatment for those diagnosed was inspirational. We can honour @GordonAikman memory by donating here - http://gordonsfightback.com/. My thoughts are with @joepike and his loved ones."
Gordon's efforts to fund a cure for MND live on. Please donate at GordonsFightback.com or text MNDS85 £10 to 70070.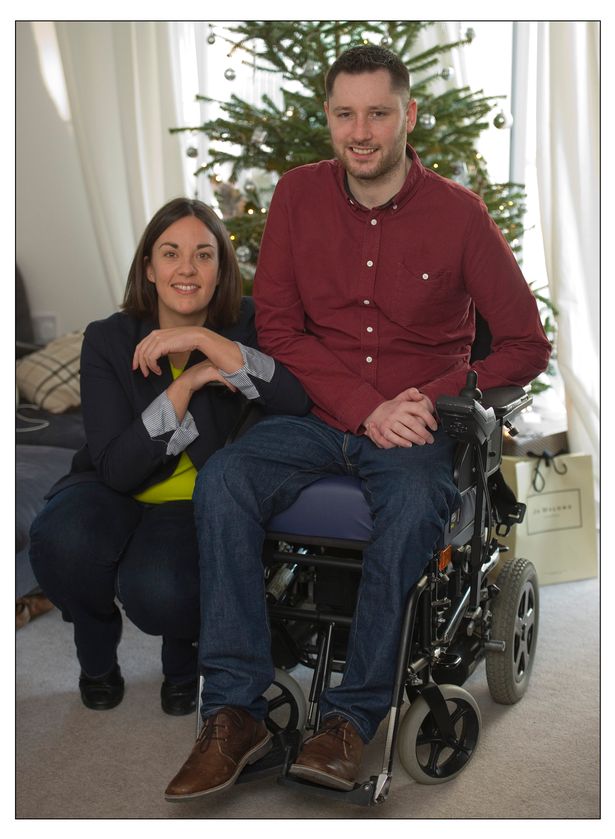 "I am utterly bereft. Although we all knew time was precious, Gordon's death comes as a shock.
"I have lost a best friend and the world has lost a man who made it a better place. I will keep Gordon's husband Joe and all his family in my thoughts and prayers. The wedding of Gordon and Joe was one of the happiest days of my life. I will treasure those memories.
"I will miss Gordon's smile, his laugh, his energy, his brilliant dance moves and terrible singing voice, and his positive outlook on life despite the hand he was dealt towards the end. I will miss his advice and I will miss campaigning with him to advance the causes dear to us. But most of all I will miss just spending time with my friend.
"All of us in the Labour Party will be forever grateful for his commitment to our movement, particularly during his time working in the Scottish Parliament and his pivotal role in the Better Together campaign. His death will be mourned by all those who had the pleasure to work alongside him.
"Although we grieve for Gordon, we must not allow our sadness to erase the many happy memories we have of his time with us. To respond to his MND diagnosis by raising more than £500,000 for research into this horrible disease so that others don't have to suffer like he did should inspire us all.
"Gordon's constant determination to do good for others was an antidote to a world so full of fear and anger. I hope that will be his legacy."