Nicola Sturgeon among the party leaders featured in campaign ahead of latest TV debate
Amnesty International has launched a new campaign calling on the leaders of all political parties to "do the human right thing" and protect the Human Rights Act.
The campaign features full-page adverts in national newspapers with the message "Do the human right thing: Keep The Human Rights Act" slogan as well as the faces of party leaders, including First Minister, Nicola Sturgeon.
More than 18,000 people have already signed up to keep the act on the dedicated website keeptheact.uk, which features stories of ordinary people who were able to use the Human Rights Act to claim their rights, including the touching story of an elderly couple who faced separation after 65 years until the local authority allowed the wife to move into her husband's care home.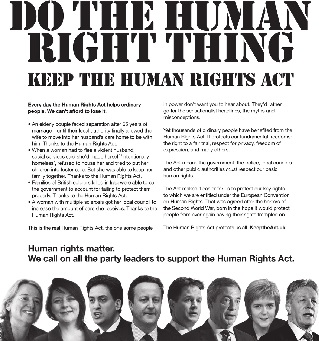 Siobhan Reardon, Amnesty International programme director in Scotland, said: "Our human rights are not a matter of party politics – they are our basic freedoms and should not be subject to the whim of whichever government is in power.
"People all over the world are still fighting for their essential human rights, risking their safety and freedom and as we support them we must also be aware that our rights and freedoms need to be protected.
"We want to see MPs of all parties, including those from Scotland, defend the rights which were hard-won by ordinary people over many years – we shouldn't let politicians take them away with the stroke of a pen."