The new design is embossed with 100 in gold numbers
A new Poppy has been unveiled to mark a milestone anniversary.
This year marks 100 years of the Poppy, the national symbol of Remembrance, and today (Thursday 23 September) triple Paralympic medallist Stephen Clegg unveiled a special-edition Poppy created to commemorate the appeal's centenary. 
Three million Poppies, which have all been handmade by veterans at the Lady Haig Poppy Factory in Edinburgh, now begin their journey across the length and breadth of the country ahead of the 2021 Scottish Poppy Appeal. 
The stunning centenary Poppy features 100 embossed in gold lettering across the iconic red flower. Around half a million centenary Poppies have been made and will be distributed by Poppyscotland's army of volunteers ahead of the upcoming Scottish Poppy Appeal, which begins in October. 
Returning home from a triple medal win at the Tokyo Paralympic Games, Scottish swimmer Stephen Clegg was honoured to launch the 2021 centenary Poppy. He said: "It's an absolute privilege to be here today and help celebrate 100 years of the Poppy. It's a symbol that is engrained in our national identity and reminds us all of the sacrifices made by our servicemen and women. 
"The Paralympic games are a showcase of resilience, pushing limits and camaraderie between competitors, and these traits are also synonymous with those who serve in our Armed Forces. I compete alongside many veteran para-athletes and find them truly inspiring. I'm here today to show solidarity, not only with veteran Paralympians but with the whole Armed Forces community. They sacrifice so much for us and I think it's vital that, through the Scottish Poppy Appeal, we support those who urgently need our help."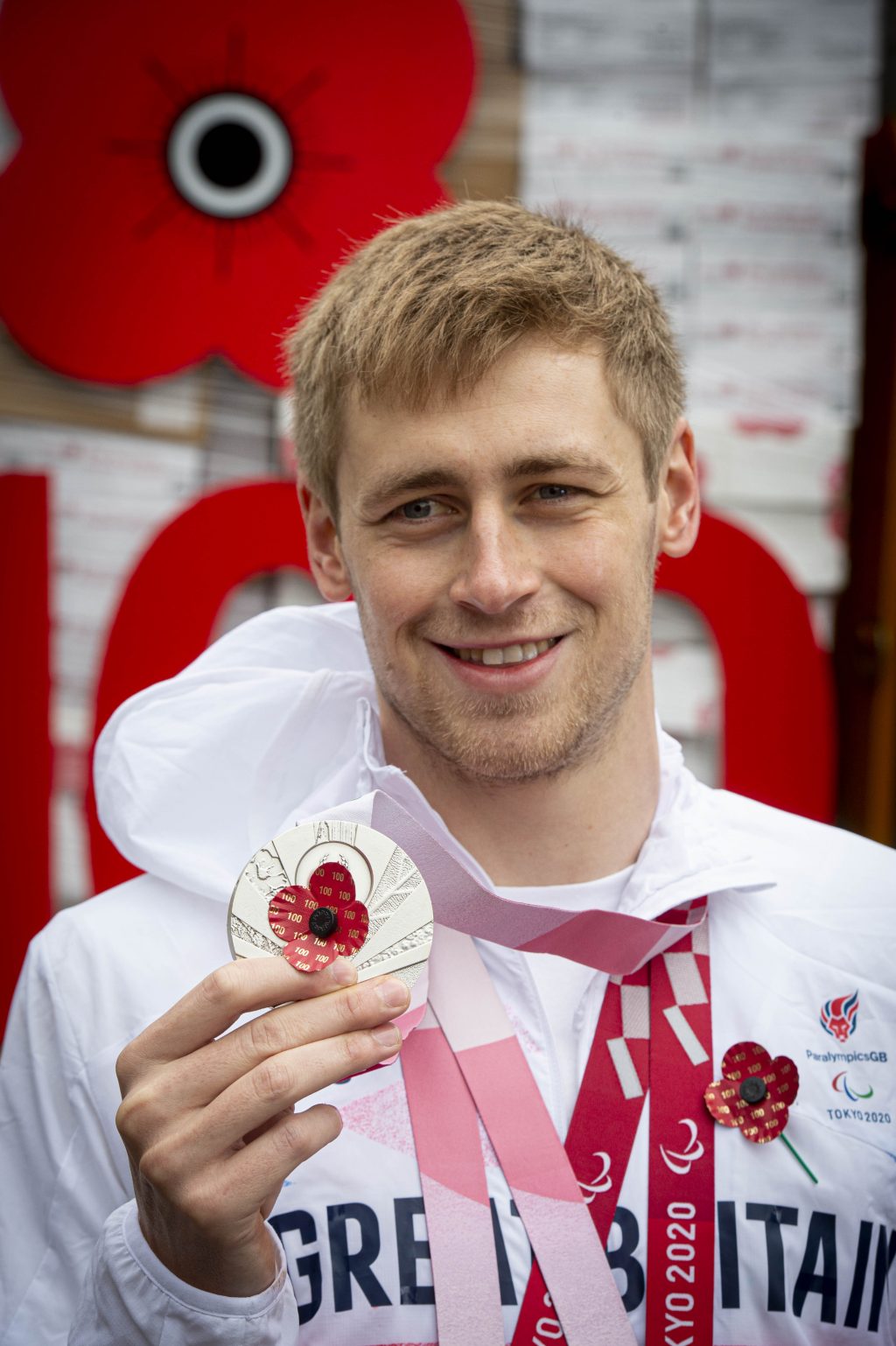 With last year's Scottish Poppy Appeal being badly impacted by the pandemic, the centenary Appeal takes on an even greater significance. Gordon Michie, head of fundraising and learning at Poppyscotland, said: "The last 18 months have been a very difficult time for us as a charity and, even more so, for the armed forces community that we support. The pandemic halted all our major fundraising events and we had to drastically change the way in which we reach out to the public for donations. Despite this we have still provided our vital, life-changing support uninterrupted throughout the pandemic.   
"With restrictions now easing, our volunteers can't wait to get back out in towns and cities, shopping centres and supermarkets, and engage with the public in a way that was not possible last year. I'm excited to see the special-edition centenary Poppy pinned on lapels across Scotland. Our veteran Poppy-makers at Lady Haig's Poppy Factory work tirelessly every year to produce millions of Poppies, and today's uplift means our most important fundraiser, the annual Scottish Poppy Appeal, is just around the corner."
The Scottish Poppy Appeal is the largest annual charity street collection in Scotland and raises more than £2 million each year. Run by Armed Forces charity Poppyscotland, money raised from the Poppy Appeal and their year-round fundraising enables them to deliver support to members of the armed forces community in Scotland by providing tailored funding and assistance. The charity also funds services in advice, employment, housing, mental health, and mobility.  
While the roots of the Poppy stem from Flanders Fields, it's adoption as a symbol of Remembrance began in the aftermath of the First World War. French activist, Anna Guérin came to the UK in September 1921, after campaigning to promote the symbol of the Poppy in the United States. Setting out to do the same work in Great Britain, she met with Field Marshall Sir Douglas Haig, who had recently founded the British Legion, and the Poppy was adopted as the national symbol of Remembrance.
Michie continued: "100 years on, the Scottish Poppy Appeal is as important now as it has ever been. The impact that recent events in Afghanistan is having on veterans who served there, and the central role the armed forces continue to play at times of national crisis reminds us of the huge debt we continue to owe to those who serve."