Tackling climate change has become a priority for aid groups
A leading Scots international aid and development agency has received acclaim for its work on climate change on behalf of people in some of the poorest countries in the world. 
Glasgow-based Scottish International Aid Fund (Sciaf) won the Caritas Europa's Sustainability Award for its work on Loss and Damage, particularly in the lead up to COP26 and COP27. 
Loss and Damage refers to the negative consequences of climate change on human societies and the natural environment. 
Its advocacy manager Ben Wilson (pictured above) said: "We worked closely with partners across the world to influence governments and church leaders to champion the issue, contributing to the success of COP27 with the establishment of the Loss & Damage Fund. 
"Many of the countries where Sciaf works are already suffering huge loss & damage as a result of climate change. Some of the poorest people in the world now have to endure more and more extreme weather - heatwaves, devastating droughts, catastrophic flooding and cyclones.
"The Loss & Damage Fund agreed at COP27 must quickly get up and running to help these communities recover from the devastating impacts of climate crisis that they did not cause." 
At COP26, the Scottish Government became the first country in the world to explicitly commit finance to Loss & Damage. This money is already helping people across the world to recover from extreme weather events, and it is hoped that how Scotland has spent Loss & Damage funding can inform the global Loss & Damage Fund agreed at COP27 in Egypt last year.
Wilson added: "The award we received was for innovation & sustainability. The innovation mostly related to how we worked together with partners across the Sciaf global family - including in Malawi, Zambia and Cambodia - to build the case for Loss & Damage action at home and abroad.
"Progress in tackling the causes and consequences of climate change can only come with strong global partnerships across the world." 
"The prize will go towards a conference to be held in Malawi later this year that will bring together governments, researchers and development workers from across Africa to learn more about Loss & Damage and what the new fund established at COP27 should look like." 
Case study: Elvis from Zambia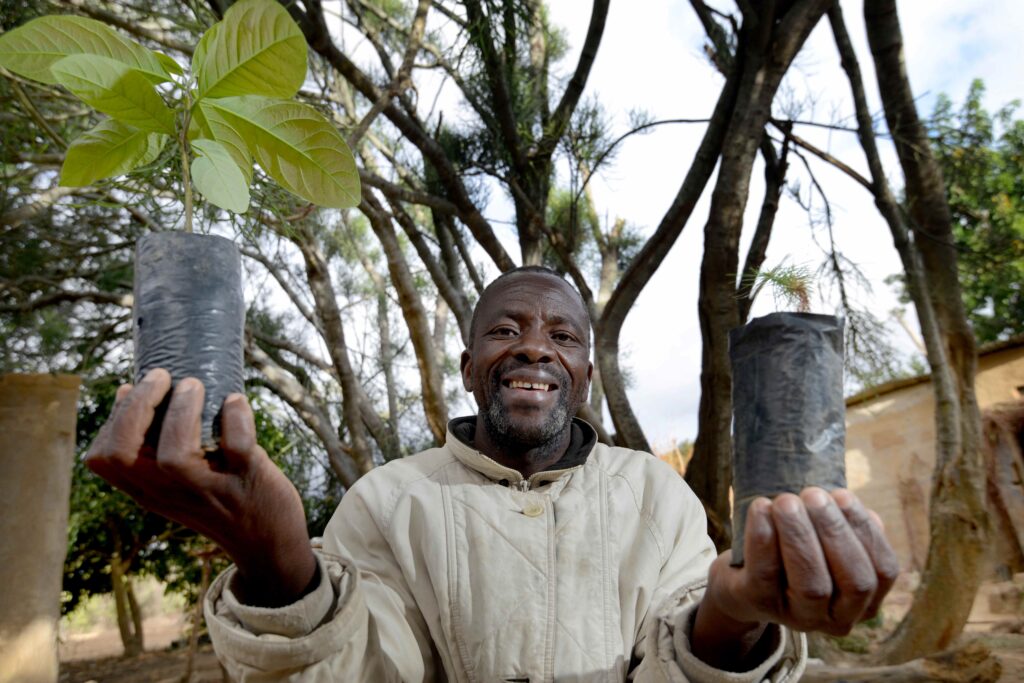 Elvis is 50 years old and has 3 children ages 15, 18 and 19. He lives with his wife Jennifer, their 15-year-old daughter, their nephew, and one grandchild (aged 6).
Elvis has a disability and uses a wheelchair which was provided by Caritas Kabwe. Before he received the wheelchair, he had to try and get around by bicycle which was very difficult. Elvis can only walk short distances and uses a cane to do this.
Due to his disability, Elvis was unable to travel the distance to the local men's society, so he is
instead a part of the women's society. Jennifer works in town to provide for the family, so Elvis is often alone for most of the week and struggles with mobility.
"Sometimes my legs hurt so badly that I can't cook for myself".
When he was in Grade 9, Elvis was working to get money to go to school and was hired to cut a tree.
He fell, missed a branch, and cut his foot but kept working despite the injury. His injury continued to deteriorate due to the strain.
He often had to quit jobs because of his injury. After having to leave a job in a shop, Elvis got another job as a coordinator for a non-profit helping orphans, but couldn't continue as his leg prevented him from riding the bus to work. Eventually, Elvis had to stop working completely because of his lack of mobility.
By time Elvis became involved in the Kumena project, he had been unable to work for 4 years.
He had started building a house but had a stop. Life was very hard and he had sleepless nights.
Elvis received seeds from the Kumena project and started a kitchen garden growing vegetables for home consumption. He now grows kale, cabbage and onion, finger millet, sunflowers, beans, corn and groundnuts.
"I used to only grow one crop, but now I have adapted and can diversify and sell some too."
Elvis also grows and sells seedlings and has a mini orchard near his house where he grows pine trees, eucalyptus, and other varieties.
"Before it was challenging to get clothes for my family or pay my children's school fees. I couldn't pay for medicines.
"Now we have breakfast, lunch, and dinner. We can have a good meal. We have sofas in the house.
"We have a TV. We have plenty of clothes – so many I can't count them all.
"In the future I want to raise 11,000 seedlings.
"Water is now our biggest challenge. I want to hire someone to drill a borehole at home to access water."