Petition launched to move T in the Park after green groups, landowners and event organisers squabble over fate of rare birds
A leading environmental charity is calling for the proposed site of this year's T In The Park to be moved to protect endangered wildlife.
Woodland Trust Scotland has launched a petitioncalling on DF Concerts to move the festival away from Strathallan Estate in Perthshire.
The planned site for Scotland's largest music festival is surrounded by 80 hectares of woodland which is home to wildlife including red squirrels and bats. The event's main arena would be just a few metres away from these woods.
In particular, there are also concerns about a breeding pair of rare ospreys.
Perth and Kinross Council is due to decide whether to give the event planning consent in May.
There is no chance the birds are going to nest with this kind of disturbance going on
Charles Dundas from the Woodland Trust Scotland said: "Ahead of the consultation held by Perth and Kinross Council we are launching a petition asking DF Concerts to move the festival away from Strathallan Estate to avoid subjecting this old and wildlife rich woodland to unacceptable disturbance on an annual basis.
"The woodland at Strathallan Estate deserves protection. Holding T in the Park there will drive many rare species of wildlife, including bats and and ospreys away.
"We're not against T In The Park itself, however these woods are simply too important for wildlife for a festival of this scale to be held on just metres from its edge."
RSPB Scotland has also voiced its misgivings about the site – specifically over plans to relocate an osprey nest.
The migratory birds are due back from Africa any day now and although event organisers have create an alternative nest site, it is feared the birds will be confused because of a neighbouring landowner's refusal to remove their existing nest, which is on the boundary of the Strathallan Estate.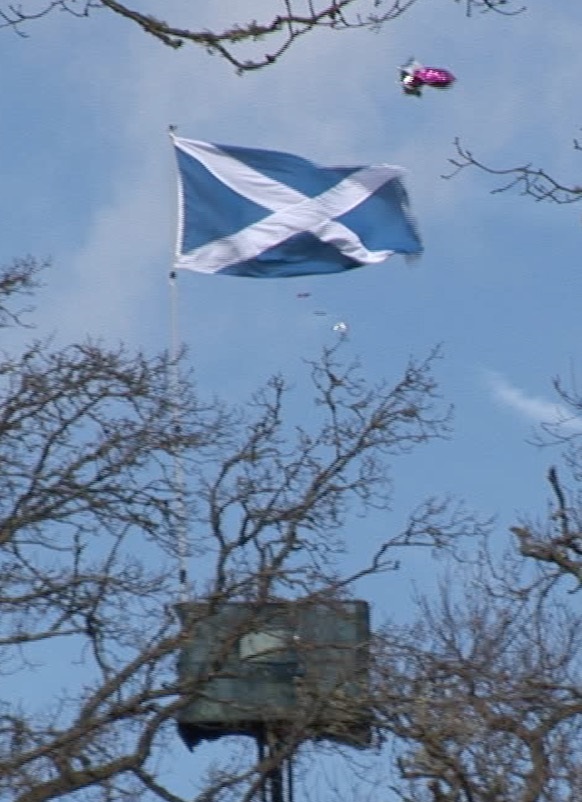 Now another campaign organisation has waded into the row, accusing T in the Park organisers of attempting to scare the birds away from the site. The Strathallan T Action Group (STAG), has taken pictures of a saltire flag, balloons and a string of CDs which have been placed to the existing nest site.
A spokesperson for STAG said: "There is a cherry picker close to the nest which has been raised to its full extent and they have attached a Scottish flag, a couple of balloons and some CDs to catch the light and scare the birds away.
"I know it is not illegal to try and prevent birds from coming to the nest but this is shocking.
"There is no chance the birds are going to nest with this kind of disturbance going on."
Ospreys – which were once hunted to extinction in Scotland – are heavily protected, as are their breeding sites.
RSPB Scotland has previously issued a call for the police to get involved if there is any suggestion the birds are being disturbed.
DF Concerts admits it is trying to discourage the ospreys from using the old site – but says it has no other choice and that it is working with an ornithologist – whose identity it would not reveal.
A spokeswoman said: "We have not and would never attempt to scare the ospreys. The cherry picker approach is designed to gently encourage them to fly to the new, specially built nest a short distance away.
"However, to be clear, this approach would not be used at all if the landowner concerned would allow access to their land to remove the old nest. This is despite requests from ourselves and members of the local community who agree with the RSPB that removing the old nest entirely would be best. We are trying to urge them to reconsider.
"In the meantime, we have ornithologists on-site monitoring the situation to make sure things are done properly."
In response to the Woodland Trust, she said: "The Woodland Trust has shown it is more interested in a cheap headline than actually spending time reading our planning documents or taking part in the proper planning process. As has been widely reported, an addendum document with additional information on wildlife is being presented to Perth & Kinross Council and will then be available for public consultation for a further 28 days. Why wouldn't the rust take the time to analyse this information and then submit their response like every member of the public is entitled to do?
"We have taken on board all advice from Scottish Natural Heritage, which does not share the views expressed by the Woodland Trust. We are taking a worst-case scenario approach to our planning and are mitigating for every potential species that could be on the site – even if they have not been seen there for years. We are confident that we have thoroughly assessed every possible scenario and have contingency plans that will work not just this year but for many years to come."