​Edinburgh Direct Aid is the only western NGO working with refugees in Arsal on the Syrian border. It has now unveiled an ambitious programme.
A Scottish charity is spearheading a campaign to train "mechanics not militants" amidst the chaos of the Syrian civil war.
Edinburgh Direct Aid (EDA) has unveiled its new programme, which is aimed at curbing radicalisation and providing real prospects for those displaced by the conflict.
EDA is the only western non-governmental organisation (NGO) operating among the Syrian refugee diaspora in the 80,000 strong tented camp at Arsal above Lebabon's Bekaa Valley – just over the border from Syria.
A meeting in the capital this week heard from volunteer field worker Maggie Tookey, who recently returned from helping distribute a large shipment of winter clothes and other aid items.
Young people in the camps will be given useful skills and a sense of hope and worth. A life of death and destruction with the militants might then seem a lot less attractive
She described her work among the refugees in Arsal as "difficult, heartbreaking, uplifting and rewarding all in equal measure".
In the course of the last year EDA has sent shipments to Arsal, comprising food, winter clothes, bedding, hospital equipment and much else.
The more significant components of aid which EDA has distributed there include textbooks, stationery, school desks and other educational equipment, to help Syrian volunteer teachers run schools for their children.
Tookey said: "Unfortunately there are not nearly enough school places: we estimate that only about 4,000 of the 11,000 or so children in the town are able to attend school. And for the young men and women leaving school, there is nothing: no further education, no jobs, no prospects. And there is the ever present temptation, for the young men in particular, to join the militants just over the border."
EDA is proposing a two-fold response to combat these conditions of idleness and despair.
The aim is, first of all, to expand school capacity. Secondly, the charity wants to create vocational training workshops to impart useful skills and provide facilities for the use of refugees and poor Lebanese alike.
Tookey said: "A number of schools in Arsal have been set up, run and staffed by volunteer teachers, themselves refugees. The buildings are makeshift and unbelievably cheap by our standards. EDA will seek to double their capacity, erecting sectional buildings on land already available, and supporting the managers of the existing schools in extending their remit."
Working in close partnership with Lebanese NGO Dar Al Fatwa, and in cooperation with the Lebanese ministry of social affairs, EDA will create workshops for sewing and tailoring, for electrical work, and for motorcyle repair, offering a two month cycle of instruction and practical work in each.
Tookey said: "Clothing and bedding are always in need of repair, and with materials gifted in Edinburgh much can be made from what EDA can provide. Arsal is swarming with small motorcycles – mostly owned by Lebanese – the demand for repair is endless."
An EDA spokesperson said: "Maggie Tookey's experience in Arsal leads us to believe that these projects are of the utmost importance.
"These are pilot projects: if successful, and if the model is followed by others on a larger scale, very many young people in these camps will be given useful skills, a possibility of earning even some small income, and most important, a sense of hope and worth. A life of death and destruction with the militants might then seem a lot less attractive."
"Preventing radicalisation through education and training"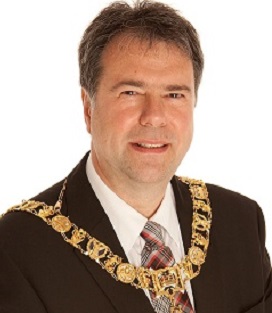 City of Edinburgh Lord Provost Donald Wilson is backing Edinburgh Direct Action, and he attended a meeting with Maggie Tookey to hear her experiences.
He said: "This morning my thoughts were thousands of miles away in Arsal as I listened, astonished, to how the work of Edinburgh Direct Aid (EDA) is supporting Syrian refugees living in Lebanon.
"Representatives from EDA were visiting the council's City Chambers to kick-start a campaign to support refugees living in Arsal, Lebanon. Arsal has become a base for thousands of Syrian people who have fled for immediate safety, only to find themselves facing a different kind of hopelessness.
"To put the situation into context, Lebanon only has a population of 3.5 million, but 1.5m living there are Syrian refugees .
"Edinburgh's all-volunteer international charity has been going since 1952. In 2013, it became very conscious of the desperate need of the Syrian refugees. I listened to a presentation from Maggie Tookey, a volunteer who has visited Lebanon during some of the harshest summers and winters, and has witnessed tough misery in this part of the world.
"Edinburgh Direct Aid has provided these refugees who are living in very basic conditions with school textbooks, desks and stationery. They have shipped cargo loads of food and clothing supplies, including urgently needed winter jackets, boots and underwear. Surgical scrubs, water tanks – and heartbreakingly, even teddies for Syrian children – have all been funded and delivered by these local volunteers.
""Let's train mechanics, not militants", said Maggie, who believes the best way to involve and support people is to provide them with skills to help them to make a life choice.
"Edinburgh Direct Aid aims to train refugees as mechanics, seamstresses, and other skilled labourers to instil hope and a future, and to help refugees avoid the temptations of ISIS. Providing materials such as tools and sewing machines and lessons to learn such skills is the next big aim of this very local charity.
"The City of Edinburgh Council offers the charity a warehouse for storing these items ready to be shipped. There is always more than could be done, and more funds are always appreciated. Building on the success of the distribution of clothing and classroom supplies to meet immediate needs, it has now become clear to EDA that preventing radicalisation through education and training is urgently needed by young people in these refugee camps.
"EDA is a small charity and everyone involved volunteers their time. When they raise money, that money goes directly to those who need it and it is put to use quickly, so you know exactly how your donations are used and who benefits.
"If you are an organisation or individual that can provide materials or time, or if you would like to make a donation, please don't hesitate to visit the Edinburgh Direct Aid website.
"Let's help them continue to make a difference."