​Delegation arrive in Scotland to investigate claims disabled people are being targeted unfairly via welfare reforms
UN officials are investigating whether UK government welfare reforms have violated disabled people's human rights.
A delegation of UN representatives arrived in Scotland to investigate complaints that "grave or systematic violations of disabled people's rights were taking place as a result of draconian cuts instigated by Westminster."
They will visit all four UK nations over a two week period taking confidential statements from witnesses which will be bound by a privacy agreement.
The UK is understood to be the first ever county investigated under the Convention on the Rights of Persons with Disabilities.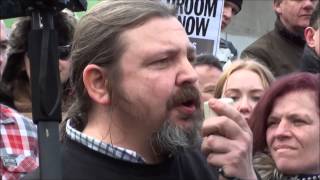 Campaigners say they will now increase pressure and bring more cases to the UN's attention where they feel individuals' rights have been breached.
John McArdle, co-founder of Black Triangle, said the organisation would use UN legislation against the UK government in life threatening or urgent cases.
It is set to make a complaint regarding Michael O'Sullivan, a disabled father-of-two with severe mental health issues, who killed himself after he lost access to his disability benefits.
O'Sullivan had been receiving income support relating to his disability for 10 years but this was stopped after he underwent two Work Capability Assesments in 2012 and 2013.
He was instead receiving Job Seeker's Allowance in the six months before he died.
An inquest heard that the Atos Healthcare-employed doctor assessing him had not taken the views of other doctors treating him.
A spokesman for the Department of Work and Pensions said: "We are committed to supporting the most vulnerable people in society and spend more than £50 billion every year on disabled people and their services. We are happy to inform the inquiry of this."