Unicef's project director and digital marketing specialist relive the highs and lows involved in managing the Children 1st campaign at Glasgow 2014
The brains behind the Commonwealth Games Unicef campaign which raised over £5 million are set to reveal their secrets at an event in Glasgow for third sector digital, communications and public relations workers next week.
The first ever opening ceremony to simultaneously raise money across the Commonwealth saw £3.7m raised through viewers texting to donate £5 to the charity.
The fundraiser was introduced by Hollywood actors Ewan MacGregor and James McAvoy and Britain's most successful Olympian Sir Chris Hoy, who urged people to put children first by making a donation during the opening ceremony of the Commonwealth Games.
Videos shown in Celtic Park across the Commonwealth highlighting the work of the charity were only minutes long but the work to plan the campaign ran into months.
On October 2 over 100 attendees at the Scottish Council for Voluntary Organisations (SCVO) Comms Rewired conference will hear a keynote speech from Commonwealth Games project director at Unicef Tom Burstow and Unicef UK digital marketing specialist Marta Peres Ro some of the communications techniques used to manage the high-profile campaign.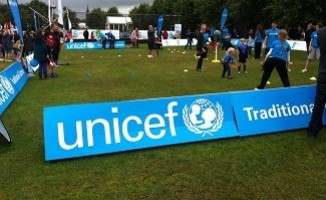 Speaking about the unique partnership between the children's charity and games organisers, chief executive of Glasgow 2014 David Grevemberg said the campaign, which raised a further £1.2m throughout the games, changed the way fundraising will be done at events.
"I am immensely proud that, working with Unicef, the Commonwealth Games Federation and the creative team at Jack Morton, we have changed the landscape for sporting legacies," Grevemberg said.
"We all know sport has a tremendous power to unite and here in Glasgow we united people across the Commonwealth in the world's first ever global fundraiser for children."
Unicef UK executive director David Bull added the success of the campaign has enabled it to transform many millions of children's lives.
As well as tips from Unicef delegates, the conference will also be treated to a speech from Dave Chaffey, known as one of the 50 marketing gurus to have shaped the future of marketing.
Chaffey will discuss the latest trends in integrating digital channels in not-for-profit marketing.
Throughout the day a number of workshops are planned including Peter Murray of the Media Trust who will demonstrate how to shoot web-ready video using just a mobile phone, Mairi Damer of Word Up Communications who will divulge her trade secrets on how to write for the web and popular writer Barry Church-Woods of Edinburgh Festival Fringe Society and LGBTicons will share tips on how to build and grow a blog.
Third Force News will also have a presence. Susan Smith and Graham Martin will explore how digital has changed the way newsrooms work and what digital journalists need from communications professionals. There will also be a chance to meet the full TFN team and find out more about ensuring you get your content into TFN.
Places for Comms Rewired, which takes place on 2 October at 200 St Vincent Street, Glasgow from 9.30am until 4pm, are still available for just £95 plus VAT from scvo.org.uk/events/comms-rewired.