Scottish Volunteering Forum says the number of people volunteering in Scotland has been static for more than a decade
Volunteering programmes in Scotland are too old fashioned and prevent poorer people accessing volunteering opportunities.
The Scottish Volunteering Forum (SVF) says the number of people volunteering in Scotland has been static for more than a decade. It says that must change in order to make Scotland a "happier, healthier and more prosperous" place to live.
In its new document Why volunteering matters – the case for change, the forum, which formed five years ago, says there has to be a change to the pattern that sees some people excluded from the benefits of volunteering.
Its research has found approximately 1.3 million adults in Scotland volunteer but discovered some individuals and groups, particularly those from less fortunate socio-economic backgrounds, find it harder to access opportunities or don't even consider it as an option.
For example young people whose parents volunteer, and regularly see the benefits of volunteering, are more likely to volunteer than those whose parents don't.
Paul Okroj, volunteer development manager at Chest, Heart and Stroke Scotland and chair of SVF, said: "We believe volunteering should be accessible to all, regardless of backgrounds or perceived barriers.
"To increase the number of people realising the benefits of volunteering in Scotland, we need to change the paradigm.
Why volunteering matters to communities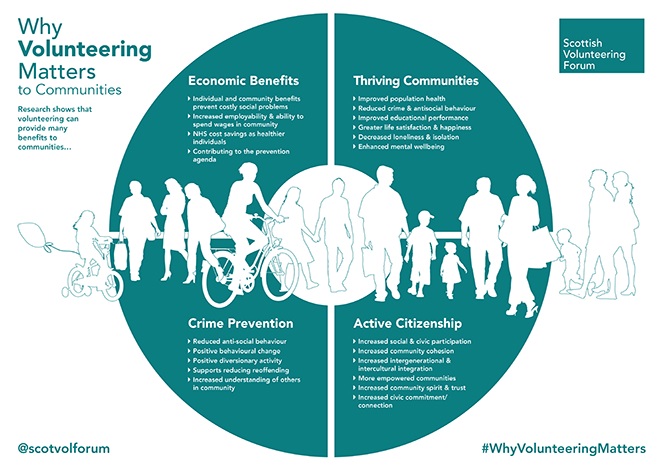 ​
"It needs to become a societal norm to volunteer, where opportunity or expectation is not limited by upbringing and social circumstance.
"This means there needs to be an entitlement to volunteer that gives equality of opportunity to all."
The forum believes there are three areas that are critical to changing the pattern of volunteering from something that people think is nice to do to something that people see as essential to their wellbeing.
SVF has assigned a working group to it and is focussing on getting the voluntary sector, public sector, Scottish Government and other organisations, including those from the private sector, to communicate the value of volunteering more clearly.
It is also working with the organisations to ensure volunteering and the needs of volunteers are prioritised so that every citizen is offered support in becoming a volunteer.
SVF has initially created two infographics detailing the benefits of volunteering to communities (above) and to individuals (below).
They show that 94% of volunteers noted an improvement to their mental health since volunteering and 76% said they felt physically healthier.
Eight out of 10 employers are said to value volunteering on a CV and one in seven employees said volunteering helped them achieve a higher salary.
Why volunteering matters to individuals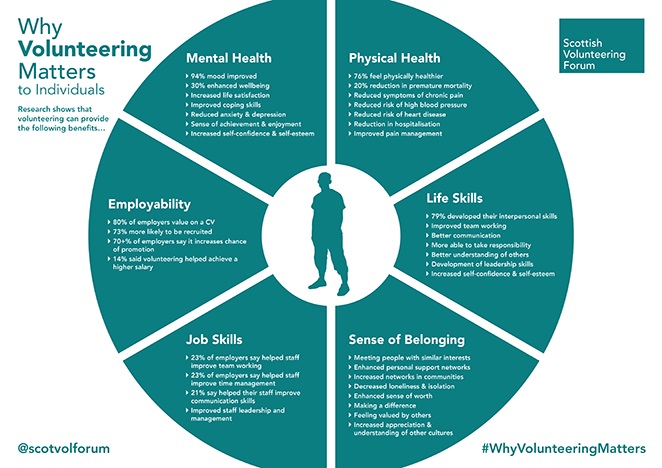 ​
SVF member Susan Murray, assistant director of public affairs at the Scottish Council for Voluntary Organisations, said the statistics show why not getting access to volunteering is an equality issue.
"Volunteering is important because there are so many benefits, physically and mentally to individuals and communities," she said.
"It's simply not right that these benefits are only accessed by a certain section of the population.
"We need action. We need real, long lasting cultural change."
As well as addressing harder problems such as tackling inequalities in volunteering, Murray warned charities need to up their game when recruiting volunteers.
More than 50% of potential volunteers contacting organisations through a major volunteer recruitment website never receive a response from the organisation, she said.
"If you don't need volunteers don't advertise, if you do have the decency to respond to people who offer help," said Murray.
"For organisations with paid staff, this means a point of contact that's able to respond in a timely manner."