Conservation volunteer William Torness founded a charity as a way to pass his enthusiasm for the outdoors onto others
My claim to fame is I've visited all Scotland's stately homes and castles. I love history and I love conservation so much I've started a new venture, a charity guiding visitors and tourists around some of the country's most scenic attractions.
I've volunteered most of my life. As a boy growing up in Argyll every summer holidays I took part in forestry conservation projects. It imbued me with a love of wildlife and the outdoors and that's a love that has only grown as I have got older.
After university I ended up working as a surveyor for the Forestry Commission in England. I then became head of estates, and felt hugely privileged to be tasked with the role. Working with the commission made me understand how we're only stewards of the land. Ownership can never belong to a person. The land belongs to everyone.
Even though I have always worked in forestry I've also always volunteered. I've taken part in projects with the National Trust, the Wildlife Trust, British Conservation Volunteers to name only a few. There's nothing I enjoy more than getting out with a team of volunteers and spending a day tidying up an area that has been neglected. I also love mending fences and over the years my I've learned how to repair dry stane dykes – old walls built with rocks.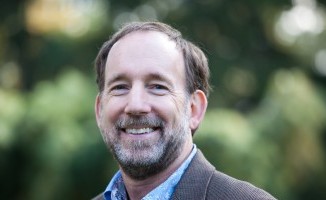 For years I've harboured the idea to run my own charity. I always wanted to pass my knowledge onto others, specifically tourists coming to Scotland for the first time. With my own savings and a small amount of funding I decided to launch Trail Tales – guided coastal and inland walks. The plan is that, for a small affordable fee, myself and a few volunteers, will take tourists on historic walks while giving a history of the area.
Much of my time has been spent building the website (soon to be launched) and getting the formalities together for registering a charity. It's not been easy: there is a lot of fine tuning on both counts and requires huge amounts of time. But the plan is to have it up and running in August and walks to commence in September.
There's nothing I enjoy more than getting out with a team of volunteers and spending a day tidying up
Walking in Scotland requires perseverance. Coastal paths can be a formidable challenge. My favourite is the Old Man of Storr, on the Trotternish peninsula, Isle of Skye. It culminates in a steep climb, along excellent woodland and hillside paths. And on a sunny day, it can't be beaten. I've travelled across the world and I doubt I'll ever see a more spectacular landscape in my lifetime.
If it's wildlife you're after, then Mull of Galloway is fabulous for birders. The RSPB runs a nature reserve where a gannet colony lives. And you can see Ireland, the Isle of Man and Cumbria on a good day.
Having a life outdoors is probably the perfect life for me. I'm fortunate in that I've always loved life, been blessed with my health and have a supportive wife and children. I want to pass my enthusiasm onto others, hence the idea for the charity. I don't pretend to know everything but if I can inspire others then I'll be able to go to bed even happier each night.