Joseph Goelo says aid provided in Scotland is ensuring the Ebola doesn't create a starvation epidemic in Liberia
It was August, children were excited about returning to school and we were preparing the food and utensils for the start of the new term. But when Liberia's President Ellen Johnson Sirleaf announced a State of Emergency on 6 August, schools closed and the children's guarantee of a daily meal was over.
At first there was fear among us – what would this Ebola outbreak mean for our own staff and their families? But then, we began to say to ourselves, "if the schools are not open, what can we do?" We were determined, as always, to feed our country's hungry children and help them stay safe.
We had a warehouse full of food purchased for the 130,000 children enrolled in our Mary's Meals school feeding programme. We knew the military checkpoints between our base in Tubmanburg and the capital, Monrovia, were making people stay in one place and a lot people in the communities around us were scared to move around.
Fear is very powerful and a lot of the early problems came from fear. People were scared to move around and sometimes even to come into contact with each other. Food prices soared in places where there is already a serious shortage of affordable food.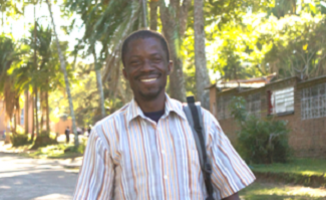 Driving around, we could see the sad and desperate faces of people who were terrified of Ebola and also suffering the daily effects of hunger and malnutrition. But the other thing we saw were people recognising our Mary's Meals vehicles and feeling some hope.
We knew that we must find a way to deliver the food directly to the children through their families and support these communities through this bad time.
Within ten days, my team had set up a pilot project to reach 29 communities around Sinje, where the Mary's Meals warehouse is based. It became clear that it was possible to distribute food rations to desperate communities without endangering our staff.
The first place we went to distribute food rations was Garwula District in Grand Cape Mount. The District representative pledged to arrange security for us, but I told him it was not necessary. I said, "These are people we have worked with in times of peace. We know them; they know us."
People in Liberia already know hunger – it is always a very big problem here – but with the Ebola outbreak things are even worse
​So, we arranged for the food to be delivered from our warehouse to a central point and the District representative called us to come and supervise the distribution. As well as giving out rations, we were creating awareness about the virus. There is so much fear because Ebola is invisible, but we know how best to care for ourselves and prevent infection, so it's important for us to teach the communities as well.
The distribution was a success. Parents came to receive rations of the same food their children would usually eat in school. We could see people cooking as soon as the food was given out, because the hunger is such a problem. People in Liberia already know hunger – it is always a very big problem here – but with the Ebola outbreak things are even worse, because people are too scared to go and do the work they would usually do to get money for food.
We quickly began repeating this process in other areas, reaching children and their communities across Grand Cape Mount and Bomi Counties. By adapting our process quickly and finding a way to serve the children through take-home rations, we are helping our people to protect themselves from the other silent killer – starvation. Through this adapted feeding programme, we are reaching up to 80,000 children and their families with food rations while the schools remain closed.
At times like this we must care for the most vulnerable. As well as helping the children, we have responded to requests from Ebola holding centres, where people who are suspected Ebola suffers are held and cared for. Food rations are delivered to these centres in Tubmanburg, Robertsport and Brewerville.
People who have been cured and cleared to return home are often treated as outcasts, despite their official certificate, because their neighbours are so fearful of the virus. We are also serving rations to these people, who might otherwise starve because of their situation. And, of course, some of the children from our school feeding programme have been orphaned because of Ebola, so we are supporting 58 children in an orphanage in Tubmanburg by delivering rations directly.
Every one of my team here would like to give thanks and appreciation to our colleagues and supporters in the UK and around the world. We know, since you are with us at this difficult time, you are real friends and truly care to help us.
Joseph Goelo is head of programmes in Liberia for Mary's Meals.