Brian Johnstone talks about growing up in 1970s Glasgow, homelessness and how planning ahead isn't always the road to recovery
I think my childhood was fairly typical for a young boy growing up in 1970's Glasgow. My parents divorced when I was young, my dad was an alcoholic and I was expelled from school aged 14 after getting caught smoking and fighting in class.
I lived in the west end of the city with my mum, brothers and sisters – a stone's throw from sights such as the Kelvingrove museum and art gallery, Kelvingrove Park and Glasgow University.
I remember when Glaswegian boxer Jim Watt won his world lightweight belt in 1979 at the nearby Kelvin Hall, my 15 year old self was outside earning a few pounds looking after all the expensive cars which lined the streets.
Soon after, I got my first proper job and I delivered soft drinks all around Glasgow for a few years. I remember it was good fun working with the lads and I enjoyed earning a wage instead of going to school. The tips at Christmas time could sometimes double my weekly wage and to me, having cash in my hand was better than an education.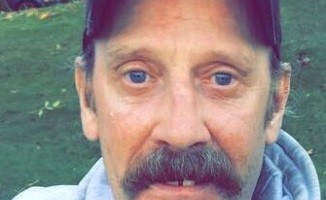 After a few years I changed jobs and worked for an engineering firm installing industrial heaters and dehumidifiers in factories and warehouses. It was hard, physical, back-breaking work but I didn't mind, I liked it.
I was never afraid of a bit of hard graft and I always felt finishing a shift with dirt under your fingernails was a sign of an honest day's work, and a valid reason to indulge in some after work drinks.
I had a few relationships when I was in my twenties and I became a father to a daughter. During this period however, my job took me away from home for most of the week and I'd only be back in Glasgow for a day or two.
Needless to say my relationships suffered but I was happy playing the role of Jack the lad, I wasn't ready for any commitments. I used to go to work, go to the pub then crash on a pals couch for the night. If I had no work, I would just spend my day in the pub and I thought life was good.
By the time I was in my mid-thirties, employment had become sporadic. I didn't necessarily have anywhere to call home as I had been working away from Glasgow and moving around for some time.
Distance had become a barrier to maintaining any kind of relationship with my partner or daughter – and if I'm honest, my addiction played a part too and I've sadly not seen them since. I never looked too far ahead, putting down roots and thinking about mortgages and pensions was what other people did, planning for tomorrow was enough for me.
Eventually my work dried up and not only did I find myself unemployed, but I had nowhere to live. Trying to find a job when you have no fixed abode is a challenge which would defeat the most resilient of people. The goodwill of friends who let you stay on their sofa 'for a few days' tends to result in the breakdown of that very friendship once those few days expire.
And so I found myself homeless. I lived in some hostels in and around Glasgow for a while but homelessness and all that comes with it is often the pre-cursor to hopelessness, and I was no exception.
I used alcohol to numb that sense of hopelessness and mask the anguish of the situation I found myself in. I lived each day as if it were my last. If the weather was cold I'd usually get a bed in a hostel but I'd sometimes sleep rough and take my chances on the streets if the weather wasn't too bad.
Any money generated from begging would usually be invested in the relief that lager, cider and vodka provided – anything to help you survive until the following morning.
Years of drinking to excess, eating very little and generally neglecting my heath needs lead to some hospital admissions and a few stays at Eriskay House detox ward at Stobhill Hospital. Eventually I was given the diagnosis of alcohol related brain damage (ARBD) and I've received a mixture of specialist support ever since.
After being discharged from Eriskay House a few years ago I moved into my own tenancy which I hoped would be the fresh start I needed to get myself back on track. However, I relapsed and things began to spiral out of control again.
My mobility had become so impaired that sometimes my legs simply didn't work. I could barely stand up and I'd have to shuffle around the floor on my knees and knuckles meaning I couldn't get out my flat.
People I thought were friends would offer to go the shops for me to get my alcohol. They'd take my bank card, withdraw £50 for themselves and come back and give me a three litre bottle of cider that cost £3.99.
I knew I was being exploited but when you're addicted and living in chaos, knowing what to do for the best isn't an option. I was in survival mode and to me, thinking a week ahead seemed like a year away.
Today, I'm living in a supported accommodation service with seven other people. Staff are available 24/7 and I've been more or less abstinent for several years now.
When people talk to me about my recovery, conversation tends to focus on what the future could look like and what my goals are. People ask what I think lies ahead and what 2019 may involve. It's all a bit too much for me.
Although life isn't as chaotic as it once was, I still live for today and it's in my nature not to think too much about the future, in the same way I don't dwell on the past.
Brian Johnstone was speaking to Penumbra recovery worker and regular TFN blogger Dan Mushens