Charlotte Bray was in her element at Capital Sci-Fi Con, a fundraiser in aid of Children's Hospices Across Scotland
I've been a fundraiser for over a decade and a Doctor Who fan for (alarmingly) more than twice that.
Capital Sci Fi Con, a science fiction event designed to raise money for charity – Children's Hospices Across Scotland – was a perfect merge of my twin loves. I bit the hands off the people who invited me. Fortunately, this wasn't a Wookie, as they might have bitten back.
A week has passed and the cosmic dust has settled, so I thought I'd reflect on what, for me, made it such a successful charity venture. Having worked on a number of large and small events over the years, I know it takes time, effort, skill and stamina to achieve success.
Capital Sci Fi Con was a credit to the team of staff and volunteers (apparently representing various planets and time zones) who must have put many hours into making it work.
It's hard to pick just a few top tips. I've used a handy, possibly familiar, mnemonic, to make it easier.
T is for theme
By choosing science fiction, the event tapped into an enormous potential audience.
There were queues round the block: couples, friends, families, young children and hobby groups all attended. The costumes were incredible. Many donated their own props to provide fantastic photo and activity opportunities. Wandering around, I passed superheroes and monsters, chatted to steam punk enthusiasts and real celebrities, got to handle a light-saber and was menaced by the Alien.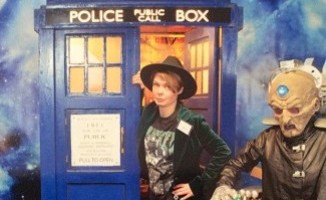 A is for atmosphere – it was fantastic
The Corn Exchange was the perfect sci fi venue. There are lots of stairs, corridors and break out rooms, lending themselves to lighting, effects and fun stuff.
Chatting to one of the staff, she was pleased to have so many people tell her how welcome they felt. It was all embracing, often literally – there's nothing nicer than a hairy Wookie hug.
R is for really good activities
The event ran across two days. I was exhausted by 3pm on Saturday. The team had assembled stalls of merchandise and guests offering photos and autographs. There were prop displays and make-up (face painting and latex special effects). Timed events included panel discussions, an auction and evening an orchestra playing well known theme tunes. There was something for everyone.
D is for digital engagement, marketing and awareness
Capital Sci Fi con is the culmination of a year's run up. It's marketed as for fans, by fans. Those fans spent hours ahead of the event bucket shaking, flyering and raising awareness in costume.
Linked to that is the terrific digital and marketing engagement that helped build up a real buzz on the day. By the time it came, it was like Christmas eve, waiting for your sci fi stocking to be filled.
I is for impressive cause, integrated throughout
With such enthusiasm for the science fiction, it could have been easy to lose sight of the message. Not so. It wasn't just about the branding. So many beneficiaries were there to tell their story; they would chat to me about the difference CHAS made to their lives. Celebrity guests were invited to share their favourite childhood memories. The monsters were a great show, but the children and families were the real stars.
S is for sued
I'd like to add a small disclaimer here that I don't own the TARDIS, or Doctor Who. These belong to the BBC.
Well done to everyone at CHAS for a great event and thanks so much for letting me enjoy it. As a fundraiser, I got some top tips and inspiration. As a Doctor Who fan, I got to stand by the TARDIS and have Davros put my collectible model up his nose. Treasured memories indeed.