​Third Force News reporter Paul Cardwell was one of 15,000 volunteer Clydesiders at the Commonwealth Games. He says the legacy of the games involves more than bricks and mortar
Despite meeting Tom Daley, making a brief cameo on the BBC and singing Flower of Scotland in Hampden in celebration of Libby Clegg, Scotland's only athletics gold medal winner, my favourite thing about the Commonwealth Games was being a Clydesider.
Every single volunteer at the Royal Commonwealth Pool diving competition, where I was based, helped create an amazing experienceI will never forget.
My core team ran the mixed zone, tasked with getting divers to do interviews with the press after their competitions. There was three of us: myself, Denise a receptionist from Birmingham and, coincidentally, Susan from Voluntary Health Scotland, who despite sitting at a desk just 30 feet away from mine in the Mansfield Traquair Centre, I had never spoken to!
The three of us got on like a house on fire – put simply I had a blast. The only downside of the last two weeks was the post-games blues when I returned to normality this Monday morning.
Opening up a week's worth of emails it struck me that I was stuck in a routine of going to work, going home and socialising with the same group of people. There is nothing wrong with that but after a week of so much more, I've decided to make some changes.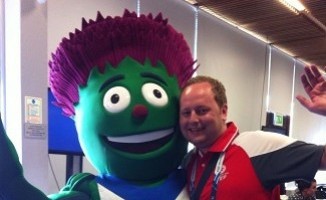 This week, I've already been to the gym in order to take care of myself a bit better, I've arranged to meet up with my aunt who was also a Clydesider but who I only ever see at big family occasions, and I am looking for somewhere I can volunteer in Edinburgh.
In diving terms you might say I am using my games' experience as a springboard to new things or you could say it's the Commonwealth Games legacy effect.
Too often when speaking about the legacy of the games people focus on the tangible aspects. How many new homes are being built, will they be affordable, is the Emirates Arena going to be a white elephant?
Houses, jobs and infrastructure are important but it's people's attitudes that I think will make the real difference.
From reading posts on the Clydesiders' Facebook group I can already see many who engaged with the games in the same way I did have developed a new way of thinking. That's why the Commonwealth Games' legacy will be so much more and last so much longer than any of us could have anticipated.
Bring it on!
Paul Cardwell is a reporter at Third Force News. Follow him on Twitter @PaulTFN