Gemma McTaggart and fellow Napier student Lottie Grant are the brains behind Lives Turned Upside Down
Along with Lottie, I developed the Lives Turned Upside Down campaign to raise awareness of the life-saving cancer research Worldwide Cancer Research funds here in the UK and across the world - and the role this vital research plays in developing more effective treatments for people affected by cancer, now and in the future.
Former Hibs manager and Celtic defender Alan Stubbs and broadcaster Grant Stott joined a host of people around the world who were turning their worlds upside down to illustrate the reality and impact of a cancer diagnosis.
Upside down selfies, cancer researchers carrying out experiments back to front, celebrities turning their social media profile pictures upside down, columns in newspapers turning heads and shops and galleries turning signage upside down all helped generate awareness of World Cancer Day and the importance of continuing to support Worldwide Cancer Research.
We wanted an idea that was inclusive, that everyone could easily get behind and one that would encourage others to join in. The results have been amazing. I am so proud to be part of making a difference for Worldwide Cancer Research.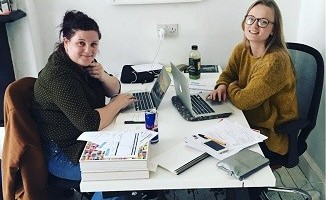 Myself and Lottie created the campaign based on a concept we came up with while on placement with award-winning creative agency PUNK.
Jane and Paul from PUNK were so helpful, patient and welcoming. They were a dream to work with and really looked after us during the placement. I am so grateful to them for all of their support and for this unique opportunity which has been invaluable.
We had seen a lot of successful ideas on social media which were based on raising awareness and getting people involved. The statistic that really stuck with us when we started is that one in two people will be affected by cancer.
This statisic meant we wanted a campaign which would be very wide-reaching, as anyone who saw it would have been directly affected by cancer or had a family member who has suffered with it.
We tried to work on a very inclusive campaign that lots of people could get on board with. We came to the conclusion that social media was the best way to do this. We wanted to come up with an idea which was clear, easy to get on board with, and took it from there.
We designed it so that people could just take two minutes to get involved. It was a simple as sharing a social media post, however we thhought that if lots of people do this then it can make a massive difference, and hopefully lead to more donations for the charity too.
We were really surprised that we managed to get some celebrities on board. Seeing it all develop was great, and it was so nice to look back on the amount of people that took part.
Through the campaign we have got something to show from our placement. It was nice to do something that makes a difference while we were gaining vital experience in an industry setting.