Ruchir Shah says UKIP's rise shows attitudes in Scotland are not that different to rest of the UK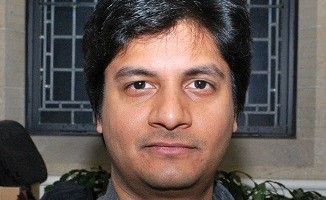 The UK Independence Party (UKIP) has managed to get a foothold in Scottish politics, winning one of the six seats for European Parliament representation. As a sector we've ignored UKIP in Scotland. Does that need to change now?
UKIP hasn't received a positive welcome in Scotland, and certainly hasn't been seeing the same support as in other parts of the UK.
UKIP winning a seat changes things. Turnout for the election was still low – around 30% of the electorate – but of this, UKIP commanded a 11% vote. That is equivalent to 140,000 people or a medium-sized town in Scotland.
Our cuddly politics masks some of the harsher attitudes and divisions that exist within Scotland
Some will argue that this rise in support reflects the UK media's obsession with UKIP and the attention the party and its leader, Nigel Farage, received during the election campaign. This may be true, but the vote still can't be ignored.
Public debate in Scotland is largely soft and cuddly. This is because the powers devolved to the Scottish Parliament around health, transport, business support, welfare and social care generally result in benign and supportive services. The really contentious and divisive stuff such as benefits, housing welfare, equalities legislation, sending troops abroad and tax remain reserved at Westminster.
This means that political debates in Scotland, and in the Scottish media, aren't nearly as polarised as the politics that surrounds Westminster. In fact, I would argue that our cuddly politics masks some of the harsher attitudes and divisions that exist within Scotland.
Major research such as the Scottish Social Attitudes Survey has shown that underlying attitudes between people in Scotland and the rest of the UK are not actually that different. This has been confirmed by occasional opinion polls, such as the recent one on immigration. Yet politicians here haven't felt pressured to pander to these interests. Until now.
In the event of independence or further devolved powers, some or all of these contentious policy areas will come to the Scottish Parliament and enter mainstream Scottish political debate.
We will see a much harsher set of general public attitudes surface in Scotland and harsher policies to pander to them will follow. The presence of UKIP in mainstream Scottish politics will be a test of Scotland's so-called social democratic consensus.
What does all this mean for the third sector? Scotland's forthcoming UKIP MEP has already described progressive land reform policy as "Mugabe-style land grab" and has vowed to bring immigration politics into Scotland.
All of these issues set the operating environment of the work of the third sector. Public attitudes have a huge bearing on our sector's ability to recruit support from volunteers, donors, campaigners and the government to tackle socially divisive issues. A more divisive and polarised politics weakens the solidarity and resolve that our sector needs to support its work in communities across the country.
Charities and the wider third sector must now prepare for a much more divisive political environment. We will need to sharpen our arguments, get more media and politically savvy, and be better prepared to challenge our own communities' prejudices and fears.
Ruchir Shah is policy manager at the Scottish Council for Voluntary Organisations.