Jamie Marshall explains why setting up the Wave Project in Scotland is his dream job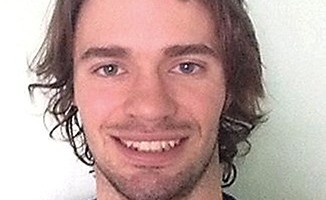 In three weeks time, the Wave Project will run its first programme in Scotland, in Dunbar.
I currently work part-time overseeing all the elements of that, including fundraising, volunteer sourcing and training, managing referrals and overseeing the actual course. While I am on my own in Scotland I get a lot of support from the team in Cornwall, where the Wave Project is based.
I first started surfing about 10 years ago and after school I trained for an instructor qualification and was lucky to get an amazing job with a surf school in Cornwall. I worked there every summer while I was studying at the University of St Andrews and that's where I came across the Wave Project.
I've somehow landed my dream job, literally. It combines what I love doing with something really positive
I was reminiscing about summer sessions with the Wave Project one snowy day while surfing in Fife when I started thinking that it could happen in Scotland. The thing most people think about is the cold, but with modern wetsuits it's totally manageable.
The idea was encouraged by the team in Cornwall and when I graduated there really wasn't anything else that I was interested in doing. So, I rented a room in Dunbar in September and a few months down the road, here we are.
Getting partners on board from the surfing community hasn't been hard. I've obviously been surfing on the east coast for five years now, so I did have connections. The whole surf scene in Scotland, both professionals and volunteers, has been really supportive.
Because the Wave Project isn't new, we also have the evidence of successes from our project in the south west. Funders really like the outdoor activity side of things, particularly trusts and organisations that work with children.
We've got a range of young people on this course who have been referred by the council, child and adolescent mental health services, schools, and charities like the bereavement organisation Richmond Hope.
I'm planning to see the Wave Project established as a service for young people throughout Scotland. We've got a project in the pipeline in Fife and we're looking at Aberdeen. We're also looking at ways to bring young people from the west, where it's difficult to surf because there are so many islands and inlets, over to Dunbar.
It's been challenging to pick up everything as quickly as possible. It's been very much a case of sink or swim but I've also really enjoyed it, even though there seems to be an endless stream of paperwork.
I've somehow landed my dream job, literally. It combines what I love doing with something really positive. The collection of young people I get to work with includes some amazing characters and the volunteers are great. I struggle to believe there are many people that get the combination of job satisfaction and sheer fun that I get on a daily basis – apart from when I'm doing disclosure forms!
Jamie Marshall is coordintor of the Wave Project in Scotland. @WaveProject