Today is No Smoking Day, one of the UK's biggest health campaigns. The British Heart Foundation explains how it is all pulled together.
Use real-life stories to get your message across, like that of Tony Phoenix Morrison, who, since quitting, has taken up marathon running with a fridge on his back!
No Smoking Day is one of the UK's biggest annual health awareness campaigns. It merged with the British Heart Foundation in 2011 and last year the campaign encouraged a million people to quit smoking.
This year's V for Victory theme is set to inspire even more smokers to make a quit attempt on 12 March and win the battle against cigarettes for good. It will help smokers on the road to victory, providing information, support and encouragement so they are in the best possible position to make a victorious quit attempt on the day.
Around a quarter of Scots smoke, but 69% want to give up. No Smoking Day is here to help those who want to quit.
Stopping smoking is the single biggest thing you can do for your heart health so this annual campaign is vital in our fight for every heartbeat. Sadly, around 13,000 people in Scotland die prematurely from smoking related causes each year, including an estimated 3,000 from heart and circulatory diseases and 6,000 from cancer. BHF Scotland wants to reduce tobacco-related illness and death.
Thousands of organisations are involved in the campaign from local stop smoking services, to businesses, schools, GP surgeries and the military. They are the life-blood of the campaign, taking our central theme and using our collateral to run thousands of events in the community.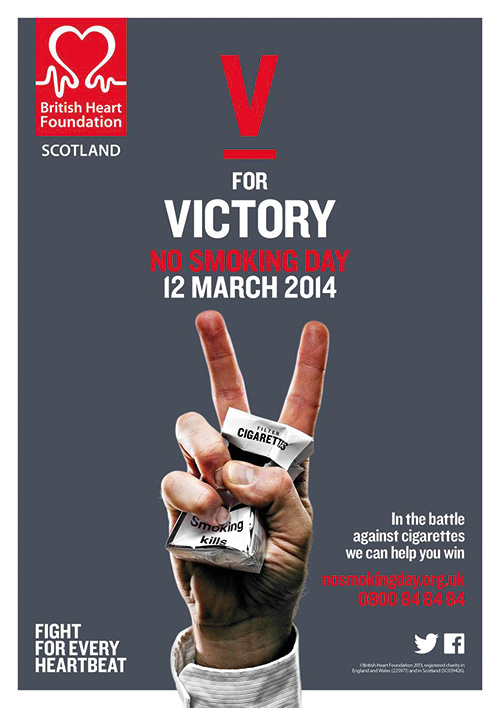 Organiser
The British Heart Foundation
Campaign budget
Up to £15,000 for PR and up to £15,000 for digital promotion.
Supporter quote
"Managing to quit smoking is one of my proudest achievements. I not only feel so much healthier but all the money I've saved is going towards my two sons' university education." Vanessa Bracewell has now started her own knitting business after she found that picking up her knitting needles helped her to quit smoking for good.
Target
To inspire and support hundreds of thousands of smokers to start a successful quit attempt on No Smoking Day.
Hurdles overcome
We have to avoid sounding like we are preaching to people or demanding that all smokers quit. We want to let people know that we're here to help people who want to give it a go. Our choice of imagery and tone of voice was vital, so we went with "In the battle against cigarettes we can help you win". And our victorious case studies, who feature as faces of No Smoking Day on our website, reflect our positive and inspiring V for Victory campaign theme.
Key successes
Placing positive and inspiring case study features in the media and seeing quitters visit our website and come together on our online forum to support each other.
Top tip
Use real-life stories to get your message across, like that of Tony Phoenix Morrison, who, since quitting, has taken up marathon running with a fridge on his back! Read more about Tony on the campaign website.
The brains
The V for Victory campaign is a team effort. It's delivered by the social marketing and multimedia communications teams at the BHF with input from focus groups.
Digital dimensions
nosmokingday.org.uk
#NoSmokingDay