Just days after we visited the polling booths, Jolene Campbell looks at what charities are doing to improve diversity in politics
We've just had a general election campaign that felt like much of the same old. But north of the border the predominantly male, white, non-disabled male political landscape is shifting.
And it's charities which are leading the way to better equality in Scottish politics.
Equalities charities are working at the grassroots on projects aimed at increasing diversity across Scotland's communities and tackling barriers to political engagement faced by marginalised groups.
And it's working. A groundbreaking pilot administered by charity Inclusion Scotland that supported disabled people in the local council elections saw 15 candidates win their seats.
Susan Rae (main picture above) has first-hand understanding of what equality means to people in the margins.
The Scottish Greens councillor won her seat in the Leith Walk ward, an area she is proud to represent as one of the most diverse in the country.
Susan has overcome adversity at every turn. She lives with Multiple Sclerosis (MS), a chronic illness which can leave her fatigued, struggling with mobility, prone to falls and problems with her vision as well as tremors.
While actively campaigning in support of independence during the referendum Susan had several mini strokes. "I didn't know they were strokes. I thought I was just over doing it!"
Susan lived with MS undiagnosed for over ten years. The self-titled "original steel snowflake" was determined not to let the considerable health challenges she faced hold her back.
"I don't want to be defined by a disability. It's about what I can do to help people in my community. I have always been about fixing problems."
Susan and the other candidates supported by the Access to Elected Office fund, administered by Inclusion Scotland, were awarded financial support during the selection process and election campaign.
For Susan the extra helping hand gave her a fighting chance. "I got a PA to help with admin, social media and access to a taxi service. That was a massive help. I would worry constantly about getting to meetings or coming home if fatigue suddenly came on. I didn't want to cancel plans or let people down. That extra support being there if I needed it took so much pressure off!"
Personal experience of inequality has given Susan a drive to challenge the status quo.
Mum of one Susan was forced to live in a homeless hostel for six months after losing her job as a temp during the 2008 financial crisis. She also set up a Women's Aid project after living with an abusive husband.
"I remember I had to box up my stuff and present as homeless. It was frightening, just brutal. I hope to take on housing. Homelessness is a wide-scale problem. We have to work closely with parliament and do more in the face of housing benefit cap and lack of affordable homes."
Susan plans to hold regular virtual surgeries to make them accessible to all and hopes to work on housing to create more quality, affordable homes.
Susan, a former Labour supporter, insists the Green party record on equality is strong. But after death threats, verbal abuse and years of sexism in trade unions she says there is a long way to go on equality in Scotland.
"I think the abuse you get now is stronger than it was when I stood in 2015. Women suffer more than men. All the heads of departments I have met are white men. That needs to change!
"Parties need to do more to tackle it. I would like to see the access fund extended to national level."
It's all part of a wider perception of people believing they don't fit the image of what a good politician looks like - Phyl Myers, Inclusion Scotland
The Access to Elected Office Fund helped 39 people with impairment-related difficulties run in the council elections as party members, activists, party staffers, and as elected representatives.
Phyl Meyer, employability and civic participation manager at Inclusion Scotland, said the ongoing fund has a profound impact on confidence.
"The access fund is not just money. It provides advice and support. And it has enabled many candidates to compete on a much more level playing field than has ever been possible before. We are seeing people who would never have previously considered candidacy before claiming their democratic right to seek elected office."
As part of the Scottish Government funded project, candidates with a broad range of impairments were supported, including wheelchair users, blind and visually impaired candidates and people with learning difficulties.
Paid disabled interns in political parties investigated the barriers to disabled people becoming elected representatives.
The research found disabled candidates are more likely to have a lower income and to have to pay out expenses like extra transport or sign-language interpreters. Accessibility was also a major barrier.
Despite the success of this programme, Inclusion Scotland warns there is no room for complacency. Phyl said: "We talk about impairment to carry out day to day tasks. Disability is something more – it's exclusion or oppression from the failure of society to make adjustments.
"We still often see poor accessibility at buildings where meetings are held. That seems so obvious yet it's still not addressed."
The research also found one of biggest barriers to equality is tied up in the culture of politics. People can be reluctant to disclose more hidden conditions like MS or mental health problems.
Phyl said: "It's all part of a wider perception of people believing they don't fit the image of what a good politician looks like. We need to create opportunities so people with disabilities don't rule themselves out. If we do it long enough, people adjust their thinking. They see others do it and know it's possible. Confidence will continue to grow."
The Access to Elected Office Fund paid out awards totalling £211,088.80. It came under fire for not covering Westminster election hopefuls but the Scottish Government has extended funding to the next Scottish Parliament election in 2021.
Inclusion Scotland is also now working on a joint project tackling barriers to equality along with Engender, Bemis (the support body for ethnic minority groups), the Council for Ethnic Minority Voluntary Organisations (CEMVO), Stonewall Scotland, the Equality Network and the Women 5050 campaign.
Emma Ritch, executive director at Scotland's feminist policy organisation Engender, said: "We know that when there is greater diversity in our democratic spaces, better decisions are made. Political parties know they must do more to challenge the over-representation of white, non-disabled men in politics, and this project aims to help them take real action to improve the extent to which political parties and our elected representatives look like the population of Scotland.
"Women's representation remains woefully low in local councils. This means women's voices are missing from the debating chambers of local councils, when they make decisions on issues of direct relevance, from our schools to violence against women services."
As part of the new joint project an online tool will be developed to help parties and branches assess diversity and take steps to tackle any under representation.
Phyl added: "It's not a solution in a box but the first step on the journey. An inclusive Scotland will be one where people wouldn't experience those moments of not being able to make the same choice to be involved. This puts us further down the right track."
Does our Scottish Parliament reflect the make-up of Scottish communities?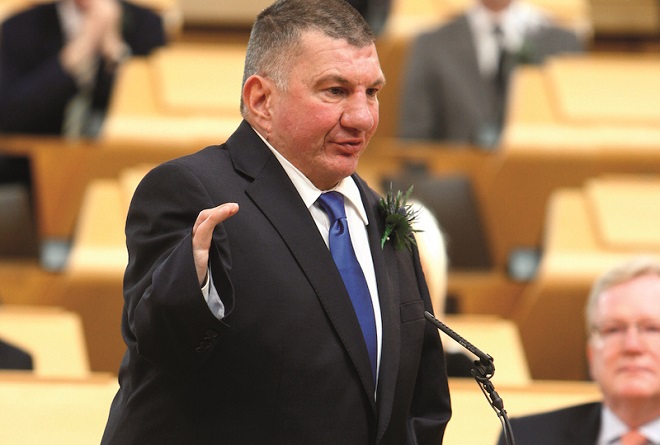 It has been hailed as the most proportionally gay-friendly in the world.
With four openly gay leaders and the total number of openly gay, lesbian and bisexual politicians at ten, that's 7% of all MSPs. In Westminster, 35 of the 650 MPs - just over 5% - are LGB.
But equality for other groups is lagging behind.
Despite parties committing to the 50:50 initiative of putting up equal numbers of male and female candidates, the 2016 election resulted in exactly the same gender breakdown of 65 per cent male, 35 per cent female.
In local politics, that figure drops to just 29% women local councillors in Scotland.
Only two members of the Scottish Parliament are minority ethnic – again, the same number as in the 2011 Parliament.
Following the May 2016 elections Conservative Jeremy Balfour (pictured above) was the only MSP out of 129 openly identifying as a disabled person.
One in five Scottish people of working age are disabled. To be truly representative at the Scottish Parliament we would need twenty-six disabled MSPs.
There are currently no openly trans elected representatives in Scotland. Stonewall Scotland is fighting for better representation of trans
people.
Cabinet Secretary for Communities, Social Security and Equalities, Angela Constance, said: "We want our democratically-elected institutions to be much more representative of the communities they serve and Scottish society as a whole.
"We will know we are living in a fairer Scotland when we see our elected representatives at all levels of government truly represent the make- up of Scotland's society."