Beatles-loving David Robb, OSCR chief executive, is astounded by the amount of folk who believe everyone in the third sector are volunteers
What makes a good day at work?
It is a privilege to work with Scotland's charities and to help almost 200,000 trustees with the incredible work they do all round the country – when we as a Regulator are able to support and facilitate that work, that is tremendously satisfying.
How many hours do you normally work in a week?
I work full-time but, with the mixed blessing that technology provides, I can be working from just about anywhere, so it's hard to say what is normal and to put a figure on it.
What do you procrastinate over?
I'm often behind with routine paperwork – my excellent PA, Mandy, has a variety of ways of politely reminding me!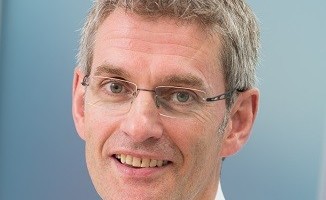 What turns you into the office Victor Meldrew?
I get grumpy when I hear charities being maligned for not conforming to some sort of Victorian model that was probably never accurate: for example it's completely unrealistic to expect everyone involved in running a charity to be a volunteer– I'm amazed by how many people still think that's how it should be. We all need to modernise and update those perceptions.
Is the third sector a calling or an accident?
I think most folk in the third sector choose to follow their passions. They might arrive by accident, but they stay through choice.
What happens during your perfect weekend?
I love being outdoors, so a good cycle or walk with friends (and my dog!) would be high on the list.
Your favourite band?
I have quite eclectic tastes, but would have to plump for the popular beat-combo that broke the mould: The Beatles.
Would we all be better off if charities did more in our society?
Yes! And we should all paly our part: the all-round benefits of volunteering to help in our communities are massive.
When people set aside their differences and work together, that's an unstoppable force
Would your 16-year-old self be impressed with where you are now?
I doubt it: it's hard to impress a teenager, and I think at 16 I'd have been pretty underwhelmed by the civil service!
You're home, fully fed with your feet up – what happens next: wine, TV or work emails?
Netflix and chill! I do like a good Scandi-noir drama or a box-set.
Is this your final destination work-wise?
Who knows? I've had six fabulous years as part of 'eam OSCR and every day brings new challenges.
What do you think is the main strength of the Scottish charity sector?
When people set aside their differences and work together to make a difference for their chosen causes, that's an unstoppable force.
What does your dream retirement look like?
Busy, healthy and not 20 years away!
Which Brian Cox? (actor or scientist)?
Love them both, but the musical scientist just gets the nod (I'm quite geeky too!)