Gilly Furmage went along to the Rock Trust Sleep Out to find out what it is like to be homeless for a night
Soldiers, students, charity workers, social workers and teachers knocking back mulled cider and pizza getting their groove on – on a makeshift dancefloor – alongside a pug in a winter coat in the middle of a damp Edinburgh street isn't something I'm likely to forget quickly.
The sight of this crowd of people in brightly coloured, fluffy, and sometimes animal-themed onesies jumping around to the Bee Gees, wasn't a dream, or a scene film from the 70s, though – this was the Sleep Out, a fundraising event run by youth homeless charity the Rock Trust.
The Sleep Out, held this year last Thursday, sees volunteers sleep outside all night to raise money and awareness of youth homelessness.
In Edinburgh alone, 1,500 young people became homeless last year. Despite moves to ensure nobody is unintentionally homeless in Scotland, it is still a big problem.
We are not by any means trying to replicate what it's like to be homeless. But by being here, loudly on the streets of Edinburgh, we're shining light on a cause too often ignored

Kate Polson, Rock Trust chief executive at the Sleep Out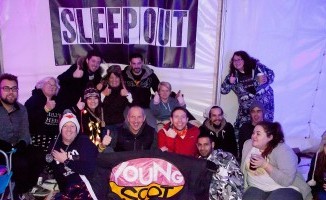 Part of the Rock Trust's mission is to dispel the myth that homeless youths are wasters. In reality, most have found themselves in this position through no fault of their own.
Many of the Rock Trust volunteers admitted that the Sleep Out is a tough sell. Not only does it involve sleeping on the streets in November, but there is a great deal of stigma attached to homeless youths. Lack of sympathy among the public makes them less willing to consider the plight of young people who find themselves with nowhere to turn.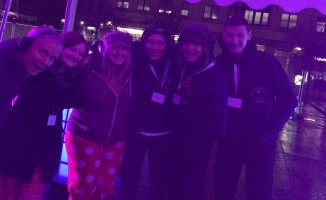 Although the reality of being homeless cannot be simulated, laying on the hard concrete street in Edinburgh in November does bring some elements home. As a young woman, the vulnerability that comes with having nowhere to go at night became clear to me, even though, as Sleep Out participants, we were completely safe.
And despite the free food, silent disco, games and party atmosphere, my main memory of the night is lying awake at 4am, wondering how anyone can sleep when they are this cold.
The issues that the Sleep Out is raising awareness of conflicts with the celebratory, fun and light-hearted atmosphere, but the Sleep Out still manages to loudly get its point across: it's an experience I'd recommend. Bring a hot water bottle though.
The truth about homelessness
More than 50% of homeless people are under 30 and 45% are under 25
You are homeless if you are staying in a hostel or living in poor housing conditions
Nearly a third of young people become homeless because of a dispute at home
Around 6% of homeless people have been discharged from hospital, prison or care and have nowhere to go