The Paul Hodges Trust has been providing masks for people in Africa through selling the handmade items in the UK
A tiny charity is helping communities at home and in Africa stay safe during the Covid-19 pandemic.
The Paul Hodges Trust has been working to provide training and economic empowerment to women and girls living in poverty in Africa since 2018.
The volunteer-led charity supports high impact projects in Ghana, Tanzania, Uganda and Sierra Leone, with a focus on supporting women and girls to escape poverty.
The trust provides grants of around £10,000 to small groups who have a record of working locally but aren't big enough to access other international funding. However it had to amend its projects when Covid-19 struck.
Charity founder Jenny Carlen said: "Our second round of grants had just started back in December, in that blissful world without the word coronavirus! Our projects had just launched when the virus started to become apparent.
"Interestingly governments in Africa were actually very proactive. They knew they didn't have the healthcare systems that would be able to deal with a pandemic. They closed their borders to all foreign travellers quickly and instituted lockdowns quite early, at the start of March, and that situation remained until the start of the summer really.
"In the short term that led to a pause in our activities. A lot of our activities are based around supporting girls to go to school, but the schools were closed. Many of our other activities are based around women coming together, but lockdown restrictions prevented this."
As lockdown went on, the charity began to think about how it could support communities as restrictions were eased. It became clear that face masks would be needed if its activities were to recommence.
Carlen continued: "A lot of the governments in Africa were ahead of the game in requiring the use of face masks. In Ghana, it was mandatory to wear face masks in all public places from May. You weren't allowed out of your house without a mask on.
"It quickly became apparent that if our projects were to get going again, face masks would be needed to help the communities we work with.
"But the rules on masks were a big burden on extremely poor families, who didn't have access to face masks. There was a real risk we'd have a similar issues to those around period poverty - where girls aren't able to access products so they can't go to school or engage socially or economically.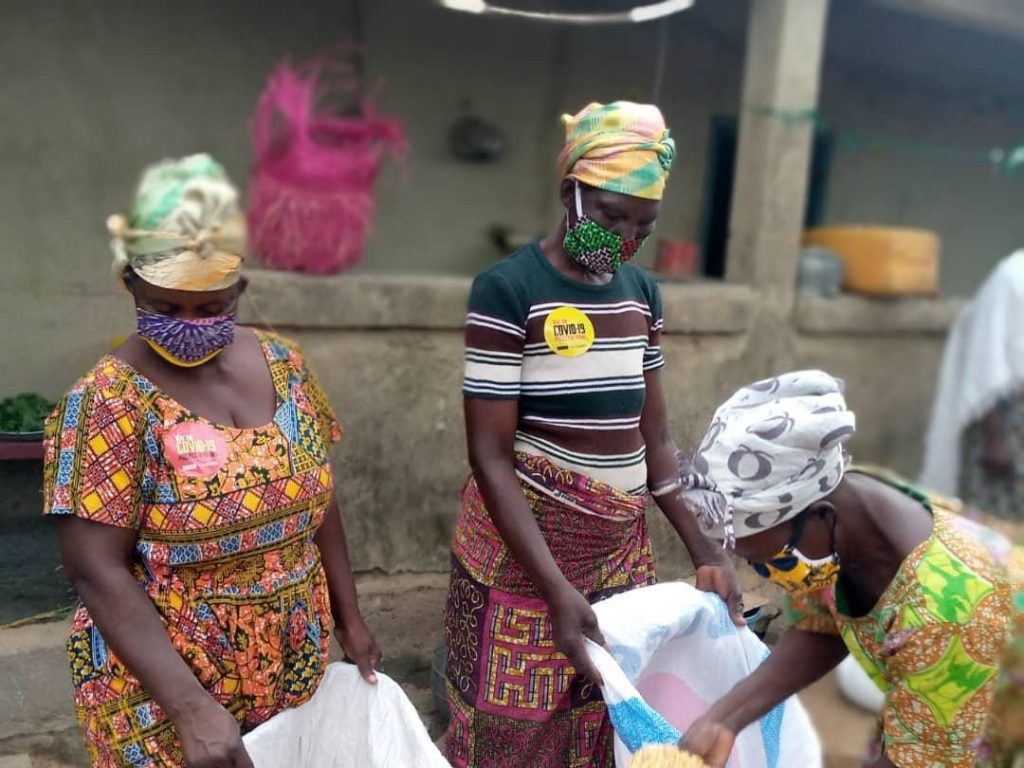 "We didn't want to use plastics to meet the need for protection as many of the areas we work in have major issues with plastic pollution. And we probably wouldn't have been able to access plastic PPE at that time either.
"We've done a lot of work with young vulnerable women who've had to drop out of education and we've supported them to undertake apprenticeships in tailoring. We had supported about 50 girls who'd trained in tailoring in the countries we worked in, so we decided to turn a crisis into an opportunity."
The trust started selling African-made ethical facemasks in vibrant local prints and premium mulberry silks, often from upcycled, ethical sources such as donated premium offcuts.
For each mask that is then sold by the trust in the UK through its online store, three more are donated within African communities to vulnerable groups. Masks were co-designed and collaboratively commissioned for the highest quality and best fit, with the trust continually refining the product following customer and tailor feedback in Africa and the UK. The charity has now provided over 2,000 masks in Ghana, Sierra Leone and Uganda. Over a third of its orders in the UK have come from Scotland, and many of them sold off the back of featuring in TFN's Charity Face Masks feature.
Making the masks also provides a steady income stream for the women that sew them.
Supervisory seamstress of ASIGE cooperative and Ghanaian native Safia Musah, 33, said: "I enjoy working as a seamstress because it's my future, and it is my duty to train the younger tailors. I want to use the work to take my four children to school to become policemen, nurses, doctors and engineers. As for the masks, I know that my work is saving lives all over the world, and that alone is morale for me to continue what I am doing."
To view the trust's full range of masks, visit the online shop.