Katriona Harding is fundraising and events coordinator at the Edinburgh-based charityThe Rock Trust, which works with young peoplebetween the ages of 16 and 25 who are homeless or at risk of becoming homeless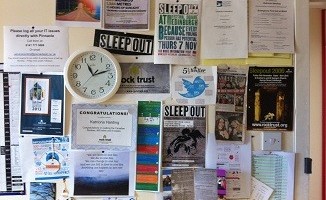 TFN: Hi Katriona, tell us a bit about what your role.
Katriona: I organise and manage fundraising events from our flagship event the Sleep Out in November to the Munro challenge during the summer solstice weekend in June. I try and get people to organise fundraising events for us locally and fundraise from trusts and foundations like the lottery. I also do communications here, so promote the work of the Rock Trust to let people know what we are doing.
TFN: It sounds like a busy job. Do you have enough hours in the day?
Katriona: I basically work Monday to Friday, 9 to 5 with the occasional evening and weekend work. I do try to have a presence at local events such as the Edinburgh Mela though. If the weather is nice, it's lovely.
I'm going to be taking part in the Munro challenge this year but that one is quite easy
TFN: You mentioned organising events, do you take part in them as well?
Katriona: I'm going to be taking part in the Munro challenge this year but that one is quite easy.
TFN: Easy?
Katriona:Well you have to go up a Munro but I don't have to look after anyone on the day. During the sleepouts we have a big team of staff and volunteers who have to make sure everyone is ok – generally, they don't get to sleep at all!
TFN: Is being involved in these events your favourite part of your job?
Katriona: My favourite bit is the community fundraising arm. I like working with volunteers and organising events, getting people involved and supporting them through the process.
TFN: How did you become involved with the Rock Trust?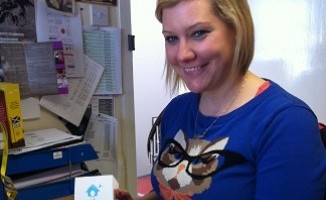 ​Katriona: I've worked here coming up for 15 months. I just saw the job and applied for it as the role really appealed to me. I was previously a development officer for campaign charity Transform Scotlandand before that I was fundraising and communications officer for the Edinburgh Lothians Greenspace Trust.
TFN: What's the hardest part of your job?
Katriona: It's getting more and more difficult to fundraise. You need to put more and more effort in and you can't rely on one source of funding. It's a case of spreading your net wide, using different techniques to try to get to people and using different methods.
TFN: Looking at your desk it seems fairly tidy – did you prepare for our arrival?
Katriona: There is usually a cereal bowl on it, a couple of empty cups and some mail but I've hidden that away today.
TFN: We'll let you off. Do you think a desk says much about a person's personality?
Katriona:A desk is quite personal. I have made mine my own but I hope nobody who comes to hotdesk here feels put off by that. I've put a lot of posters on the wall from all the different events, all my certificates and various social media prompts such as the best times to post and tips to get the best out of Twitter. I've also got my inspirational quotes up as well.
TFN:What's your favourite personal item on your desk?
Katriona: My cupcake box from Cuckoo's Bakery because when we want a treat my colleague and I will go and get a cupcake and it gets us 10% off. They also supported us during the sleepout in November by setting up a cupcake stall for all the people sleeping out, so we've got a good relationship with them.
Want to get in touch with Katriona? Email her at [email protected], contact her on Twitter @RockTrust_tweet or call her on 0131 557 4059.