Glasgow-born Joanne Stewart has taken a Vietnam-based swim charity from strength-to-strength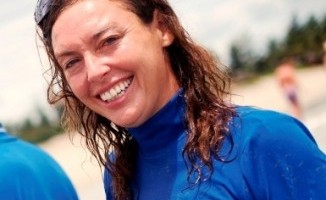 It's a little known fact but most children in Vietnam can't swim.
Despite the east side of the country being almost all coastline, the way parents deal with water is to make children fear it instead of encouraging them to have a healthy respect for it and teaching them to swim.
Unicefand The Alliance for Safe Children call it the "silent epidemic" as 30 children a day are estimated to drown there, possibly the highest level in the world.
I've been with Swim Vietnam tackling those statistics since 2008 and we have grown it from just one swimming pool to the current six, which we run across the country.
By the end of 2014 we'll have taught over 10,000 children to swim, a fantastic achievement considering no-one had attempted to address this problem before we came along.
We've also had to train people to become swimming instructors. With swimming something of a rarity, the country suffers from a dearth of any qualified personnel so that's part of our focus too.
By the end of 2014 we'll have taught over 10,000 children to swim
Children love swimming; it's no different here in Vietnam. But there are few public pools and with so much coastline it's a constant danger. Swim Vietnam is one of the few charities in the country to receive any government funding so we have been really lucky. We also rely on corporate sponsorship in which businesses give us money to build pools while the government money helps towards admin.
I love what I do yet came here by chance. I'm from Glasgow and worked in investment management in London then Singapore. While the money was good, I didn't feel my career was taking me where I wanted to go and looked for new challenges. So I resigned, hooked up with an organisation that ran triathlons, which used sponsorship money to create Swim Vietnam, and I've been in charge of developing it ever since.
Many local governments in Vietnam have requested we initiate swim programmes in their districts so our reputation is growing. Help however is needed from supporters to finance our lifesaving work, so we are actively encouraging UK-based business to create more partnerships with us.
On a personal level, I'm hoping to get more local people involved in the project so they can take over the day-to-day running. It means I'll be able to work more at the board level, dealing with corporate funding and the future direction of the charity.
It's the kids who make the job what it is; I love seeing their faces every day and how happy and confident they are in the water.
Four facts about Swim Vietnam
30 children drown each day in Vietnam
Majority of children never learn to swim
Swim Vietnam has taught 10,000 to swim
It runs six pools across the country