Susan Smith explains why SCVO is launching a new climate change project to help support voluntary organisations make the transition to a greener future
The Libertie Project wasn't set up as an environmental organisation, but from the moment it opened premises in Inverness six years ago, environmental sustainability has been at its core.
"To begin with it was as much driven by costs as wanting to have an environmental impact," says founder Libby Bligh. "When we took over our premises six years ago, we made a conscious decision that we were going to resource free materials to kit out the shop. That was driven by money.
"We found out we could get wooden pallets for free, so we got a bit creative and went online and researched 100 things you can do with pallets. We found loads of different ideas, so we research where we could get paint and found a community paint store. We made tables, display cabinets and shelves and in the end we kitted out the whole premises, including shop, back office and storage area for £84."
The Highlands-based social enterprise was set up to tackle social problems through creative projects. It offers creative, digital, print and supported volunteering services to ex-offenders, people with disabilities or additional support needs and those facing poverty and inequality in Inverness.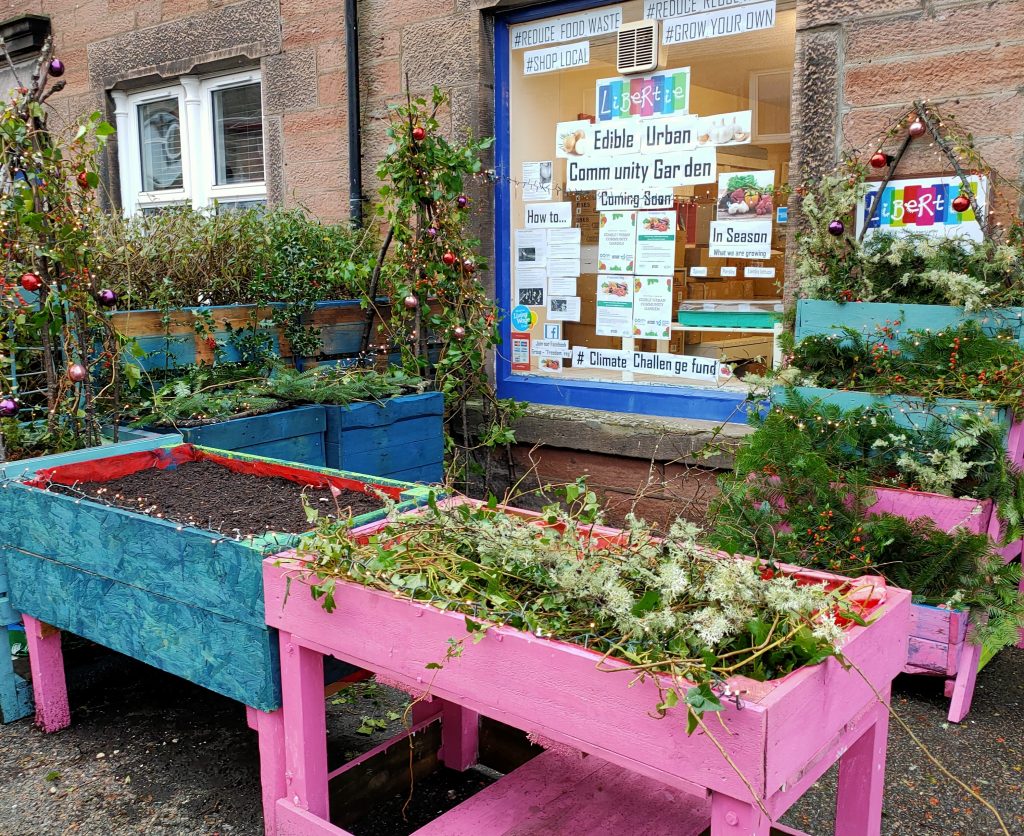 Building on its initial environmental success it purchased eco kilns for its pottery work and explored a range of waste reduction measures. It is now a role model in its community for reducing waste, recycling and reusing, alongside local food production and redistribution and is educating the people of Inverness on how to live a greener life.
In a bid to encourage more organisations to follow the Libertie Project's example and start to think green, the Scottish Council for Voluntary Organisations (SCVO) is launching a new project to support the sector to reduce its carbon footprint and help communities to make the transition to a carbon neutral future. Scotland has committed to become a net zero carbon emitting county by 2045, which gives us just over 20 years to make some quite radical changes to the way we live.
"SCVO wants to ensure Scotland's voluntary sector is informed and supported to play a positive and active role in Scotland's transition to a net zero future," said Anna Fowlie, chief executive of SCVO. "A fairer greener future is within our grasp, and I believe Scotland's charities, community groups and social enterprises have a really important role to play in shaping that."
---
Are you a Climate Conscious organisation?
SCVO is introducing a Climate Conscious Award as part of this year's Scottish Charity Awards.
The award will help to highlight some of the great work that's going on across Scotland's voluntary sector to build a greener Scotland.
The Climate Conscious Award will go to an organisation that's making a positive contribution to the climate change agenda with actions such as reducing their own carbon footprint, incorporating environmental sustainability into their everyday activities, or helping their community to achieve a just transition to net zero greenhouse gas emissions by 2045.
Alex Thomson, SCVO events manager, said: "We know there are loads of organisations making a really positive contribution to making Scotland greener. You don't have to be an environmental organisation to enter this award, we'd love to hear from groups that have recognised that climate change is a threat to their communities and are actively doing something to change it."
The Scottish Charity Awards 2021 will be open to applications from Monday 19 April and you can find out about the Climate Conscious Award and other categories on the awards website.
---
Scottish Government legislation commits Scotland to the 2045 target, which is part of a global bid to keep the increase in global temperature well below two degrees Celsius this century – and therefore avoid the most devastating impacts of global warming.
According to the Intergovernmental Panel on Climate Change, to achieve this on a global scale we will need to keep emissions down to a point similar to peak lockdown levels every year until 2030. That is a daunting prospect for everyone, so it's not surprising many of us are putting our heads in the sand and hoping the problem will solve itself.
But while it's tempting to leave the shift up to government and big businesses, the reality is that everyone from local community groups to individuals in their homes will have to contribute.
"The way we live our lives in Scotland at the moment is just not sustainable, if we don't act now to make changes, those changes will be forced upon us through dramatic climate change," said Richard Dixon, director of Friends of the Earth Scotland. "We need to eat less meat, use cars less, and waste far less. But that isn't unachievable and doesn't have to be painful – this last year has shown us there are advantages to a simpler life where we put more value in nature and the environment."
As the Libertie Project started to build environmental momentum, it also got involved in the world of surplus food distribution. But instead of setting up as a foodbank, it badged the project as an environmental one.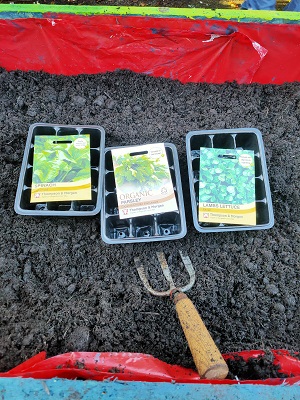 People were encouraged to come and pick up the free food if they needed it, no need for a referral or proof they were on benefits. The approach was a massive success as it took away the stigma of food distribution while families felt they were making a positive contribution to the environment by helping reuse food that would otherwise go to waste.
That project morphed into Freedom Veg, which launched in 2020, as an urban edible garden, community fridge and larder to share surplus food. The idea is to use the community garden as a role model for community growing, and this year it has distributed hundreds of Grow Your Own Veg Kits to the community.
"Because sustainability has been part of the DNA of how we were set up, then it's completely embedded," said Libby. "Any time we do anything new we think about how can we use more recycled stuff, how can we reduce our carbon footprint – it's in the beginning stages of everything we do.
"The climate has become more important to people in the community, and there's definitely a desire to do something about it. As third sector organisations, if you're offering your community something to do to get involved in this area, and be part of the bigger picture, there's definitely an appetite out there to be part of the movement forward."
The Libertie Project is an inspiring example of a community group leading the way in the shift to a greener future, but even it doesn't know what its full carbon footprint is. With an aging central heating system and difficulty sourcing energy from renewable suppliers, there are still areas where it has to take action. Libby though is confident that they will get there over time.
For other Scottish voluntary organisations the thought of transitioning to net zero future may be quite frightening and many worry that measures to become more environmentally sustainable are not compatible with their charitable purposes – what has climate change to do with running care services for the elderly for example?
However, SCVO argues that all voluntary organisations need to start thinking about adapting to a greener future sooner rather than later. Anna Fowlie added: "Scotland's voluntary sector was a £6 billion industry in 2018, and each organisation has a responsibility to reduce its carbon emissions. Just as importantly though, the sector has to step up to support everyone in our society through this transition to ensure that it's a fair and just process that doesn't have a disproportionate impact on those who are already disadvantaged through things like poverty, disability or age."
---
What has Cop26 got to do with it?
The 26th UN Climate Change Conference of the Parties (Cop26) is scheduled to take place in Glasgow on 1 to 12 November 2021, a year after it was originally planned.
The conference is due to see world leaders come together to agree exactly how they are going to achieve the global target to ensure our climate doesn't increase by more than 2 degrees Celsius, agreed at Cop21 in Paris in 2015.
Environmentalists say the conference is absolutely vital given the immediacy of the climate crisis we are facing. Although the ongoing pandemic means a further delay for the conference may be required, the plan at the moment includes world leaders meeting at the Scottish Event Campus and major fringe events across the city with international climate change activists such as David Attenborough and Al Gore.
Civil society organisations are also expecting to get involved in demonstrations across the city in a bid to motivate world leaders towards action.
The holding of Cop26 in Glasgow is likely to be a catalyst for change within Scotland as the media and public focus turns from Covid to climate change.
---
The SCVO Third Sector Net Zero survey aims to find out how far organisations are along this road and what support they need. The project will then provide support such as signposting to organisations like Zero Waste Scotland, which is set to have a big role over the next few decades helping organisations make the shift.
Fraser Millar, environmental analyst at Zero Waste Scotland, said: "Scotland has committed to becoming a net zero carbon nation by 2045. In order to achieve this ambition, all Scottish industries, sectors and organisations must feed into it by pursuing their own paths to net zero.
"Though it might be a daunting prospect, the time for action on reducing our carbon emissions is now, and that's why Zero Waste Scotland is on-hand to help. By following the five core principles laid out in the Zero Waste Scotland net zero plan, organisations of any shape, size or sector can make meaningful reductions to their environmental impacts, and can show real leadership in the pursuit of net zero, and of a more sustainable Scotland."
To launch SCVO's new climate change project, it is also running a series of webinars to begin exploring this issue with staff and trustees. The first is a Good Governance webinar, Are you a Climate Confident Trustee?, on 5 May.