​New video highlights the spectacular species found in our waters - and details the threats posed to them
Heading for the coast this summer? Then you could do worse than watch a new video from conservation charity WWF, which details the surprising and spectacular creatures which can be found in Scotland's seas.
The charity has unveiled ten unexpected species which frequent our waters – such as porpoises, blue sharks and even orca killer whales.
Despite these incredible species living in our waters, currently less than 1% of the UK's seas are fully protected.
The new film, below, made with support from players of People's Postcode Lottery, shows there's more to our seas than salt, seaweed and sand as WWF calls for more marine protected areas to help safeguard these important species.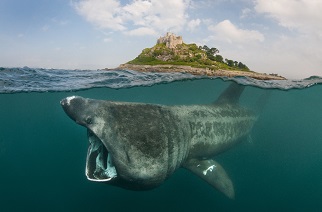 Basking shark
The basking shark, the gentle giant of the oceans, is the second largest fish in the world. They get their name from being slow swimmers, reaching an average of 2.5 mph as they bask in the sun. You are most likely to catch a glimpse of the basking shark along the west coast. Globally basking sharks are hunted for their fins, which are seen as a delicacy in Asia, and the species is still recovering from being historically hunted before it became a protected species in the UK. Incredibly, there was still a basking shark fishery, harpooning the huge beasts, on the Clyde estuary at Girvan well into the 1990s.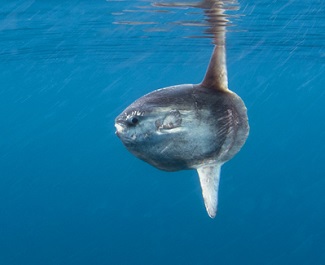 Ocean sunfish
The sunfish is the world's largest bony fish and can reach up to three metres long. Their most striking features are their dorsal and anal fins which are elongated and can measure over three metres from tip to tip. Sunfish are summer visitors to Scotland and are usually spotted in open waters, sunbathing on their sides at the surface of the ocean. The main threat to the sunfish is marine litter – especially from plastic bags which can look just like jelly fish, their main source of food. Accidental entanglement in fishing gear also poses a threat to the species.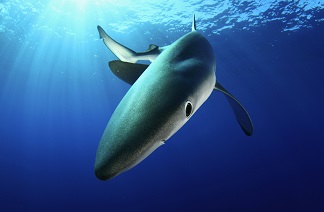 Blue shark
Blue sharks are excellent swimmers and reach their highest speeds when they're in pursuit of prey. They use electroreceptors concentrated in their heads to find food, which can sense a heartbeat of another fish from several miles away. Blue sharks are seasonal visitors and can be seen off the west coast when our waters reach warmer temperatures. The ideal weather condition for sightings is sunny with calm winds. Unsustainable fishing poses the biggest threat to their survival and they are hunted for their fins, which are seen as a delicacy in Asia.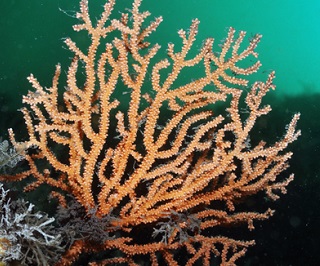 Pink sea fan
This soft coral is extremely slow growing but can live up to 50 years. They use their stinging tentacles to capture microscopic animals and grow at right angles to the prevailing water currents to enable them to catch as much food as possible. The pink sea fan lives in areas of strong currents on the rocky reefs below ten metres deep. One of the main threats to the pink sea fan is damage caused by human activity such as trawling and dredging for fish. Climate change affecting the water's temperature also makes soft coral more vulnerable to disease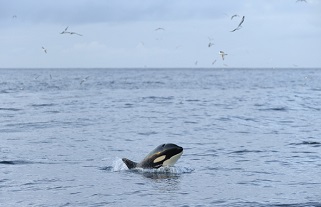 Orca whales
Orcas, also known as killer whales, are the largest member of the dolphin family. As their nickname suggests, the orca is one of the world's most powerful predators. They can be seen most regularly in northern waters particularly near the Shetland and Orkney Islands. Pollution and contaminants in the water as a result of human activity pose a threat to orcas as does noise disturbance from military exercises at sea, ship engines and seismic surveys.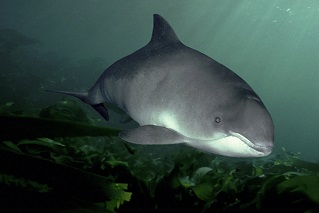 Harbour porpoise
The harbour porpoise is a shy, non-showy relative of the dolphin. Their diet consists of over 20 different species of fish, squid, octopus and shellfish. You are most likely to catch a glimpse of the harbour porpoise along the west coast – particularly the west coast of Scotland, where even the eight-minute ferry crossing from Largs to Cumbrae can produce sightings. Only surfacing to breathe, you may be more likely to hear a puffing sound, similar to a sneeze, than spotting the mammal. Unsustainable fishing poses the biggest threat to their survival, along with entanglement in fishing gear.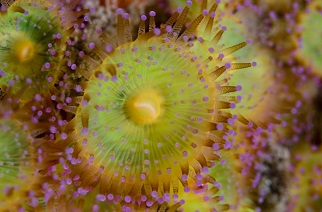 Jewel anenome
Jewel anemone range in bright colours including green, orange, red, pink or white. The mouth of a single anemone can be surrounded by up to 100 tentacles. They reproduce by splitting in half, using a process called longitudinal fission. They are most commonly found in shaded places or caves along the south and western coasts of Britain. Although not currently threatened, jewel anemones remain sensitive to the effects of pollution and damaged caused to their habitat by human activity.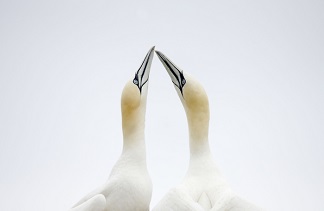 Northern gannet
The gannet is a large seabird which can dive deep into the ocean. The impressive bird can dive as deep as 22 metres and use their wings to swim even deeper in pursuit of prey. You're most likely to see gannets between January and October along the coasts. St Kilda an island off the west coast of Scotland, is home to the largest colony in Europe. Marine litter poses the biggest threat to gannets – both through mistakenly eating plastic and increasingly through their prey having small plastic particles inside them. Climate change is also affecting the distribution of their prey.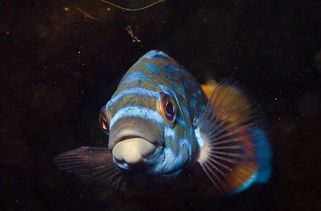 Cuckoo wrasse
This colourful fish is known for its confident and curious nature. They have a fascinating life cycle as every fish is born female but can change its sex to male when it reaches five to seven years. Cuckoo wrasse live in rocky areas along our coast lines. Although not currently threatened, the cuckoo wrasse remains sensitive to the effects of pollution and changes to the ocean caused by climate change.