New funding provided by Cancer Research will help more doctors go on to carry out groundbreaking research work
Scottish science is set to receive a multimillion pound boost to transform training for doctors who undertake cancer research – and help retain women scientists in the field.
Cancer Research UK is to award over £6 million to its research centres in Edinburgh and Glasgow to train early-career clinician scientists – doctors who also carry out medical research.
The joint Clinical Academic Training Programme Award will transform clinical research training in Scotland.
Clinician scientists play an essential role in cancer research, helping to bridge the gap between patients and scientific research. Working across both the clinic and the laboratory, they are in a unique position to reflect the needs of people with cancer in the development of new treatments and tests.
But the number of clinician scientists in Scotland is in decline, particularly in senior post. Traditionally, the path to becoming a clinician scientist involves doctors taking time out of training to undertake a PhD, before returning to complete their medical training in their chosen specialisation. But many clinicians don't come back to research after qualifying as consultants – particularly women.
Among the possible reasons for the attrition is that around this time of life many women contemplate starting a family.
To address this problem Cancer Research UK's £6.2 million programme in Scotland will introduce new measures – including more flexible training options and improved mentorship and networking opportunities – to better support women doctors who want to get involved and stay in cancer research. The programme will also fund the training of 30 clinicians in Scotland over the next five years.
Michelle Mitchell, Cancer Research UK's chief executive, said: "Training early-career clinician scientists is a vital part of our work to save lives through research. Clinician scientists have a very important role to play by bringing their knowledge and experience of treating people with cancer to scientific research.
"If we're to bring forward the day when all cancers are cured, we need all our doctors and scientists to be able to reach their full potential. That's why we are taking action to introduce more flexible training options for early-career clinician scientists, as well as better support and mentorship. We want to encourage more women clinicians to get involved in cancer research and create powerful role models that will help attract and retain more clinician scientists in the future."
First Minister Nicola Sturgeon said: "We recognise there can be obstacles recruiting women into science based professions and we are delighted that CRUK are joining us in the effort to tackle these inequalities. Workforce is a key ambition of our £100 million cancer strategy and we aim to have a diverse, sustainable, workforce caring for people with cancer."
A significant step forward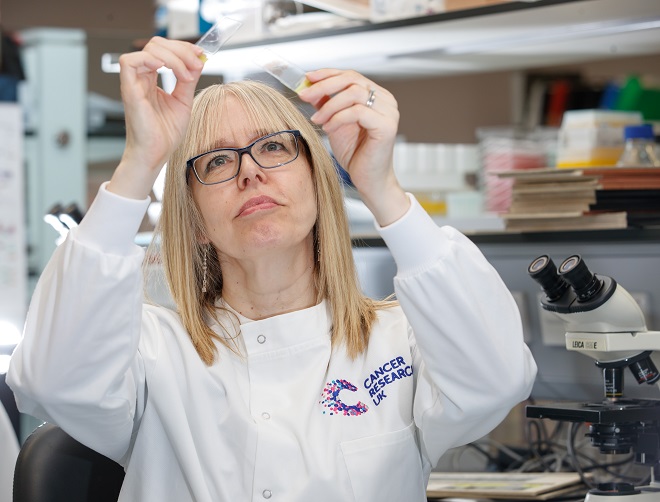 Dr Karin Oien is a clinician scientist and mum-of-three, based in Glasgow. An honorary consultant in liver and gastro-intestinal pathology at the city's Queen Elizabeth University Hospital, she is also clinical reader in pathology at the Institute of Cancer Sciences at the University of Glasgow.
It took 17 years from the time when Karin started out as a medical undergraduate before she embarked upon a clinician scientist fellowship. It was only then that she started thinking about having a family. Karin had her first child when she was in her late 30s.
Karin, now aged 50, said: "Ultimately as doctors, our aim is to do our very best to care for our patients. By qualifying as scientists, we are also asking questions and conducting research that will help the patients of tomorrow. This is vital in the fight to beat cancer.
"However, it can be challenging balancing a young family with clinical work, teaching and research – finding the time and especially the extra bandwidth and thinking time you need."
Karin studied medicine at the University of Glasgow, taking two years out of her training to do an intercalated science degree in pathology. After completing her medical training, she decided to specialise as a pathologist which involved a further five years of training. Keen to continue in research she took some more time out to do a PhD in cancer, before returning to finish her pathologist training and being appointed as a consultant. At the same time, she was awarded a Cancer Research UK fellowship to continue her research.
She added: "This new programme of training and support for clinician scientists is another significant step forward. The increased flexibility it will offer, and additional funding and support after doing a PhD that will allow more time for doctors to do research, is a big step change in Scotland."