Campaigners from across the UK gathered in the city to demand action on the cost of living crisis.
More than 1,200 people turned out in Glasgow on Wednesday night for a rally calling for a real pay rise, a cut to energy bills and other measures to tackle the rising cost of living.
Campaigners, trade unionists and other prominent activists spoke at the city's Old Fruitmarket for the Glasgow launch of the Enough is Enough campaign.
Enough is Enough, unveiled last month as a collaboration between food banks, trade unions and politicians, already has more than 500,000 sign-ups and attracted a sold out crowd in its first Scottish event.
The campaign has five key demands to be met in the coming months, including a call for a real pay rise for those working across the country, as well as a huge cute to rising energy bills which have skyrocketed over the past year.
An end to food poverty is also a key ask for those saying Enough Is Enough, through the introduction of universal free school meals, community kitchens, and reinstating the £20-a-week Universal Credit uplift.
Calls for a cap on rents, the building of at least 100,000 council homes a year, better insulation and the introduction of a charter for renters' rights make up housing demands.
Lastly, the campaign has underlined the need for a crack down on tax avoidance and evasion, as well as taxing the wealthy.
Speaking at the event on Wednesday was Scottish Trades Union Congress (STUC) general secretary, Roz Foyer, representatives from tenants' union Living Rent, as well as trade unions Unison, the Communication Workers' Union, GMB, and the RMT - whose assistant general secretary Eddie Dempsey had travelled from London for the event.
He said: "There is no mystery, wages are down because profits are up.
"Those at the top are having a great time, and they're only able to do it because you are poor.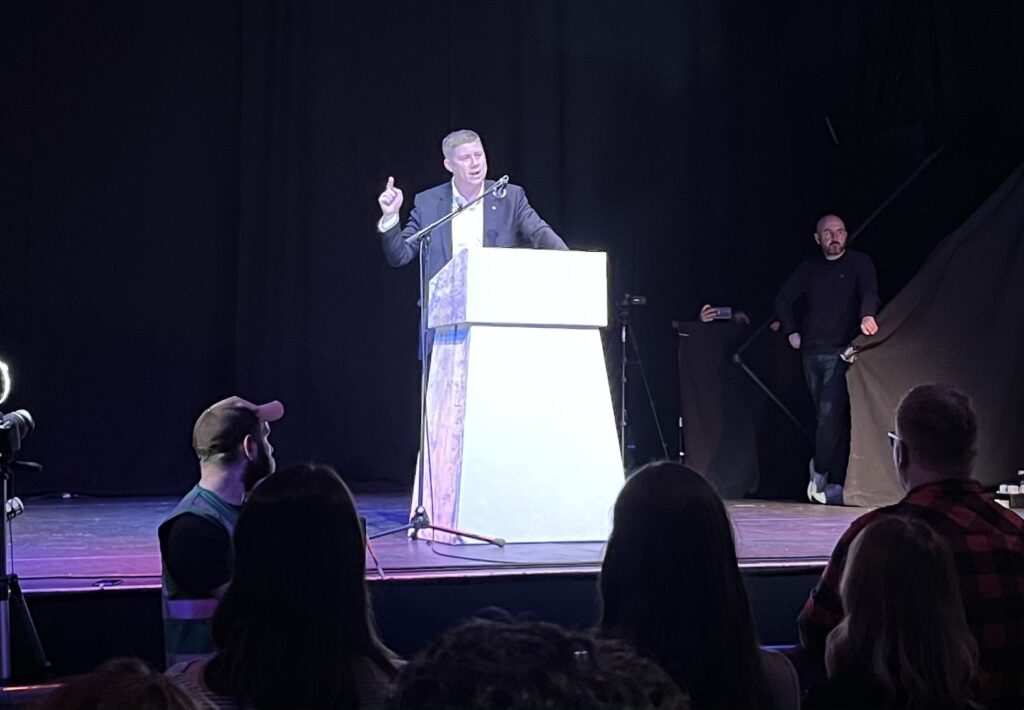 "We've got the government against us, we've got the media against us, the multinational companies - but we're not scared, we'll fight you.
"I've been waiting my whole life for a moment like this, and I believe this time is different, I believe we can do it."
Founders of volunteer group Fans Supporting Foodbanks Scotland and Power to the People Glasgow, Robert Foster and Frances Curran, also spoke about the need to end poverty, before the crowd heard from human rights lawyer and anti-racism campaigner, Aamer Anwar.
The event on Wednesday came ahead of a march on the Scottish Parliament on Thursday, led by the STUC.
General secretary Roz Foyer said: "Rent Freezes and rail fare freezes, although welcome, don't go far enough. Tomorrow we march on the Scottish Parliament to demand more - we need a radical budget for radical times.
"We want to see real action to create a publicly-owned energy company, real action on taxing the rich, taxing wealth and creating the size of budget we need.
"We need real action on the National Care Service, and it needs to be one that's not for profit.
"Our movement is about more than just a pay rise, it's about the type of society we want to exist. It's a struggle for life itself."