Across the country, more than 11m children are in need of humanitarian assistance
A Scottish-based charity has announced it is expanding its humanitarian work overseas by providing meals for thousands of children in Yemen.
Mary's Meals revealed on Thursday that it is now working in the Middle Eastern country which has been devastated by war in recent years.
The ongoing conflict in Yemen has heavily impacted the country's economy, causing widespread poverty and food insecurity.
Across the country approximately 21 million people - or 70% of the population - are in need of humanitarian assistance, including more than 11m children.
Malnourishment is a significant problem for those who have been forced from their homes as a result of the war, with the number of school-age children not in education doubling since the start of the conflict in 2015.
Magnus MacFarlane-Barrow, founder of Mary's Meals, said: "Mary's Meals always has a desire to support those in the greatest need.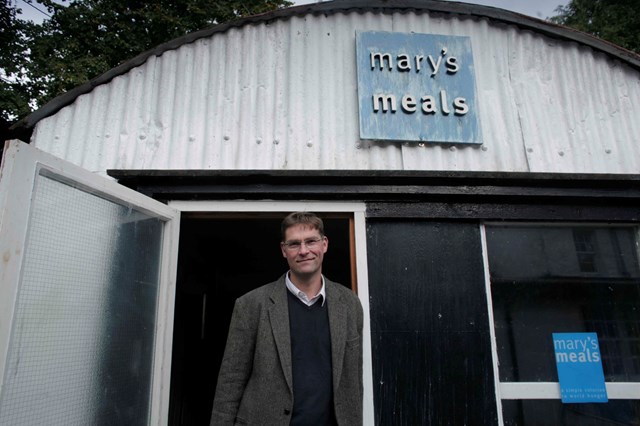 "Given that Yemen can be described as the biggest humanitarian crisis in the world, and so many children are suffering, we are delighted to begin serving our daily school meals there – meeting the immediate need of the hungry child and, crucially, at the same time, enabling their education."
Mary's Meals is working in partnership with an established international NGO - Yemen Aid - to reach children living in the Al Mansoora district of the Aden governate.
This district is particularly vulnerable as it is home to a large number of internally displaced people and other marginalised populations, who all experience high levels of hunger.
Yemen Aid currently provides thousands of food baskets to displaced people and communities, supporting thousands of malnourished children.
The charity also provides support and advice with hygiene, health and welfare issues, and runs a number of programmes aimed at women.
Summer Nasser, CEO of Yemen Aid, said: "As we embark on this new relationship with Mary's Meals, our hope is to increase support to children by tackling hunger through strategic, sustainable approaches in the education sector.
"The school feeding programme will broaden the horizon for these students who have been losing interest in school and provide more security for parents."
The charities are serving serving substantial and nutritious pitta bread sandwiches, filled with various ingredients to suit local tastes alongside fruit and vegetables, to more than 4,000 children at four schools every school day.
Mary's Meals, founded in a shed in Argyll, provides school meals for children living in some of the world's poorest countries, with the hope that this promise of a daily meal attracts hungry children to the classroom, where they receive an education that can, in the future, be their ladder out of poverty.
Mr MacFarlane-Barrow said: "Feeding children in Yemen is an important moment in our mission but we are always thinking of the next child waiting for our nutritious meals."