Sir Chris Hoy and Nicole Scherzinger are to feature in a film promoting the work of Unicef at the Glasgow 2014 opening ceremony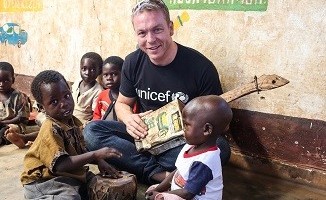 Olympic cycling legend Chris Hoy and singer Nicole Scherzinger are to appear in a special fundraising event at the Glasgow 2014 Opening Ceremony on 23 July to help Unicef save and change the lives of millions of children across the Commonwealth.
Glasgow 2014, the Commonwealth Games Federation and Unicef have formed a partnership to raise money for the Children of the Commonwealth Fund in the run-up to and during the games.
Spectators, athletes and an expected one billion viewers from across the Commonwealth will be able to make a donation via a text number or website during the games.
Hoy and Scherzinger, along with cricket icon Sachin Tendulkar, footballing supremo Sir Alex Ferguson and Line of Duty actress Keeley Hawes are to star in a film to be shown at the opening ceremony. It will feature the stars and the children they met in different regions of the Commonwealth over the past three months, witnessing Unicef's life-changing work.
It is hoped the film will inspire people in the crowd and all those watching around the world to donate to the children's charity.
The Commonwealth Games organisers have released a 90-second trailer to the film, introduced by Hoy, to give a taster of Glasgow 2014 and Unicef's joint ambition to make these Commonwealth Games an opportunity to change the lives of children across the Commonwealth.
Speaking about his trip to Malawi, Sir Chris Hoy said: "Meeting children whose lives have been so hugely improved by Unicef was an incredible experience that will stay with me forever.
"In some parts of Malawi children are going hungry, but at school they are provided with a nutritious meal. Shockingly, for many of them it's the only meal they will get all day.
"And things we take for granted in the UK, like basic medicine, are not always available in Malawi. I was especially inspired by an incredible young health worker I met called Daniel, who delivers lifesaving medicines to children and their families in some of Malawi's most rural and remote villages – often located in forests and along unpaved roads which he travels by a personal favourite of mine, the humble bicycle."
Of her trip to Guyana in South America, Scherzinger said: "I had the blessing of meeting children with disabilities who for most of their lives had been stuck at home or in schools without any accessible or welcoming outdoor space.
"But now, these children have somewhere safe to play and I could see they had hope and happiness in their lives. And that means everything."