Sections of campaigners' scarf will be sent across Britain and the world
A seven-mile-long scarf knitted by peace activists is being cut up and used to keep people warn throughout the world.
More than 5,000 people throughout the UK combined in the massive knitting project, which was used as part of the Campaign For Nuclear Disarmament's (CND) Wrap Up Trident campaign.
In January, the Ministry Of Defence building in London was wrapped in the scarf to highlight the British government's plans to spend £100 billion in replacing the weapons system, which is based at Faslane on the west of Scotland.
It was also used on Nagasaki Day (9 August) last year when the full length of it was stretched between the UK's two nuclear bomb factories, Aldermaston and Burghfield.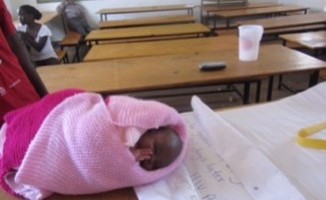 Now it's being cut up and sent across UK and the world, with international batches being dispatched to Street Child Africa for use among homeless children in Ghana.
They have also been put to good use in Nairobi, Kenya, where a pre-natal support group has used them to keep infants warm.
Homeless shelters and charities across Britain have also been send blankets made from the scarf.
A CND spokesperson said: "We're so happy that the efforts of thousands of people – spending thousands of hours – to create a symbolic manifestation of opposition to nuclear weapons can now also be of such direct assistance to people in need."
Charities and projects wanting some of the blankets should are being urged to get in touch with CND.