Gareth Jones focuses on The Lens – a charity which promotes intrapreneurship and wants to replicate the best of the business world in the third sector
There are many things that the business world can learn from the third sector, however it is often forgotten that this can also work in the opposite way too.
The Lens supports charities and social enterprises to be more efficient and innovative through the principle of intrepreneurship, which is when people behave in an entrepreneurial way within larger organisations.
Steve McCreadie created The Lens, a registered charity, while working within Aberlour Childcare Trust in a bid to find solutions to public funding cuts and growing demand for third sector services.
"At The Lens, we are passionate about improving people's lives through intrapreneurship," McCreadie told TFN.
"What is intrapreneurship? It's simply acting like an entrepreneur inside an organisation. Our programmes value ideas, inspire people and power innovation, helping our partners deliver even greater impact."
The organisation works with partners to create new ways of thinking and working. There is a focus on developing the skills, knowledge and confidence of staff at all levels to be more creative and help them turn their ideas into action.
Staff are challenged and supported to create ideas that are delivered through a programme of investment.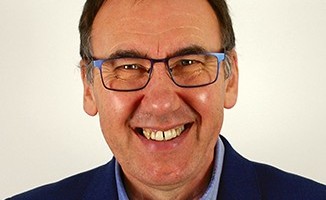 McCreadie said The Lens aims to help people to think and see differently – based on the principle of "you just need to look through a different lens."
He added: "Our intrapreneurship programmes offer a proven, structured process for developing people, ideas and a culture of innovation. It's built on some key principles; delegated decision making, an investment fund provided by the partner that intrapreneurs use to prototype their idea and the use of transformative facilitation.
"Benefits for our partners include an increased number of investment-ready ideas, increased innovation attributes and skills, higher staff engagement and improved leadership capability."
Founded in 2015, the charity has worked across the private, public and third sectors. However charities have been particularly keen to work with The Lens. Organisations that have taken part in the intrapreneurship programme include Alzheimer Scotland, CHAS, Cornerstone, CLAN and Includem.
"The Lens has given anyone with an idea the chance to shine – really shine – and that's been wonderful," said Alzheimer Scotland chief executive Henry Simmons. "We're able to look quite deeply into the organisation, as a result of The Lens, and see the depth of talent we've got. To see them flourish and grow is remarkable."
Now in its third year with The Lens, Alzheimer Scotland has put hundreds of staff through the programme. And the results are clear, such as the creation of the Beer with Buddies project.
From the packs of KP Nuts on the wall, to the satisfying lunches served hot from the kitchen, Beer with Buddies feels like any other pub, but it's dedicated to a unique group: patients and their families living with dementia.
It's the brainchild of Alzheimer Scotland staff members Deborah Edgar and Iain Houston, who developed and launched the innovative pub concept through engagement with The Lens.
Patients and their carers who'd stopped going out head along to the pub for a drink and a chat, and even make plans to meet up elsewhere. "They're socialising again," Houston said. "It's changed how they see themselves and helped more carers meet and support each other."
Kate McCusker, the only paediatric palliative pharmacist in Scotland, is another worker who had an idea which is now benefitting the people she helps.
She wanted to train and develop pharmacists across Scotland to allow them to deliver palliative services directly to children, with the aim of massively extending the reach that her employers CHAS had. This would happen by providing the clinical support that families of children with life shortening conditions need, not on site, but within their own community.
Through The Lens, McCusker understood the importance of being able to effectively communicate the value of her idea to a range of different stakeholders. She had the expertise but needed help to translate her knowledge in ways that helped her persuade those that she needed to get on board believe that this was important. After developing her idea with The Lens and winning investment, Kate pitched to both Community Pharmacy Scotland and the Chief Pharmaceutical Officer for Scotland; successfully securing their support for the pilot.
Lisa Stanulis and Gail Richmond, who work for the Beatson Cancer Charity, are another two fledgling intrapreneurs created by The Lens. They worked together through the programme to develop BeCalm. This project provided personal access to guided meditation and relaxation music that would help patients to cope better with stays in hospital and enable them to take home their own relaxation toolkit.
Their idea was simple and practical. They sourced music for patients, testing and pre-loading 500 MP3 players with the support of volunteers so that all patients could take home the level of care they received at the Beatson.
One patient who benefitted from the project said: "This wee gift for me has been wonderful… I have been a patient for many months and have trouble with my sleep. This all changed the night Lisa gave me my gift. I switched on, listened, relaxed then had my first proper sleep. I can't thank you enough."
To find out more visit lensperspectives.org.uk or email [email protected]