Charities across the country have used funding from the National Emergencies Trust to respond to the coronavirus pandemic
More than 700 organisations across Scotland have received emergency funding to help them respond to the coronavirus pandemic.
New data released by the National Emergencies Trust to mark the 100th day of its nationwide Coronavirus Appeal has revealed 702 organisations in Scotland have utilised the fund to support their community.
The trust launched its appeal on 18 March, just days after the World Health Authority (WHO) declared a global pandemic. Data released last week shows that nearly £3 million has been distributed to Scotland's grassroots groups, helping them provide urgent services to curb the crisis in communities.
In Scotland, the greatest need has been grants for temporary emergency response coordination followed by food, medicine and wellbeing services. Existing local charities and groups have transformed their services to cope with the huge surge in need, and extraordinary new operating conditions; and new groups have also been established, at speed, to support the most vulnerable communities.
Giles Ruck, chief executive of Foundation Scotland, said: "At Foundation Scotland, we quickly realised the real and urgent need that groups and charities were about to experience as Covid approached.
"Fortunately, through our partnership with NET we were quickly able to set up the first emergency support fund in Scotland. We understood that we needed to distribute funds swiftly and established a fast 72-hour turnaround which has been a lifeline for these organisations. Since launching the emergency Foundation Scotland Response, Recovery and Resilience Fund in March we have distributed over £3 million in total to over 750 important projects across the country. We are now very busy preparing to launch a second phase of funding to help Scottish communities adapt their services as lockdown measures are eased."
Helping the community to flourish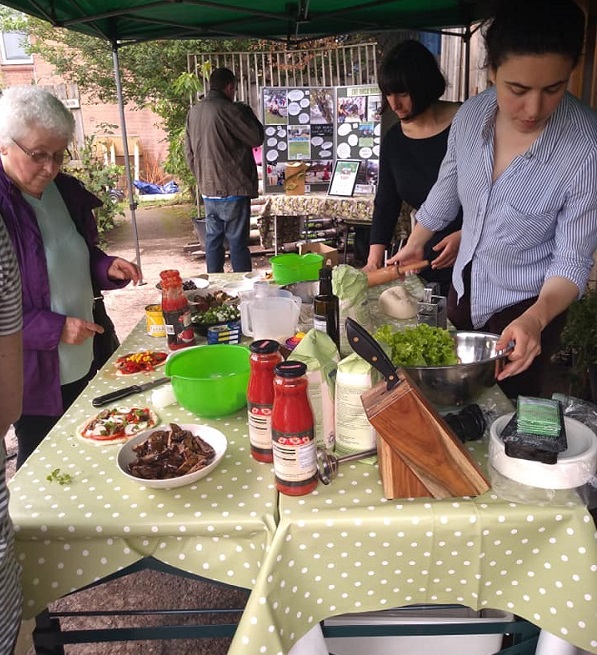 Concrete Garden is a health and wellbeing charity, focusing on, therapeutic gardening, outdoor play and volunteering. It has two community gardens and a natural play area.
The charity received funds from the National Emergencies Trust, after successfully applying to Community Foundation Scotland. The funds were put towards equipment and technology needed to create activity packs, online play, crafts and meditation spaces.
Concrete Garden works with all ages, engaging them in the outdoors, encouraging play sessions in nature and skills in horticulture. During the pandemic, it was able to send out wellbeing packs to 300 people. Many people they have supported during the pandemic are shielding, so the activity packs created with the funds from the appeal were a way to occupy, assure and amuse them.
The weekly online play, crafts and meditation sessions were designed to help people relax and zone out. The charity was able to create guides to play indoors to send out to families and the feedback has been overwhelmingly positive.
Moira McCormick, project manager of Concrete Garden, said: "We thought we knew our community well, but this pandemic has made us ask deeper questions, and now we have learned so much more about the people we work with. We learned that if someone has an email address, it does not mean they have easy access to the internet or to broadband. We also learned that there were people who did not have mobile phones. This wasn't just with our volunteers; our staff needed work phones too. As a small charity, we were able to connect further and unravel the reality of our community. Thanks to the National Emergencies Trust, we are ready for what comes next and can make sure no one slips through the net."
John Herriman, chief executive of the National Emergencies Trust (NET), said: "With their agility and local know-how, grassroots community organisations in Scotland are uniquely placed to help those in urgent need. From sports clubs turned soup kitchens, to youth clubs turned counselling services, it's truly inspiring to see how existing groups have stepped up and new groups have set up, almost overnight. We continue to explore ways to reach those most affected by the crisis but have been very fortunate that UK Community Foundations (UKCF) and its extensive local network have been able to fund these vital grassroots services at speed right across the country."
Since it launched in March, the NET Coronavirus Appeal has raised more than £82million including a £20million donation from the Covid-19 Support Fund, an initiative by the insurance and long-term savings industry and £20million from UK Government. To-date £51.2 million has been distributed to Community Foundations across the UK to support the vital work of grassroots charities on the community front-line. Individual grants awarded by the Community Foundations have ranged from £35 to £240,000, enabling groups to provide essential services to those most impacted by coronavirus.
The NET is currently working in partnership with UK Community Foundations (UKCF) and its network of 46 accredited community foundations and one distributing partner, to distribute funds across the four nations and Crown dependencies. It continues to assess the most effective ways to reach marginalised and disadvantaged groups to ensure help gets to those who need it most.
Groups who have specialist knowledge of their communities' needs are encouraged to apply for grants from Foundation Scotland so they can continue to provide essential services to those most affected by the social and economic impacts of the coronavirus
Anyone can make a donation by texting APPEAL to 70141 to donate £10. Or alternatively by visiting the trust's website.