Awards mark "historic year" for lesbian, gay, bisexual, transgender and intersex rights
A historic year for lesbian, gay, bisexual, transgender and intersex (LGBTI) rights in Scotland is to be marked with the country's first ever LGBTI Awards in September.
Organiser, the Equality Network, has launched the event to recognise and celebrate the campaigners, politicians, journalists, public bodies, businesses, community groups and individuals that have made a contribution towards securing greater equality.
The charity received hundreds of public nominations for the 15 award categories, some of which will be decided by public vote while others will be decided by an independent judging panel.
Third Force News has been nominated for the Media Outlet of the Year award for its role in promoting LGBTI issues and campaigns over the past few years, including the successful equal marriage campaign.
We have been shortlisted alongside STV News, BBC Reporting Scotland, and LGBTI-specific outlets Kaleidoscot, Scotsgay, and Gaia Magazine.
There is still much more to do before LGBTI people will have full equality in their day-to-day lives – we hope these awards provide will encourage further progress
One of the most competitive categories is sure to be Politician of the Year. Nominees include First Minister Nicola Sturgeon, Conservative Party leader Ruth Davidson, Scottish Green Party co-convener leader Patrick Harvie, Lib Dem leader Willie Rennie, Labour's Margaret McCulloch, and the SNP's Alex Neil, who led on Scotland's same-sex marriage legislation.
Other categories include Public Body Initiative of the Year, Journalist of the Year, Student Group of the Year and Event of the Year.
The inaugural ceremony, which will be held in Glasgow's Grand Central Hotel on 10 September, will be hosted by comedian Karen Dunbar and will feature performances from Pop Idol winner Michelle McManus and singer-songwriter Horse McDonald.
The awards come on the 35th anniversary of the decriminalisation of homosexuality and 20 years after Scotland's first Pride March.
The Equality Network, who launched a major new report last week revealing that LGBTI people still face widespread prejudice and discrimination in Scotland, said it hopes the event will provide an opportunity to recognise the significant advances made in recent years, while also encouraging further efforts for equality in the future.
"This has been an historic year for equality in Scotland and the Scottish LGBTI Awards will provide an opportunity to recognise and celebrate the important advances we have made, and the inspiring work of those that make a positive difference to the lives of LGBTI people," Scott Cuthbertson, development coordinator for the Equality Network, said.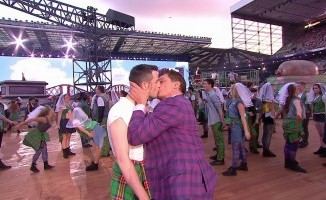 "We know that there is still much more to do before LGBTI people will have full equality in their day-to-day lives so we hope that the recognition these awards provide will encourage further progress in the future."
Around 350 LGBTI people and equality supporters from across Scotland are expected to attend.
Recognition will also be given to youth groups, sports groups, venues, community groups, charities, volunteers and dedicated LGBTI campaigners from across the country.
Two special awards, chosen by the Equality Network, will also be presented on the night, including a Lifetime Achievement award and a Friend for Life award which will recognise LGBTI equality activists and supporters.
The event is being sponsored by Unison Scotland and Humanist Society Scotland.
Willie Docherty, chair of Unison Scotland's LGBT Committee, said: "Unison has a proud history of fighting discrimination and prejudice in the workplace and in society, both at home and abroad. Equality is at the heart of our work and our LGBTI members are active at all levels of our organisation.
"We hope that these awards recognise some of the work that has already been done and will also act as a springboard for the work that still remains."
For a full list of categories andnominees visit the Equality Network website.