"The pandemic highlighted the agility and talent of Scotland's fundraisers"
New and long-standing fundraisers and groups were honoured at the Scottish Fundraising Awards in Glasgow.
The national awards ceremony celebrates fundraising excellence and took place during the Chartered Institute of Fundraising Scotland's conference.
Charities and individuals were honoured in seven highly contested categories.
The coveted fundraiser of the year award was won by Lara MacDonald from Children's Hospices Across Scotland (CHAS).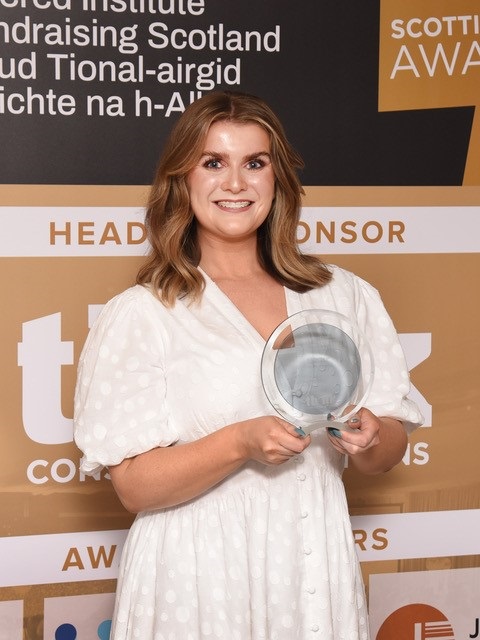 In a video shown to the audience at the awards, Angharad Low, corporate partnerships manager at CHAS, paid tribute to Lara, saying: "Impressively, in the midst of a global pandemic, she's achieved amazing results for CHAS and developed really strong partnerships. These include enhancing our relationships with Loganair, Amazon EDI4 in Dunfermline, Scotmid Co-operative and Primark."
The award for Best Individual Giving Campaign went to Edinburgh Dog and Cat Home for its Help Our Home emergency fundraising appeal. When the Covid-19 pandemic hit, the home was facing financial losses of £650,000 - more than a quarter of its annual income.
The appeal ran for six weeks throughout October and November 2020 with a target of £55,000 but, in the end, raised three times what was projected.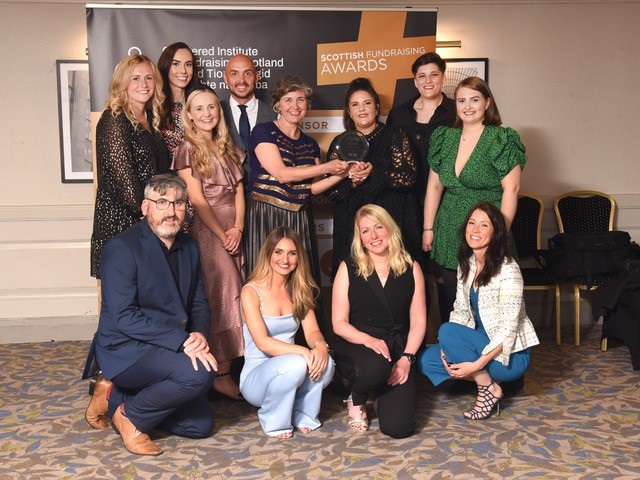 Volunteer Fundraiser of the Year was won by David Logue for Marie Curie Scotland. In his nomination, David, chairman of the Glasgow Brain Game Committee, was cited as someone who exemplifies the definition of a volunteer fundraiser.
Described as an incredibly busy man who treats everyone with respect and genuinely wants to help and make a difference, the charity count themselves as honoured to have David on their team.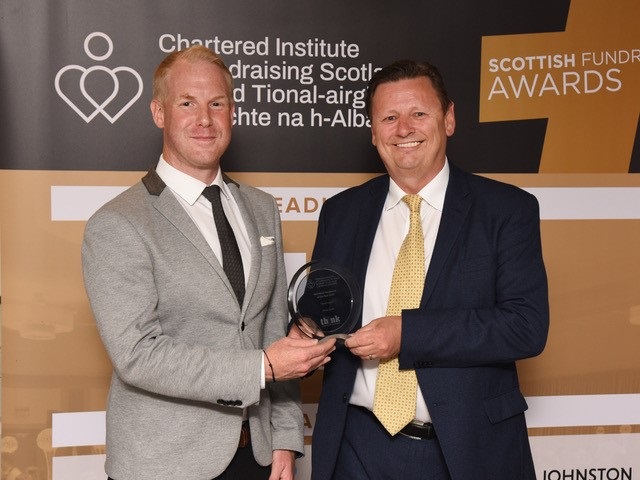 The award for Best Partner Relationship (Corporate, Trust or Major Donor) went to Edinburgh & Lothian Health Foundation (now NHS Lothian Charity) for its work in the pandemic with Hibernian FC.
They worked in partnership to help mitigate the emotional trauma of the pandemic by raising money to support the wellbeing of NHS Lothian staff, whilst keeping the football spirit alive with opportunities for fans to get involved alongside the club they love - from Thank you NHS football strips to cardboard cut-outs of fans to a re-release of a hit single by The Proclaimers.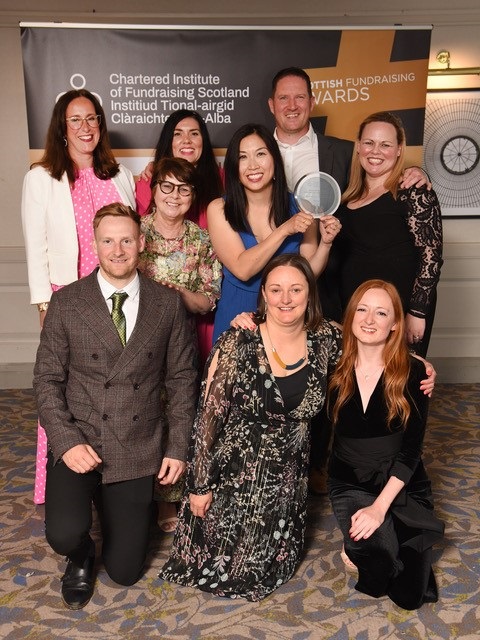 Best Marketing and Communications Campaign went to Erskine for its Futures for the Brave campaign. The campaign centred around a TV advert, featuring nine-year-old Hamish, who visits his big brother - a veteran with a prosthetic leg - at Erskine.
The campaign raised an incredible £343,000, which is a 34% increase on the last four years of remembrance appeals.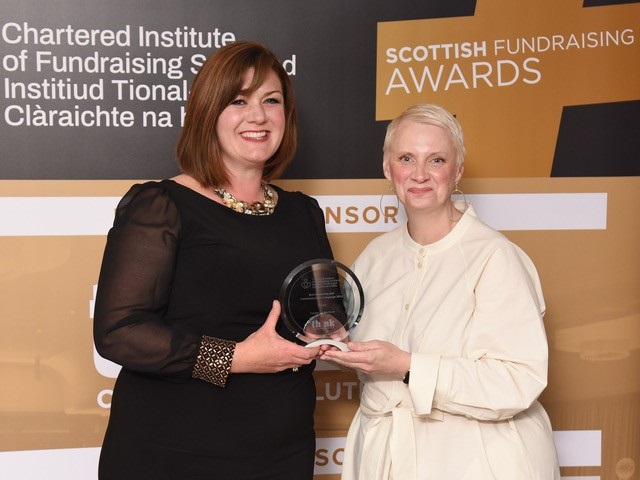 Alva Academy and Macmillan Cancer Support won the Voluntary Fundraising Group of the Year award. The academy's headline coffee morning event brings together pupils, staff and the local community to get involved whilst also raising awareness of the cause.
They have continued to fundraise for 30 years, even during the pandemic, and motivate those around them to give their time and money to help people living with cancer and their families. They have now raised over £450,000, with £51,000 being raised last year alone.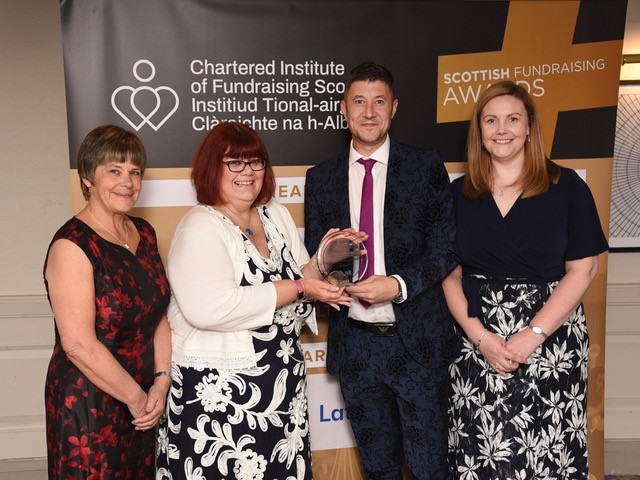 The Best use of Event or Community Fundraising Initiative was presented to St Andrew's Hospice for its Grand Snowflake Ball.
The hospice approached this year's annual ball with trepidation because of Covid but ended up with their most successful hospice event ever, raising an unprecedented £205,000. By building and maintaining relationships, it is confident that the event is sustainable and repeatable.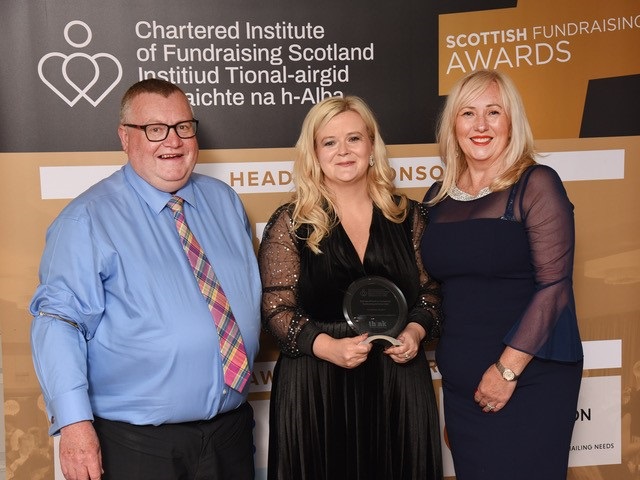 Co-Chair of the Chartered Institute of Fundraising Scotland's conference organising committee, Gary Kernahan said: "The pandemic highlighted the agility and talent of Scotland's fundraisers. Charities and their beneficiaries depended on the skills of those tasked to bring income in to maintain the amazing work of the sector.
"We are honoured to be able to recognise and reward excellence in fundraising and celebrate the achievements of those who are building and leading charities, voluntary organisations and social enterprises."